While you're preparing for the most magical day of your life as a bride-to-be, your maid of honor and bridesmaids are likely right there with you, ready to support you through it all. But before you can dance into the sunset with your partner and exchange those much-awaited "I dos," there are several crucial steps that you'll have to complete in your wedding planning. One of the most tedious will be fitting your gowns. 
If you're wondering what goes on behind the scenes when it comes achieving that perfect bridal gown fit, as well as smooth fittings for the rest of your entourage, here's a quick dress fitting guide that will make the process a breeze—and hopefully filled with laughter and unforgettable bonding moments between the bride and her gals.
Preparing for the Fitting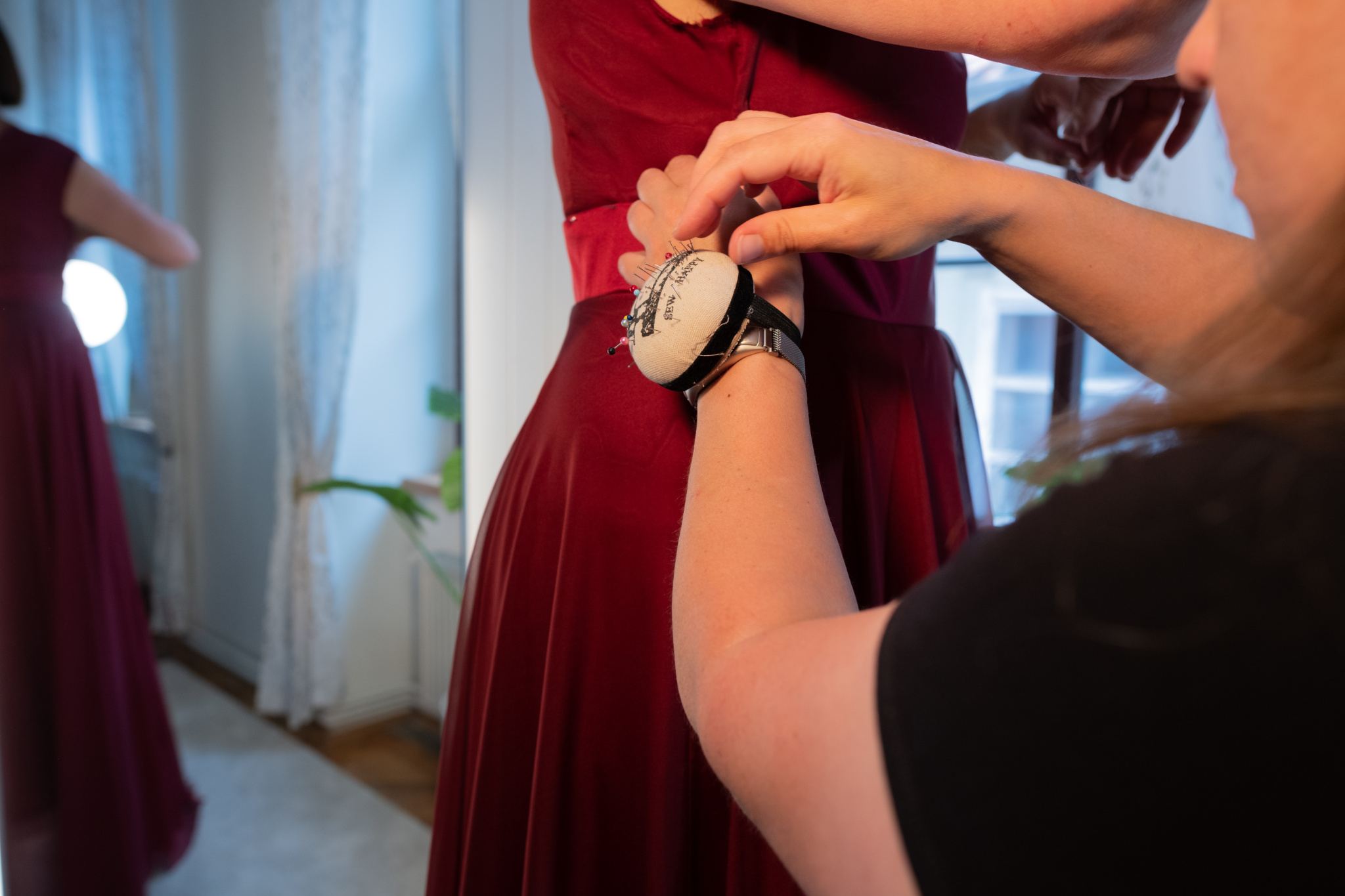 First things first, darling brides and bridesmaids: schedule your fitting appointments well in advance. Time is of the essence especially during peak wedding season between May and October, when dressmakers are weaving their magic for brides-to-be everywhere. The most bespoke dresses take months to make, from their conceptualization to their final, perfectly fitted form. Plan your dress fitting timeline across several months, with the final fitting taking place at least a few weeks before the wedding proper.  
Now, what should you all bring to each fitting adventure? Aside from your lovely selves, don't forget to pack the essentials: your shoes, your tights, the shapewear you intend to wear, and the like. These little details can make a world of difference in achieving the perfect fit. For instance, the height of your shoes may merit adjustments for the length of your gown. Similarly, your choice of shapewear will determine the most tailored fit for your body.
Once you have the dates, coordinate amongst yourselves and exchange reminders. This will ensure that your fitting experience results in the perfect looks and the perfect experience of comfort on the day itself. 
The Fitting Process Unraveled
Imagine a room filled with excitement as the bride and her bridesmaids slip into their chosen gowns. Most brides envision the process to be like stepping into a fairy tale, where each dress transforms the whole party into princesses for a day.
But rarely are fittings that easy, and most brides can anticipate seeing their chosen seamstresses or seamsters at least once more after they see their dresses in person for the first time. After you and your bridesmaids put on the first iterations of your dream dresses, your dressmaker will take note of any adjustments needed to flatter your bodies and bring out the character you want to demonstrate as an entourage. 
Your seamstress or seamster will plan precise adjustments to ensure the perfect fit and silhouette, with major adjustments coming first and minor, bespoke adjustments following later on. Examples of basic alternations you can expect them to make upon the first fitting are hemming, beading, sleeve and train length adjustments, and lace appliques. In between the actual fitting sessions, all of which you can attend with your bridesmaids and maid of honor, you can choose other essentials like jewelry together.
What Should You Hope to Achieve Through Your Gown Fitting?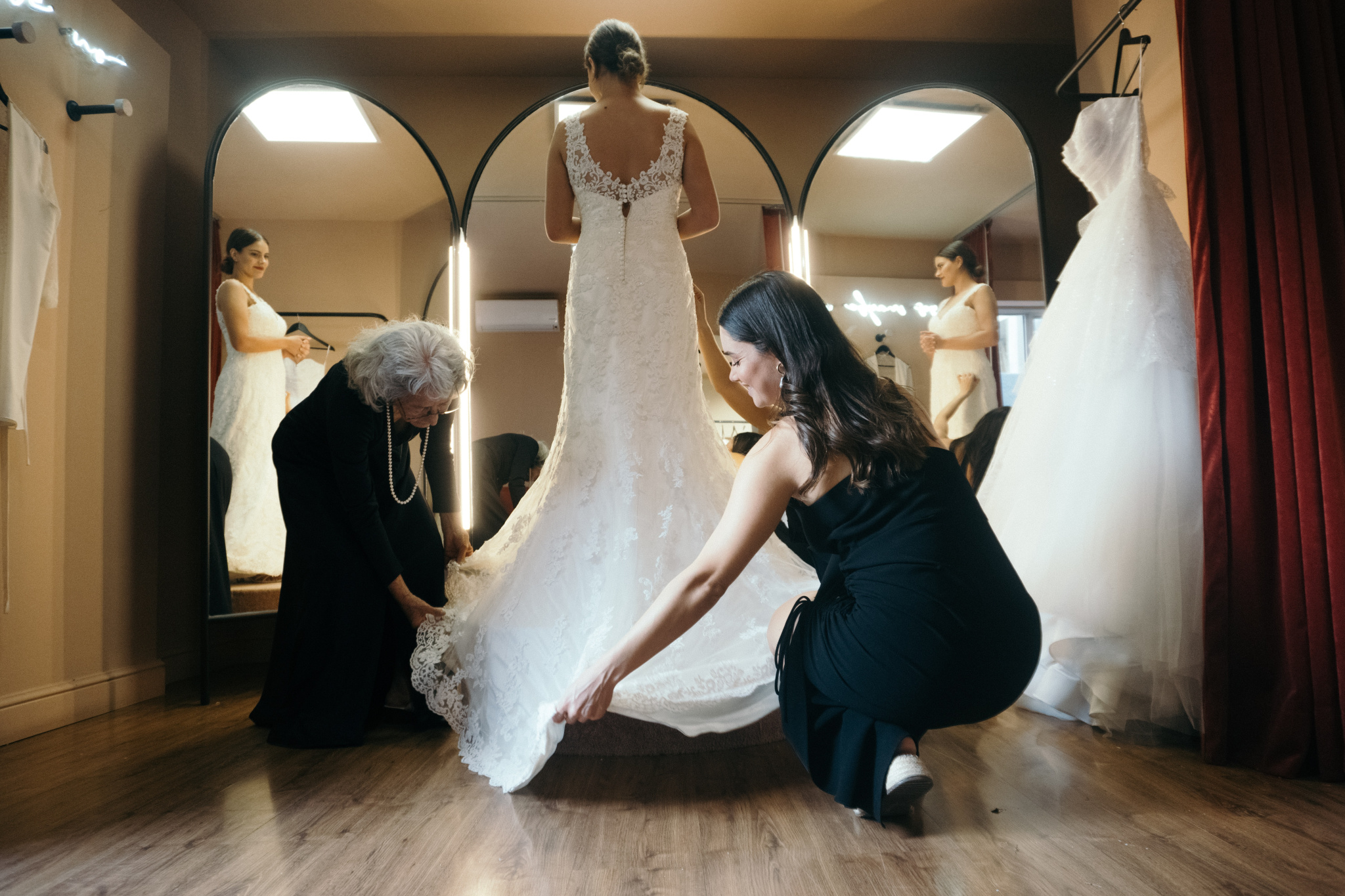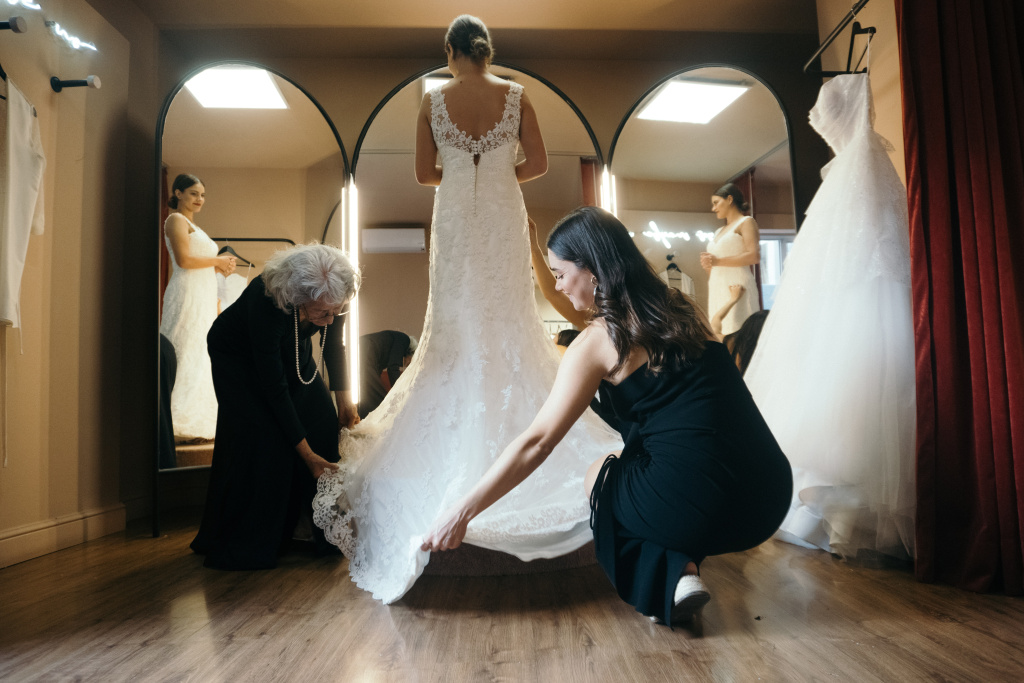 To brides and bridesmaids, well-fitted gowns entail more than just fabric and stitches. These dresses are supposed to be made only for their wearers and achieve the perfect custom fit. No one should have to worry about wardrobe malfunctions, especially the bride.  
Gown fitting also serves as a good opportunity for a bride to understand how her body fits into her dress and how it will look on her in person, which may be different from how she imagined when she saw the sketches. After the initial fitting, a seamstress or seamster can also work their magic and bring out the bride's unique personality through adjustments like strap modifications and hemming.
Group fittings will help the whole party get a prelude of what they'll look like on the bride's special day and prepare to comport at their best, for example in pictures. In a nutshell, that's why multiple fittings and precise adjustments to the little details are all needed before the ceremony. 
When Fittings Go Wrong
Again, a fitting may not always go 100% according to plan. Sometimes wardrobe malfunctions happen, like a zipper getting stuck or a seam coming apart. In times like these, keep calm and stay in good humor with everyone else in your entourage. Remember that adjustments are all part of the process and that brides and bridesmaids rarely fit completely perfectly into their dresses.   
You can also depend on your dressmaker to unravel snags and put rebellious threads back in line. Behind every perfectly fitted gown is an experienced seamster or seamstress who's seen it all. Don't be afraid to ask them questions or troubleshoot your own gown-related concerns with them. 
Bride and Bridesmaid Bonding Opportunities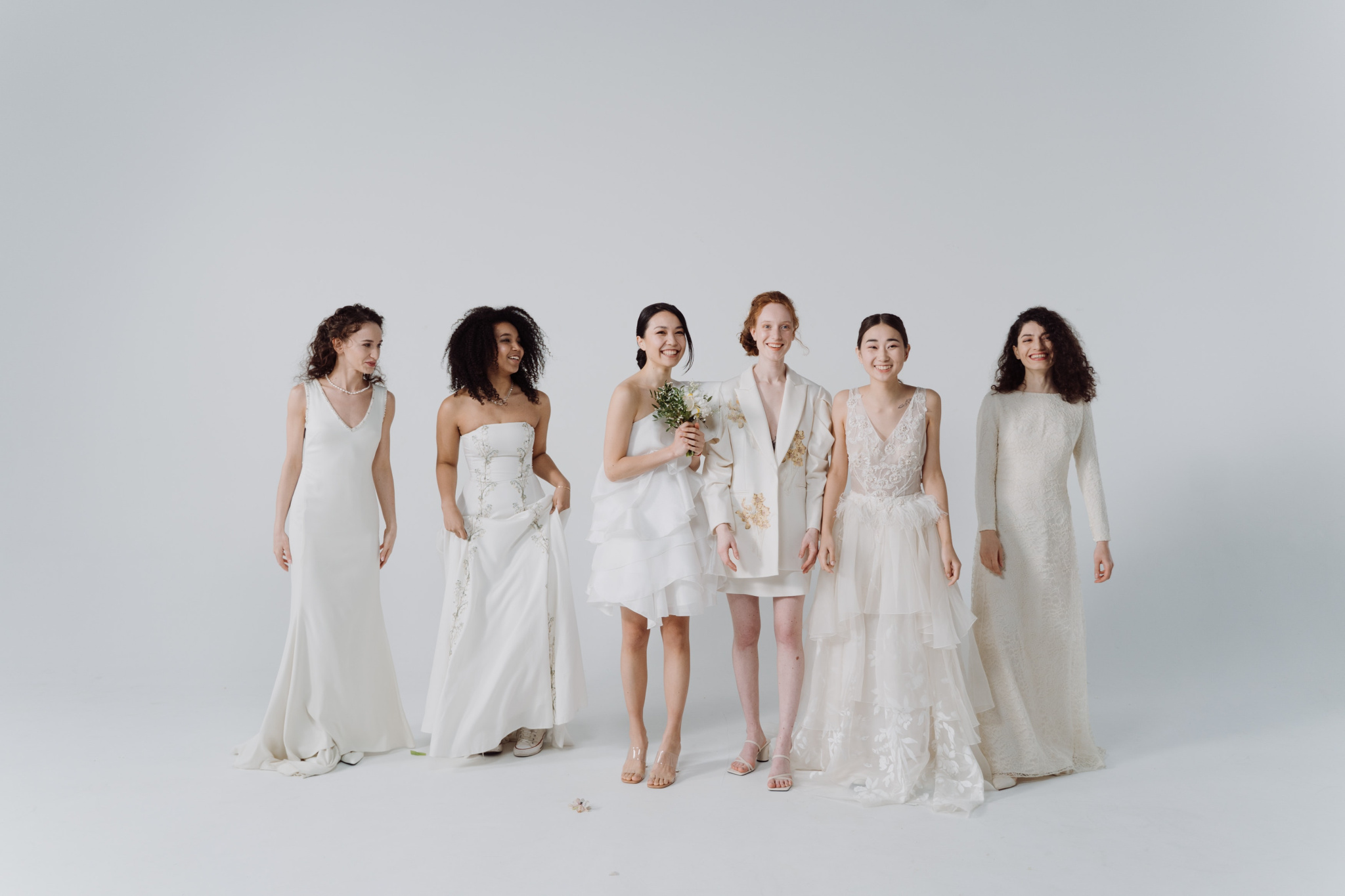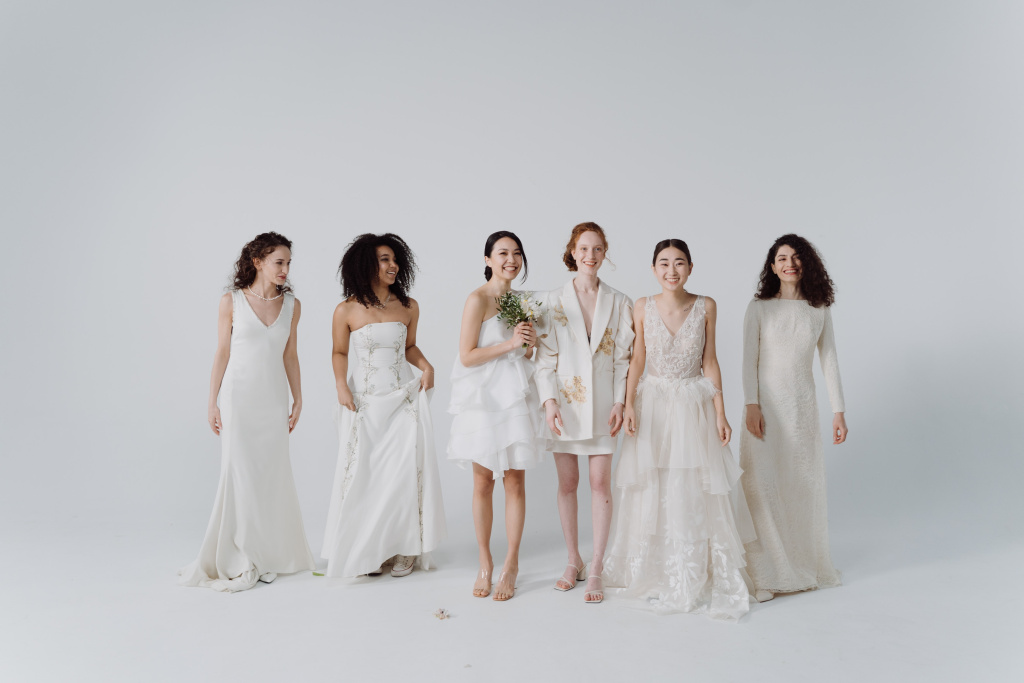 As you and your bridesmaids navigate through fittings together, you'll create cherished memories and be able to share wedding stories that will make you smile for years to come. The bride's maid of honor and bridesmaids should be ready to act as the bride's backbone—her ever-reliable support system and her collective voice of honesty and reason. Turn fittings into fun occasions by keeping photos, compiling reminders together, and celebrating each fitting milestone with a bonding session like dinner out or a movie.
Some Last Tips for Successful Fittings
In summary, fittings are sure to go well if the bride and her posse remember the following things:
Come adequately prepared for each fitting. 

Be honest about preferences and concerns and ask for an expert opinion from a seamstress o seamster.

Be patient, trust the process, and simply enjoy the ride.
Brides and bridesmaids, before you know it, it'll be time for one of the most meticulous, yet fun aspects of wedding planning. Treasure the opportunity to look beautiful together, to strengthen your friendship, and to set a positive tone for the bride's big day!