Potentially dating back to Roman times when they were called flammeums and were red or orange, a wedding veil is a timeless accessory that adds an ethereal touch to a bride's ensemble. With countless styles to choose from, finding the perfect veil can be overwhelming.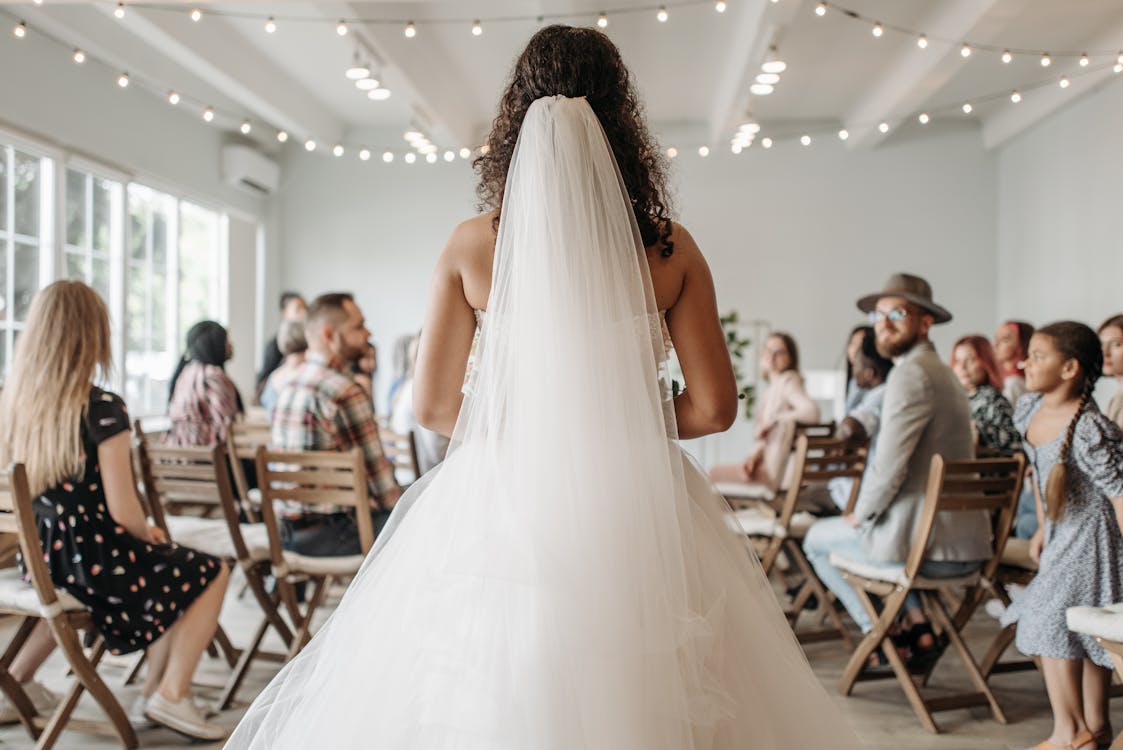 So, to help you as the bride-to-be to navigate through the options, it is important to have an understanding of the different veil types and designs that exist, and this article seeks to guide you through the top five designs. Enjoy!
Cathedral Veil
The epitome of grandeur and elegance, the cathedral veil is a showstopper. Flowing gracefully down the aisle, this dramatic veil extends beyond the length of the wedding gown, typically measuring nine feet or more. Often adorned with delicate lace, intricate embroidery, or beaded embellishments, the cathedral veil is designed for formal and traditional weddings. It creates a regal aura and beautifully enhances ball gowns or A-line silhouettes, making it a favourite choice for brides seeking a fairy-tale-like entrance.
A Cathedral Veil comes in different lengths but all are beautiful, why not head to laceandfavour.com to browse their extensive range of veils and see which one calls to you.
Fingertip Veil 
The fingertip veil strikes a perfect balance between sophistication and practicality. Falling at or just below the fingertips, this veil adds a touch of romance without overwhelming the bridal ensemble. It pairs well with various gown styles, from sleek sheaths to fit-and-flare designs. The fingertip veil is versatile and suits both formal and semi-formal weddings. It allows brides to showcase the intricate details of their gowns while still embracing the traditional allure of a veil. This popular choice offers a classic and timeless look with a contemporary twist.
Blusher Veil
For a touch of old-world charm and a hint of mystique, a blusher veil is an enchanting option. Traditionally worn over the face during the ceremony, it adds an air of anticipation and romance as the groom unveils his bride. The blusher veil is typically made of a single layer of tulle or lace, falling just below the bride's chin or reaching her shoulders. This delicate veil is versatile and can be paired with various gown styles. Brides who desire a touch of tradition and allure will find the blusher veil to be a captivating choice.
Mantilla Veil 
Originating from Spain, the mantilla veil exudes timeless elegance and cultural significance. Crafted from delicate lace, the mantilla veil is characterized by its circular shape and exquisite lace edge that frames the bride's face. The Mantilla design adds a touch of vintage charm to any wedding ensemble and beautifully complements lace or bohemian-inspired gowns. The mantilla veil can be worn both with or without a comb, allowing versatility in styling. This romantic and sophisticated veil is a favourite among brides who appreciate the fusion of tradition and fashion-forward aesthetics.
Birdcage Veil
For brides seeking a vintage-inspired, retro look, the birdcage veil is an irresistible choice. This short veil, typically made of netting or French veiling, covers only a portion of the face, falling at the nose or chin level. The birdcage veil adds an element of mystery and allure, making it perfect for vintage or 1940s-inspired weddings. It pairs exceptionally well with short or tea-length dresses, exuding a playful and whimsical charm. Brides who appreciate the fusion of old-world glamour and modern sensibilities will find the birdcage veil to be a delightful accessory.