Chances are if you're reading this blog post you're a bridesmaid wanting to throw an incredible hen do for one of your closest friends. This party should feel like the ultimate girls night out (or in) and wouldn't be complete without a few fabulous bachelorette party supplies.
These little touches and added extras go a long way. Trust us, the bride-to-be will really appreciate all the effort you and the girls have gone to, to make her night feel so special.
However, if you're feeling a tad overwhelmed by the task, not to worry! We've put together a list of our favorite bachelorette party accessories to provide you with a bit of inspiration for your own party planning.
So, without further ado let's dive on in!
Party Sets
Party sets are hands down the best way to go for planning a hen do. Not only do they look great but they're a quick, easy, and cost-effective way of making sure you have all the party essential.
Plus, there's the extra bonus of instantly adding a theme/color scheme to the party. This is essentila because just like the actual wedding, color coordinating your decor and accessories is key!
Questions to ask before purchasing any party kit;
Is there enough stuff for the number of hens you have?
Does the kit compliment the theme you had in mind?
What for you are the 'essentials' for a bachelorette party and does the kit have it?
We love this 'Last Fling Before the Ring' theme- it's fun, it's girly, and it embodies everything a bachelorette party should be!
However, more importantly, it covers all the essentials; white and pink plastic stadium cups, party flag stickers, a party banner, a gorgeous sash for the bride-to-be, straws, and paper coasters (split into two complimenting designs)
As you can see from the pictures below, this theme hinges on diamond ring icons and boasts a beautiful pink, gold, and white color scheme (with a dash of sparkle!).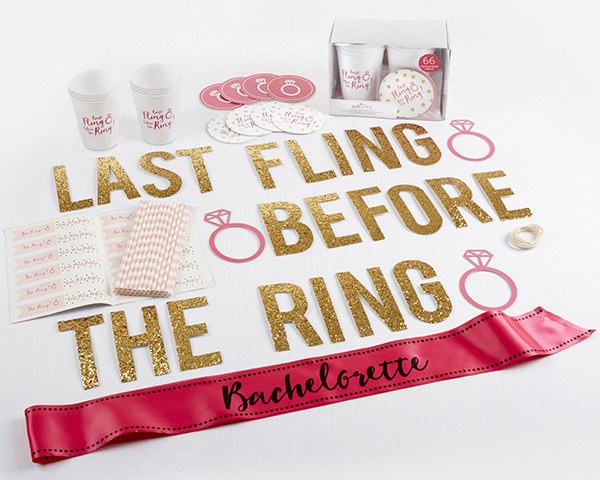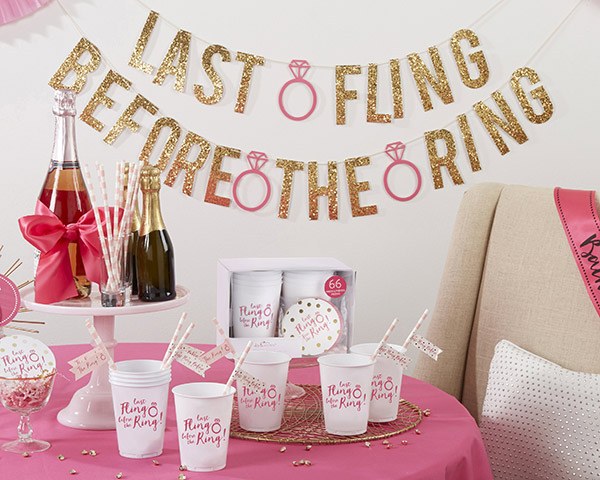 This 'Bachelorette Bash' themed kit is a gorgeous way to round off your event. The 'Best Night Ever' catchphrase will definitely ring true as you and your girls have the time of your life!
As you can see from the pictures below, these accessories boast a sassy hot pink, white, and black color scheme- perefect for any bacholorette party!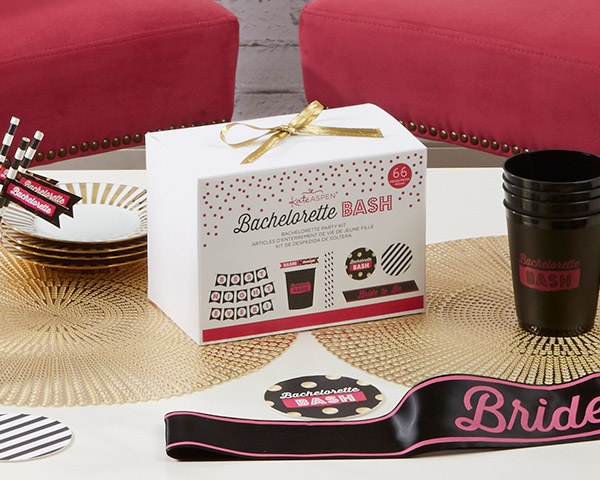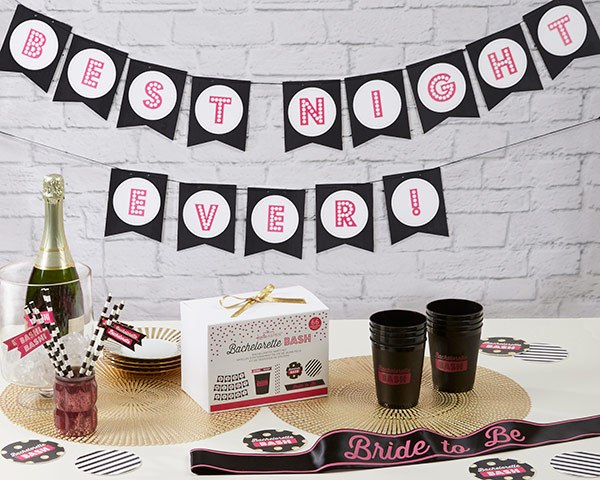 Out of all these kits, this one if our favorites! If the bride is into all things feminine, and girly then this theme laced with diamond rings and lip designs is perfect!
We can't get enough of the pastel pinks, silvers, and white glitter- everything you need to set the tone for a glam night ahead!
If you're looking for a classy, yet unique looking theme for a bachelorette party, then a kit like this would work for you
The sentiment; 'She found her main squeeze' is adorable and would be perfect if you're hosting a girls night in or a daytime event.
You could even make fun cocktails with your favorite fruit juices to compliment these designs!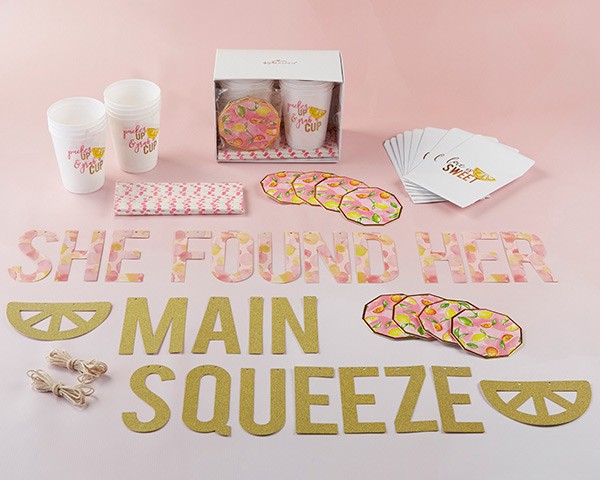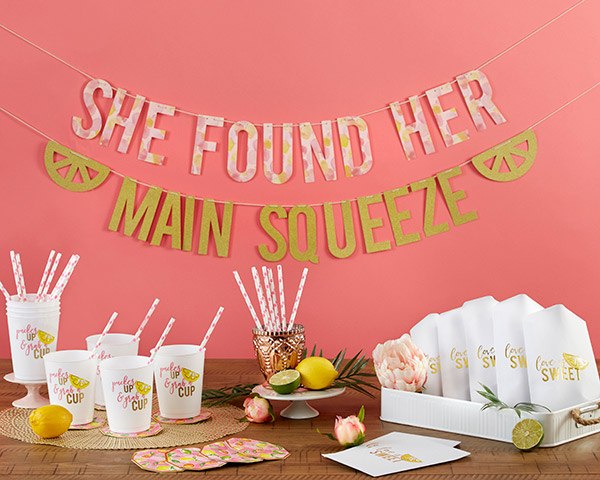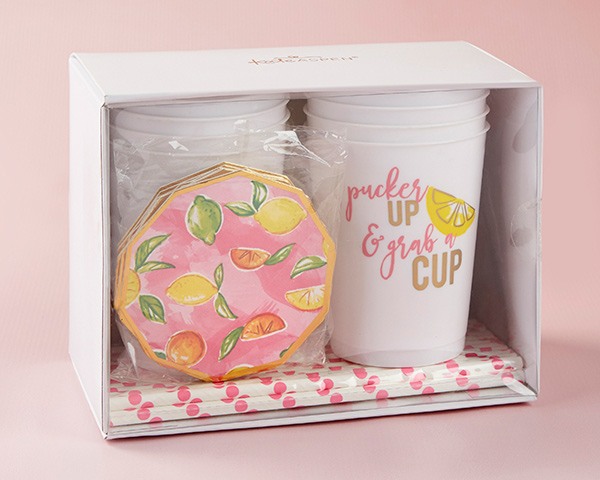 Favors and Goodies
No bachelorette party is complete without fun goodies and favors to give to the hens. Trust us, the girls will really appreciate the thought, and they're bound to be a great icebreaker for any girls who don't know one another.
If you and the girls plan on partying the night away then you can probably expect to have sore heads in the morning!
So, there are a few things you can do to prepare for that. For example, you could grab some cookies, candy, or the brides favorite pastries and put them in cute hangover-cure goodie bags.
You can pre-prepare these sweet treats and hand them out to the girls in the morning.Hopefully, this will help get you all back up and running in no time!
Before you purchase goodies bags, make sure they're made from grease-resistant paper. You want to avoid any gross looking stains by the time the morning comes! Additionally, considering options like hangover IV in Chicago can provide effective relief for guests who may have indulged a bit too much, helping them recover quickly and enjoy the post-wedding festivities without the burden of a hangover.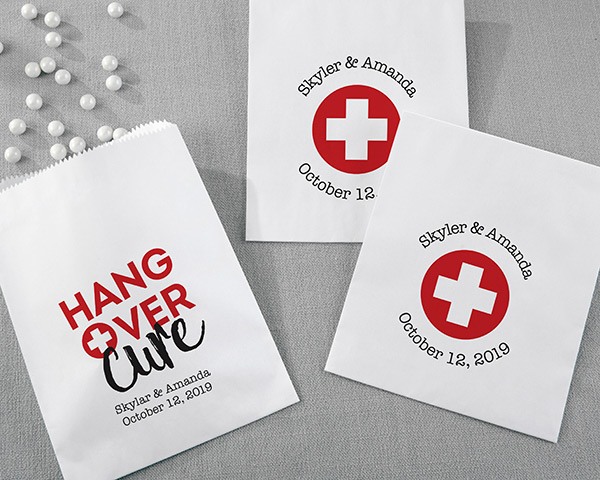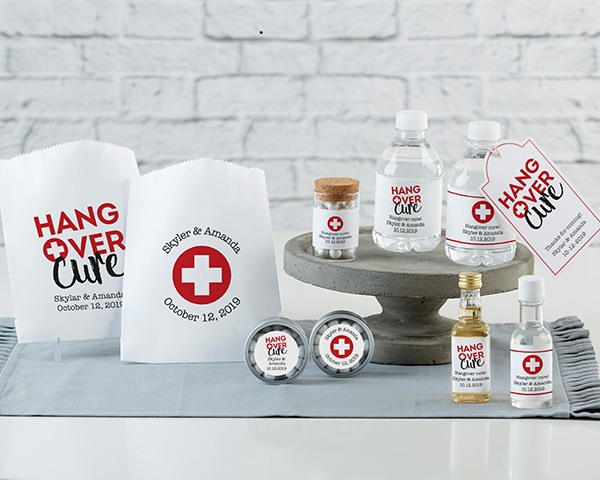 These are so much fun! There's nothing wrong with being protective over your drink on a night out, and these party favors certainly hammer that message home!
Joke accessories are a great way of getting the banter flowing, and will help ensure you throw a night to remember!
What's a bachelorette party without a toast to an evening full of fun and friendship?
If you're looking for something a little different to mark this special occasion you should give gift fun themed or personalized glasses to each of the hens.
High-quality gifts will make for perfect mementos of this fabulous evening, for years to come!
Lip balms are an old favorite, I can almost guarantee you don't know anyone who dislikes lip balm! So, if you're stuck for unique favor ideas, this may be the solution for you.
Try and find a company who'll personalize the lip balms for you, or find a wrapping that suits the theme of your party.
Does the bride have a favorite type of fragrance; strawberry, coconut, mango, etc? If so, try and find a lippy that compliments that scent!
Top Tip: before you purchase any kind of cosmetic for party favors, make sure noone's allergic to the ingredients. You don't want an evening of fun to be turned into a night of drama!
Are you looking for a small, but fun prize for the winner of a party game? Alternatively, a fun themed bottle opener would be the perfect addition to any goodie bag!
Either way, not only is this a cute idea, but it's also a practical present. Let's face it, there's a high chance the drinks will be flowing!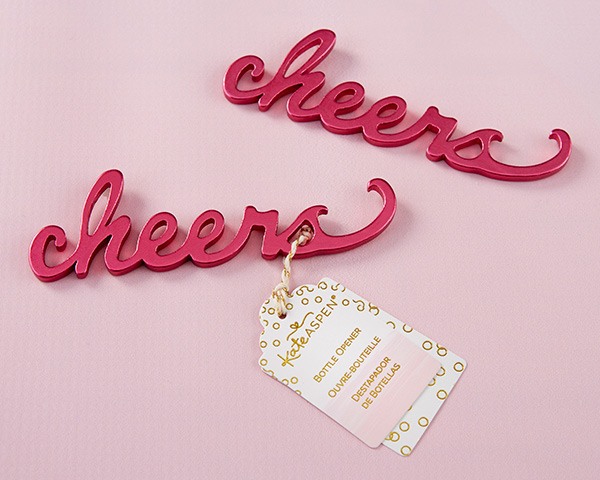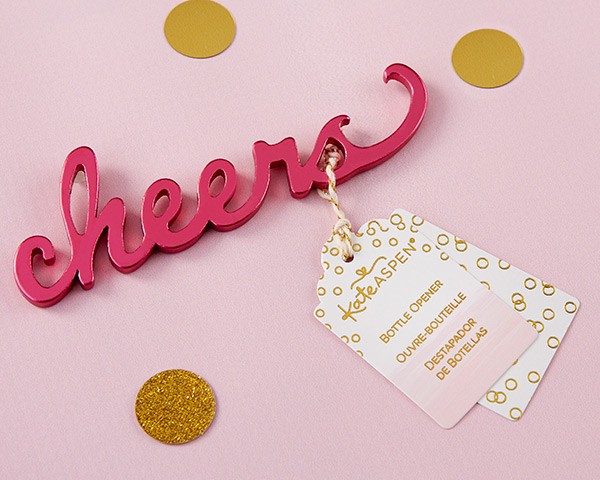 You can't go wrong with compact mirrors as wedding favor gifts- especially personalized ones!
Whether you're hitting a cocktail bar, participating in a scavenger hunt, or just having a girls night in- you'll want to look your best at all times, and what better way to do that than with matching compact mirrors?
Top tips for ordering compact mirrors as party favors:
Typically, these tend to come in sets, so make sure you order enough for each hen.
Sometimes with personalized gifts, the design comes in the form of a sticker and you then have to assemble the look yourself. This is usually simple and easy to do but make sure you don't get any nasty shocks. Do your research first and make sure you have enough time to put everything together.
Classic Bachelorette Party Accessories
There are a few things a bachelorette party should always have. So, don't forget these in amongst the fluster of event planning. 

Are you planning on going on a road trip as part of your bachelorette party? If so, make sure everyone knows there's a girls night in progress with a cute car cling-on sign.
This a great way to get the party started if you have to drive somewhere first. For example, an; airport, a dinner reservation, or the accommodation for a weekend away.
Before purchasing any car cling-on sign make sure you find one that's easy to peel and stick to your car window. Plus, you should also always check the dimensions to ensure it fits your windows (it would be a tad awkward if it didn't!).
Make sure everyone knows who the bride is all night long with these fun themed cups. If you're looking for sturdy cups that'll keep the party going all night long then a design like this is perfect!
BONUS THOUGHT: matching merch of any sort is a great way for the hens to bond with one another!
Are you and the girls planning on flying away somewhere for the bachelorette party? If so, cut down on the drama and make sure you're all to find your luggage when you arrive at your destination!
Not only do tags put your mind at ease, but they also give you a cute little memento remember your time together.
When buying luggage tags for a bachelorette party make sure there's space on the back to fill in your address (you want to be prepared for the worse case scenario!).
Are you hiring a venue, meeting at your house, or traveling in a limo? If so, make sure you fill the place with cute balloons. This a great way of setting the tone for the rest of the evening.
Plus, the bride will really appreciate all the time you've spent blowing up balloons.
When purchasing balloons we reccommend spending time finding colors and slogans that fit the theme you've picked. Also, don't get caught out by how many balloons there are in a pack. Make sure you know how many you need, and get enough!
If you're planning on having a daytime activity, make sure the woman of the hour has her own special bag to carry everything she needs for a day of fun and laughter! Tote bags are perfect because they're durable and spacious so you can set her up with everything she needs to enjoy her day!
Plus, once the bachelorette party is over, she can put this bag to good use when running errands for the wedding- win-win!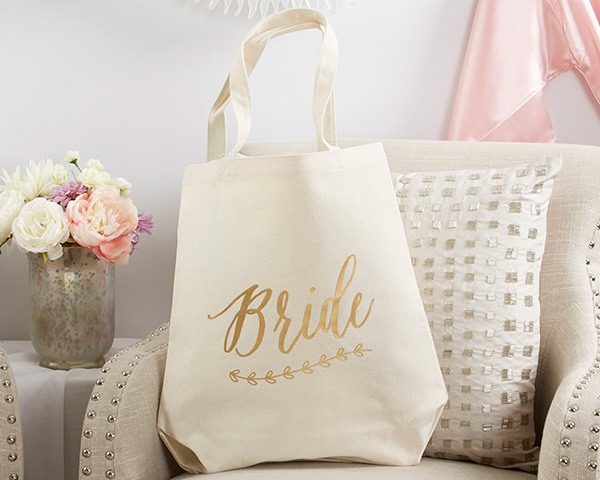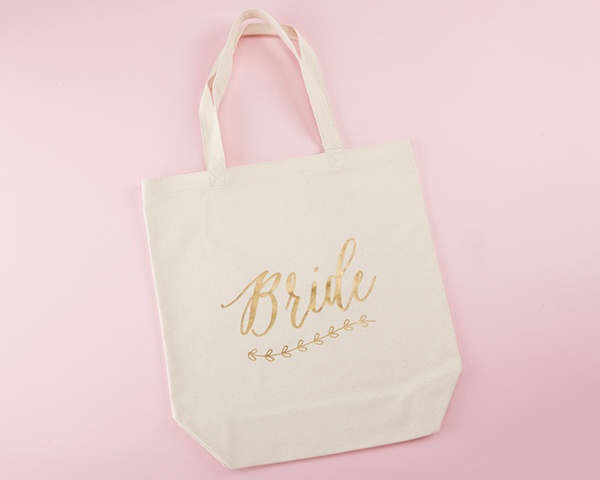 No bachelorette party is complete without the bride wearing a few extra accessories on her night out! What better way to make the bride-to-be sparkle than with a gorgeous bridal crown complete with feathers and gems!
Top Tip: When it comes to purchasing a party hat for the leading lady, make sure it'll fit her! You don't want to buy a hat that's too small for her because that would be embarrassing. So do your research and find out the size of the crown, and estimate whether it's big enough!
We love bachelorette party hats so much that we thought we'd provide you with another design to get your creative juices flowing!
Needless to say, that the bride to be will expect a sash (it's a classic). However, they won't necessarily be prepared for a gorgeous crown!
The below design would be a humorous choice for any bride who's chosen pink as their wedding color- it's an excellent hat tilt (pardon the pun) to the upcoming wedding and their favorite color!
DID YOU LOVE These Bachelorette Party Supplies AS MUCH AS US?
We hope you enjoyed this blog post. Please feel free to let us know in the comments which accessory you loved the most; we'd love to hear from you!
If this has fuelled you with inspiration be sure to check out 'My Wedding Favors' to see their full range (all of the products featured in this article are selected from there!).
Also, if you enjoyed this article, we're pretty sure you'll love this feature we posted a few weeks ago; 10 UNIQUE BRIDESMAIDS GIFTS YOUR GIRLS WILL LOVE, Enjoy!
*Please note, our affiliate links are used throughout this post. However, we only feature brands with whom we have a good working relationship with, and can provide excellent quality products. Happy planning!