Your bridesmaids are your closest girlfriends. They've stuck with you through thick and thin so needless to say you'll want to thank them for all their help.
From hen dos to bridal showers, they've done it all. So, in light of that, you're probably on the hunt for a small token to say thanks for all their support.
If you're stuck on what to get them, never fear because we're here to help. During this blog post, we're going to list our favorite bridesmaid's gifts, and hopefully inspire you a little!
So, without further ado, let's dive on in!
1.) A Personalized Tote Bag
Spoil your bridesmaids with a beautifully customized tote bag. There aren't any rules regarding when you should give your bridesmaids their thank you gift, so keep that in mind if you opt for this idea.
Traditionally, brides give their presents out on the of their wedding. However, it's becoming increasingly fashionable to give your girls a token gift when you ask them to be your bridesmaids.
This is a lovely way of thanking them in advance for all of their hard work and effort. Plus, it gives them time to actually use their gift on the run-up to your wedding!
This is especially relevant when it comes to these gorgeous tote bags. Think about how fun it would be for you and your girls to rock matching accessories to all of the events leading up to your special day. The bridal shower, the bachelorette party, and even the morning of your wedding. All in all, they're pretty and practical, what's not to love?!
Plus, another major benefit is that this gift isn't overly pricey, so they're perfect if you're on a strict budget. However, if you have a little cash left to spare, you might want to consider stuffing these bags with a 'bridesmaid survival kit.'
You could easily make one of these yourself. Things like a notepad, rollup flats, and tissues are all great ideas. Alternatively, you could slip in a sentimental note and a few pictures of you two together. You get the idea, there's plenty of room for creativity with this gift!
Plus, you could also get one for the mother of the bride and groom, so no ones left out of the fun!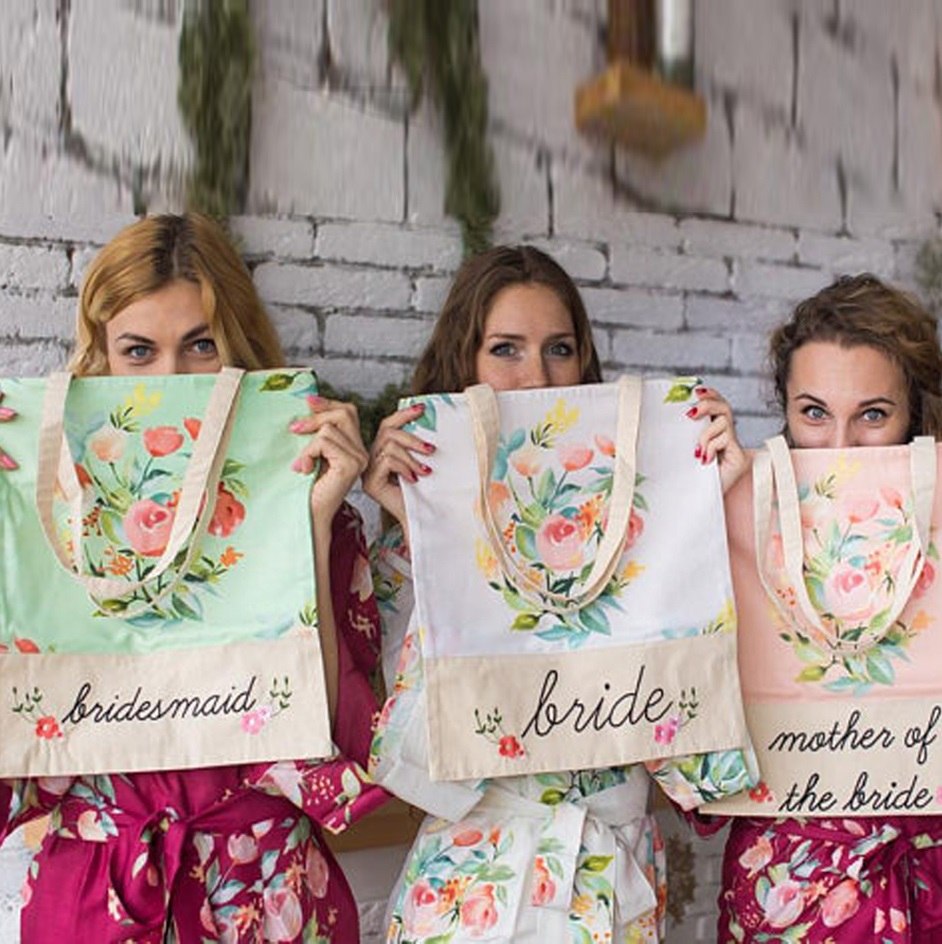 2.) Cosmetic Bags
Here at Cake and Lace, we love bridesmaids gifts that unite everyone together, (as you could probably tell from the tote bags), and these cosmetic bags do precisely that!
They're the perfect present to give your girls. However, we recommend giving them out before the morning of your big day. That way you can all use them together while you're getting ready. How cute is that?!
Just like the tote bags, you could have them personalized so that each woman of the wedding party has one suited to her role. For example, Bride, Bridesmaid, Maid of Honor, etc.  You could also get one for the mother of the bride and groom too!
When it comes to choosing a makeup bag you like, we suggest trying to find one that compliments either the color palette of your wedding or one that represents the theme.
For example, if you're hosting a garden party style wedding or have a ton of shabby chic themed decor, then a floral cosmetic bag would be just the ticket!
You may also want to slide a little something extra into these makeup bags. For example, it might be a nice idea for all of your girls to wear something that unites them on your wedding day.
For example, matching earrings or a bracelet to compliment their bridesmaid dresses. This is such a thoughtful idea and something we're sure they'll treasure forever!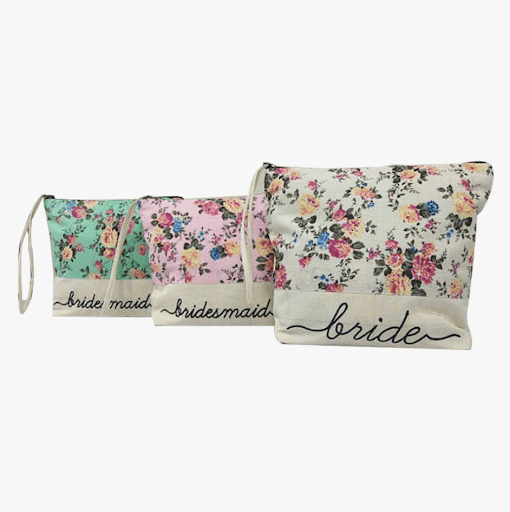 3.) Personalized Robes
As you're probably already aware, customized robes are all the rage right now. You literally can't peruse Pinterest in search of wedding inspiration without coming across pictures like the one below.
The same is true of wedding blogs (this one included!), and for a good reason- they're fun, pretty, and practical. Plus, they make for the most amazing photographs.
Luckily for you, robes like this come in virtually any style. From simple chic to feminine florals, there's a design to suit any wedding. You just have to go out there and find them!
All in all, they're the perfect present for your bridesmaids, not only do they protect your bridesmaid's clothes while they're applying their makeup and fixing their hair, but they're also handy to have during the summer months.
Namely, because they're perfect for lazy Sunday mornings! You can casually swan around the house in this attire: watching tv, doing a few chores, fixing breakfast (or whatever else you do on Sundays!). These robes are both roomy and lightweight, so your movements aren't restricted in the slightest!
4.) Matching PJ's
Now, matching PJ's are ieal if you and your bridesmaids are staying in the same place and getting ready together the morning of your wedding.
They have all the benefits of the robes, but with the added advantage of being able to sleep in them!
DID YOU LOVE THESE BRIDESMAIDS GIFTS AS MUCH AS US?
If you loved these bridesmaids gifts as much as we did, then we suggest heading over to Robes by Silk and More. Each of these products can be found over on their online store.
Having sampled their products ourselves, we can say with complete confidence that we love their robes. They're excellent quality, and their designs are beautiful!
P.S. Please feel free to let us know in the comments which ones you liked the most; we'd love to hear from you!
Also, if you enjoyed this article, we're pretty sure you'd be interested in a feature we posted a few weeks ago; 'Who Does What?' Enjoy!
Rosie Greaves – Freelance writer, and wedding and relationships expert.
* Please note, our affiliate links are used throughout this post. However, we only feature brands with whom we have a good working relationship with, and can provide excellent quality products. Happy planning!