Cake & Lace has been in business for years, and it's been a long time since we've seen something as lovely as this shoot! We can't help but feel the vibrant aura and stunning personalities of the ladies in these photos. They perfectly match today's theme -Nature Meets Luxury- and this combination in a styled shoot is not always easy to pull off! There's something adorable to see (how would you rate their hair accessories?) everytime we give each photo another look – ain't that just brilliant?
From Isabel Kate Events (Planning & Design):
With this styled bridal inspirational shoot, we aimed to create a romantic, luxurious bridal story set in the natural Southern California landscape. Our goal was to ignite inspiration for the future brides-to-be who envision a romantic wedding incorporating lush greenery with natural elements, while still feeling high-end. We played with the juxtaposition of soft pinks, golds, and ivories against the bold colors of violet, maroon, and emerald to create a visually appealing backdrop and present textures that were varied and unexpected. We incorporated both classic and modern touches, featuring extraordinary gowns from Kinsley James Couture Bridal paired with vintage accents and textures found in the soft florals, velvet furniture, and bold lip colors. Most importantly, we built the shoot around the beautiful natural light found at The Lodge at Malibou Lake and wanted to feature as much of the venue's majestic surroundings, bright colors, and rich landscape as possible.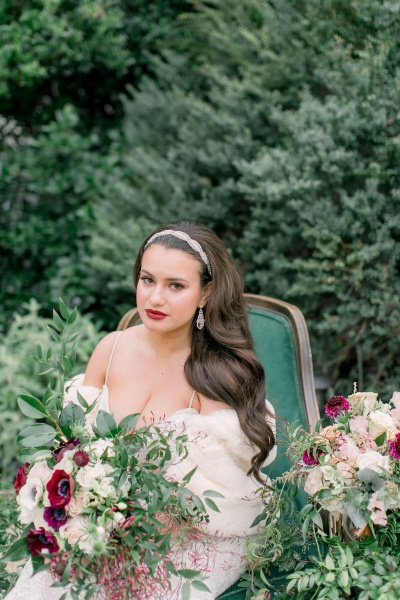 From Lily Tapia Photography (Photographer):
For this shoot, we wanted all the models to feel confident and powerful and bring a modern, fun twist to a traditional bridal gown. By utilizing Kinsley James' stunning gowns, we were able to achieve exactly that. We had a perfect location for this shoot with The Lodge at Malibou Lake, which accented the romantic and luxurious theme we wanted to create. Beautiful greenery and mountain landscapes surrounding the historic lodge gave the shoot the perfect vibe of romance we were aiming for. We mixed new and old trends so this shoot will inspire modern brides who want a Southern California whimsical wedding, yet love a classic feel.