Planning your wedding is such a wonderful yet demanding task. You get to choose and handpick every detail of the entire wedding experience, and decide what your guests will be presented with. You have to think about the decoration, the music, the food, the cake, and so many other details. One of the details you should take care of is writing the text for your wedding invitation.
 Your wedding invitation text should be special, warm, and welcoming. It's the first thing your guests will receive from you, and it'll serve as an introduction for what's waiting for them at the actual wedding. But, how can you write it so that it's appealing and unique?
Let's break it down together and see what you should do to make your wedding invitation text stand out.
1. Decide on The Formality
When you're thinking about the text of your wedding invitation, you have to make sure it fits the rest of the wedding story perfectly. The invitation's wording and design need to be aligned with the wedding's style, tone, color scheme, and formality.
Therefore, make sure you know exactly what your wedding is going to look like before you write the invite:
Is it going to be a black-tie?

Is it going to be more casual and fun?

Is there going to be a theme of the party?
Once you have all the details figured out, and you are finished with the first draft of your wedding planning, you can write a wedding invitation text that fits the concept.
Keep reading to see what are the basic elements of a wedding invitation that you have to include in yours.
2. Introduce The Hosts
Every wedding is different, and the hosts differ from couple to couple.  Regardless of who's hosting, your wedding invitation text should start by announcing the host.
It could be:
the couple itself

the bride's parents

the groom's parents

both sets of parents
Make sure that you open up with the names of the hosts: 
John and Luisa Jacobs




along with




Richard and Lillian Green




invite you…
"It's important that you start by announcing the hosts. This formality is a way of honoring the host and letting the guests know who's addressing them" says Dinah Pearson, a writer from Subjecto.
If a parent is deceased, you can still mention their name:
Markus Jacobs, son of Luisa Jacobs and late John Jacobs




along with




Cynthia Green, daughter of Richard Green and Lillian Green




invite you…
Also, if one set of parents are divorced, you can put the names of their new partners, or just separate their names and list each of their names in a single line.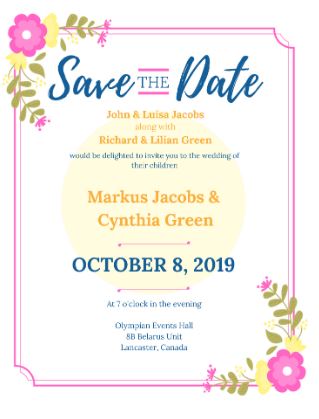 3. Request for The Guests' Presence
Your wedding invitation text has to have the invitation line. You could write it in any style you've chosen, and let your guests know you wish for them to join you.
Here's a couple of ideas:
 request the honor of your presence

invite you to celebrate with them

would love for you to join them

invite you to witness their happiest day

would love to celebrate with you
Choose the one you like the most, or come up with your own. It will add some personality to your wedding invitation.
4. Time, Place & RSVP
Naturally, you want your guests to know where and when to show up. If your wedding will be comprised out of several separate events, such as the reception, and the ceremony, you have to specify what the invite is for.
So, here is the other information you have to include:
location & address


Write the name of the venue and the precise address so that all the guests can find it easily.
Write the date of your wedding and specify the time of the day you wish for the guests to arrive.
RSVP card


Include an RSVP card that specifies the deadline for responding to your invitation. Make sure it's clearly visible so that everyone remembers to RSVP. You don't want any surprises on your wedding day.
Marshall Adams, an editor from BeGraded says, "You can put your own little twist on the wording for the time & place of your wedding. Try to be creative and unique to make your guests feel welcome."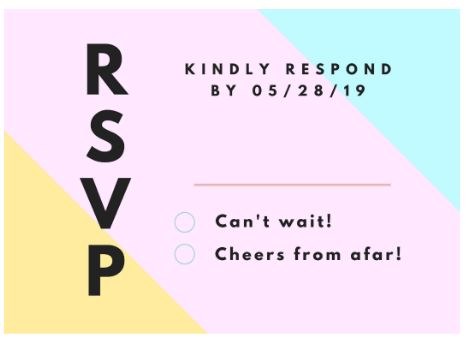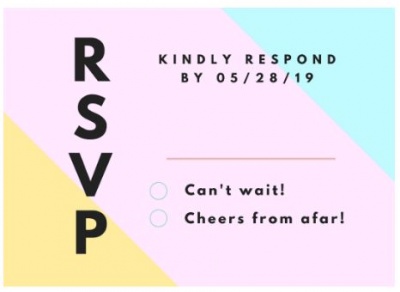 5. Proofread Until It's Impeccable
Finally, there's one last segment of your wedding initiation text that you have to think about before approving it for printing and sending it out. You have to think about the technical aspect of your text.
That means that you have to proofread your text and consider things such as:
spelling errors

grammar mistakes

sentences that are too long and confusing

the structure of the entire text

vocabulary
You should edit your wedding invitation text at least a couple of times before sealing the deal. In case you need extra help with writing, editing, or proofreading it, check out these useful tools:
Top Essay Writing – You can write your own text and send it to this writing service for proofreading. Their team of professional writers will polish it and send it back to you.
Grammarly – You can proofread yourself with a little help from this online tool. Just paste the text or drag & drop the entire document and it will point out all the weak spots in the text.
Classy Essay – If you need someone to edit your ideas and rewrite the whole thing, you can try out this online service.
Final Thoughts
Your wedding invitation is another memory of your wedding that you'll be looking at years from now. It's important that it fits like a little piece of the puzzle with all the other details of your wedding.
Use the advice above to write unique and appealing wedding invitation text. Give it a twist of your own make your guests feel like a part of your magical story.
About the author: Melanie Sovann is a seasoned writer and blogger, passionate about a broad spectrum of topics, ranging from technology to sociology. She is currently a writer and editor at WriteScout and a content marketing specialist at IsAccurate. In her spare time, she loves contributing her articles to 3to5marketing.com and helping her colleague with his business blog.