Boho wedding dresses are the perfect blend of classy but casual. A "boho" theme is a great choice for the couple who wants to be unique without being too untraditional. Maybe your boho wedding is outdoors surrounded by cascading trees. Or maybe you're planning a serene beach boho wedding. Either way, these dresses will fit right in with your style and make you feel like the bride you've always dreamed of being. 
Long Sleeve Lace Bohemian Wedding Dress
These long sleeve wedding dresses offer style without sacrificing comfort. While the sleeves are decked with decadent lace, the comfortable liner will have you forgetting you're wearing a wedding dress. This lace screams boho as it is elegant without being too tight and uncomfortable. 
Backless Wedding Dress
Backless wedding dresses are a great way to incorporate a trendy look with a traditional twist. These backless dresses have the comfort of boho while still looking upscale. This dress is designed to flatter your body and show off the right places. Additionally, all these dresses can be ordered in a variety of colors including nude and vanilla ensuring you have a super unique look. 
Off-the-shoulder Boho Lace Wedding Dress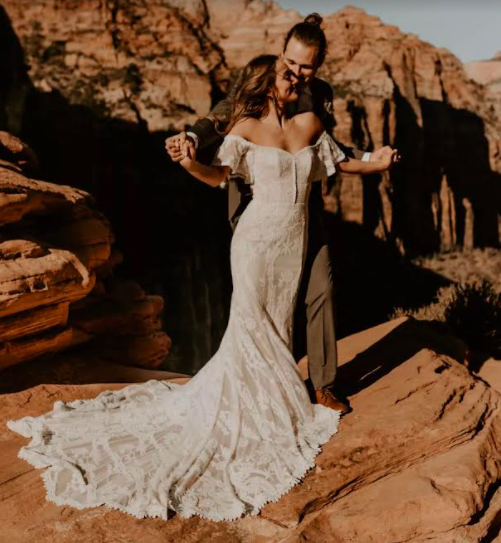 These off the shoulder wedding dresses are perfect for the boho bride. It's amazing how this look can allow you to show some skin without worrying what grandma will say. "Caroline" has a more fitted feel while "Desiree" is flowy and comfortable. Both have the extremely boho look of lace all the way down and sleeves that will blow in the wind at your beach wedding. 
Flowy Sleeved Wedding Dress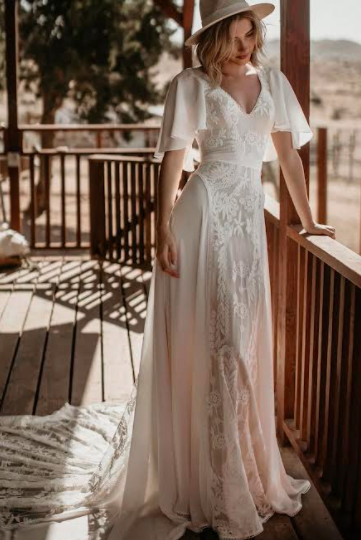 These flowy sleeves are a dream. The crepe material allows for comfort and ease while wearing something so high end. The skirt and train also utilize soft crepe material that will dazzle as you walk down the aisle. This dress would fit into an outdoor wedding perfectly. Just imagine the fluttering this dress will do as the wind blows through it! 
A-line Boho Wedding Dress
An a-line dress is great for showing off your waist in a classy way. This boho a-line dress features lace, an open back, and a full but lightweight skirt. The lightness of this dress allows you to dance, eat, and sit comfortably. The boho bride values comfort and ease. This dress provides that without being too casual. 
Short Boho Wedding Dress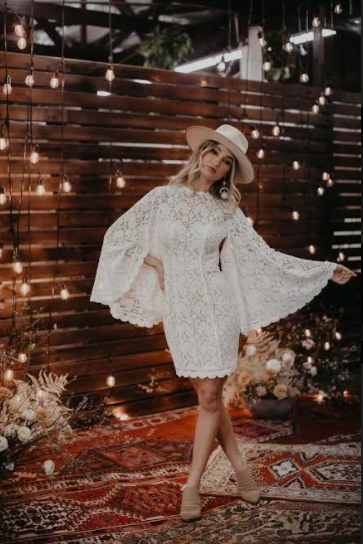 These short boho wedding dresses emphasize the casual, carefree nature of the boho bride. The cotton lace offers peak comfort while still having the look of elegance. A short dress is a great choice for an elopement, rehearsal dinner, or reception. But, since a boho bride isn't too concerned with tradition, you may find yourself wanting to wear a short dress for the ceremony.
Feel free to wear the dress that feels right to you and without caring about what others are doing. 
If you love these styles, a boho wedding dress might be for you. Consider incorporating elements of boho fashion like lace and flowy crepe while also incorporating the boho attitude of not conforming to tradition. 
You can find these and more boho wedding dresses here.