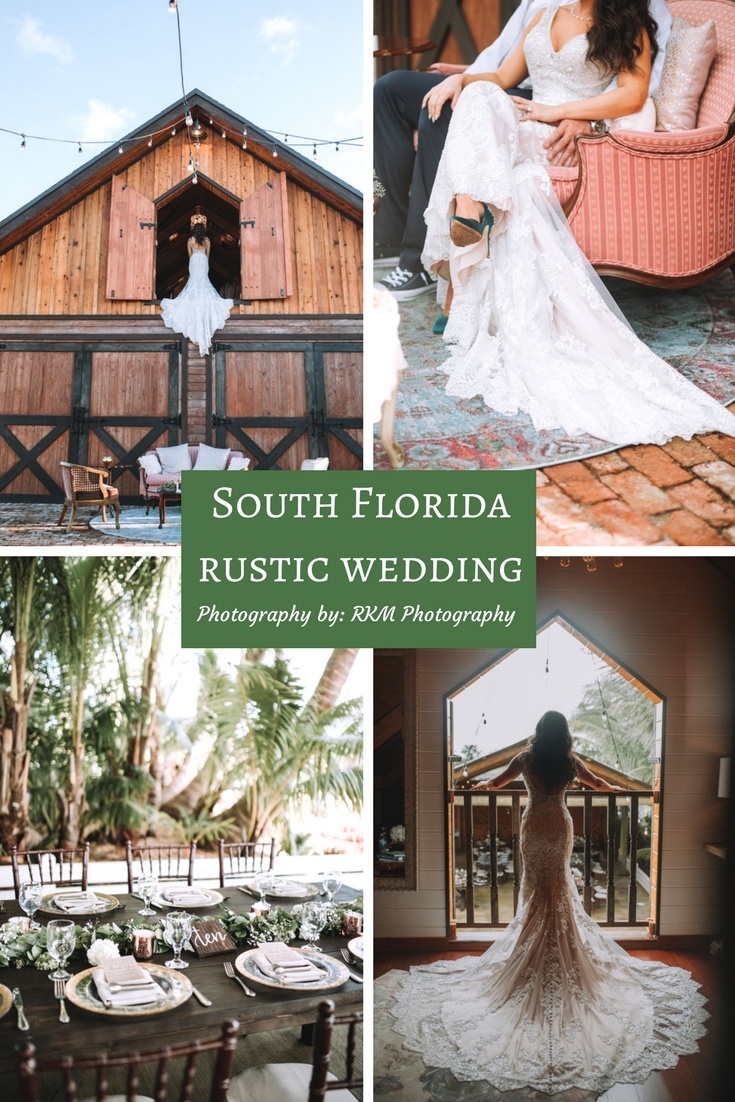 Bride and groom are a Teacher and Firefighter who love the outdoors. While trying to stay classy and elegant they had the perfect mix of rustic meets elegant!
This is such a gorgeous wedding, we can't wait for you all to see the beauty down in South Florida!
Q: Tell us about your wedding! What was the inspiration behind your day? Did you have a specific theme, style or color palette? Did you incorporate any cultural or religious traditions in any part of your day?
A: My wedding inspiration came from lots of ideas that I found on Pinterest. We decided on a rustic theme and wanted to use a nude ombré color pallet.
Q: Let's talk wedding decor. How did you decorate your space for the ceremony and the reception? Was any part of the decor DIY?
A: When I met with the planner I told her that I wanted the decor to be simple and elegant. I wanted a mixture of greenery and candles to create a romantic feel. Each table was decorated differently and we also mixed rectangular and round farm tables throughout the space. I used SLE vintage rentals for my sofa, table, rug, and sign in table. The only DIY I did was the guest seating chart. I found the wooden room divider at an antique store, bought the frames, and printed out the names myself.
Q: What were the florals like in your wedding? Did you use flowers in any of your design elements like the bridal bouquets, centerpieces or ceremony backdrop? Did they play an important part in the overall style of your wedding?
A: We did not use any bouquets in the wedding ceremony. There were roses mixed in with greenery throughout the tables but one of my favorite pieces in the wedding was the floral chandalier hanging above our table. I found a photo that I liked on Pinterest and my wedding planner designed a piece similar to the one I showed her. . It was spectacular!!
Q: Did you personalize the day in any way (food trucks, guest entertainment etc.)? What were some of your favorite parts of your wedding?
A: We provided the guests with hangover kits when they walked in because we wanted to create a fun party like  atmosphere. The girls were given flip flops with custom tags, and there was also a popcorn bar at the end of the night because that is our favorite snack. I don't have one favorite part of the wedding. Everything was literally perfect. It was completely gorgeous from beginning to end. I just wish it wouldn't have gone by as quickly as it did.
Q: Let's talk fashion. How did you both choose your wedding day look? Describe the looks in detail.
A: My wedding look came from Pinterest photos. I gave a few ideas to my makeup and hair girl and she decided what she thought would look best. My husband wanted to be comfortable, he hates wearing jackets so he decided early along that he wanted to be in suspenders and a bow tie and absolutely no jacket.
Q: How did you meet? Tell us about the proposal.
A: We met at a party that a mutual friend of ours had. I moved away a few weeks later and wasn't very interested in him. We began to text back and forth while I was away and he decided to come visit me one weekend. . I fell in love the second time I met him and the rest is history. He took me down to the keys to eat and look at the full moon because I am obsessed with the full moon. When we were walking on the sand he got down on one knee and asked me to marry him. It was the most amazing night and the most amazing full moon ever.
Q: What was the most anticipated or special moment of your wedding day?
A: I think the most anticipated moment for both of us was the first look. We had decided early on that we wanted to do the shoot and we're both so worried that we were going to cry in front of everyone that we wanted that moment to ourselves and not to share with anyone else. It was perfect, and both of us were so happy that we decided to do it.
Q: Do you have any wedding planning or marriage advice that you'd like to share with other couples planning their day?
A: Enjoy it! It goes by so quickly that it doesn't seem real. Have fun, don't stress out over things that you can't control like the weather or RSVPs.  Stand back and take it all in because it's over in a moment, oh and if you can afford to pay for an extra hour, do it!!