As you probably already know, the tradition of wearing something blue comes from the English rhyme (that dates back hundreds of years) "Something Olde, Something New, Something Borrowed, Something Blue, A Sixpence in your Shoe".
However, did you know that each section of the saying symbolizes something beautiful? For example, your 'something old' stands for continuity. Your 'something new' represents hope and optimism for the future. Whereas, your 'something borrowed' denotes borrowed happiness. With that in mind, if you have a friend or family member who's happily married, perhaps it would be nice to borrow something from them?
However, your 'something blue' represents purity, love, and fidelity- everything you would want for a marriage. Although this is more of a British tradition, brides across the globe have adopted this sentimental custom.
So, let's dive into our favorite 'something blue' jewelry pieces.
Earrings
If you're thinking of styling your hair in an updo, then a pair of gorgeous earrings are essential! So, why not kill two birds with one stone and get a pair of earrings that feature a blue gem?
Here are a couple of fabulous examples:
1.) Royal Blue Climber Earrings
We love climber earrings, what started out as a fabulous festival trend, is now a gorgeous jewelry option for the modern day bride. If you're on the hunt for jewelry that's slightly different from the norm but still screams sophisticated chic, then this style is ideal! Opting for a central blue stone is a beautiful way of incorporating your something blue into your bridal attire.
If you're unfamiliar with how to wear this piece of jewelry then not to worry, it's super simple. All you have to do is insert the long hook on the back of the earring through your piercing. Then, you can position the wire to gently grip the back of your earlobe. This allows the beautiful design to adorn the curve of your ear.
Alternatively, you can position the earing, so the gems hang in a drop style. Either way, it doesn't matter, because both of these styles are gorgeous.
The example below uses 16 stones in total, using a combination of white diamonds and blue sapphires- simply, divine!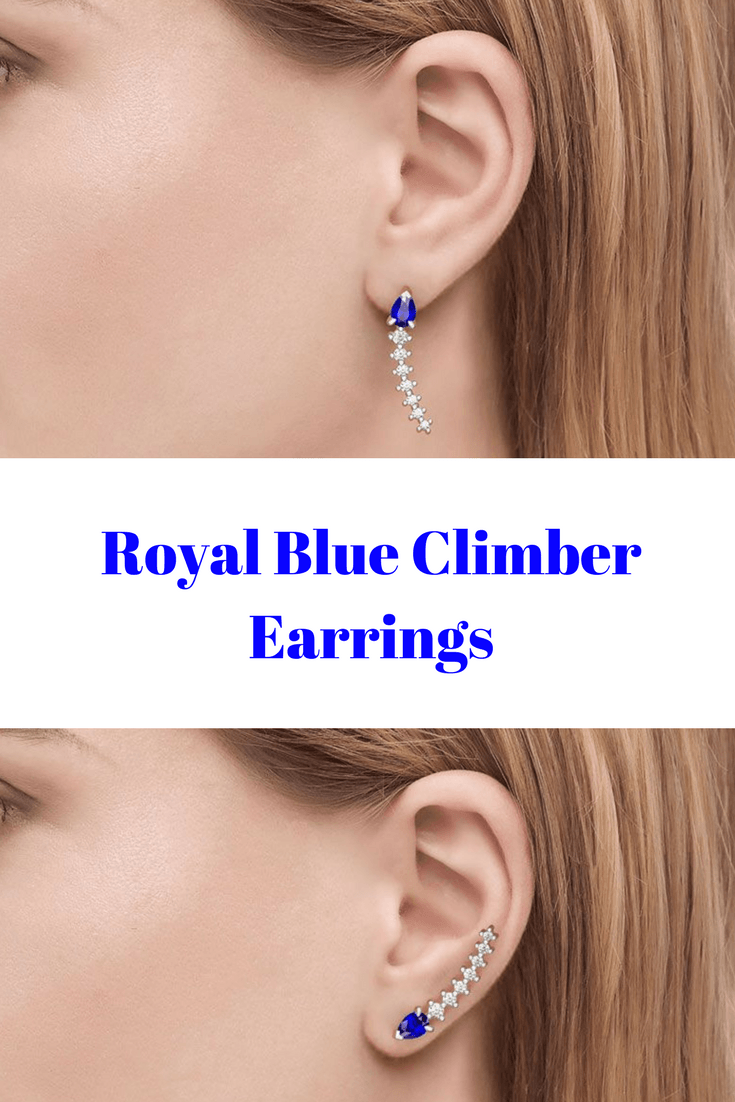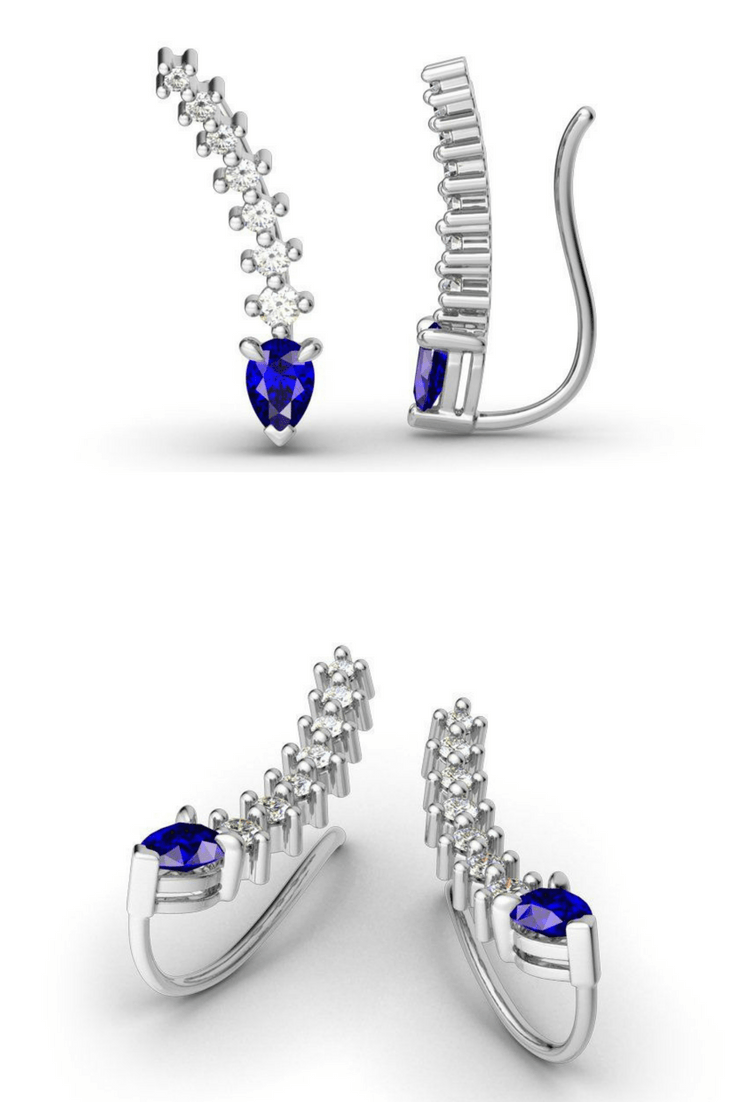 To purchase these beauties, click here.
2.) Classic Princess Cut Sterling Silver Stud Earrings
Alternatively, if you're looking for a small and subtle kind of earing then you can't go wrong with studs. We love the rose gold colored setting (this color is all the rage this year) this compliments both the silver colored gems and the pale blue stone beautifully. All in all, these are gorgeous!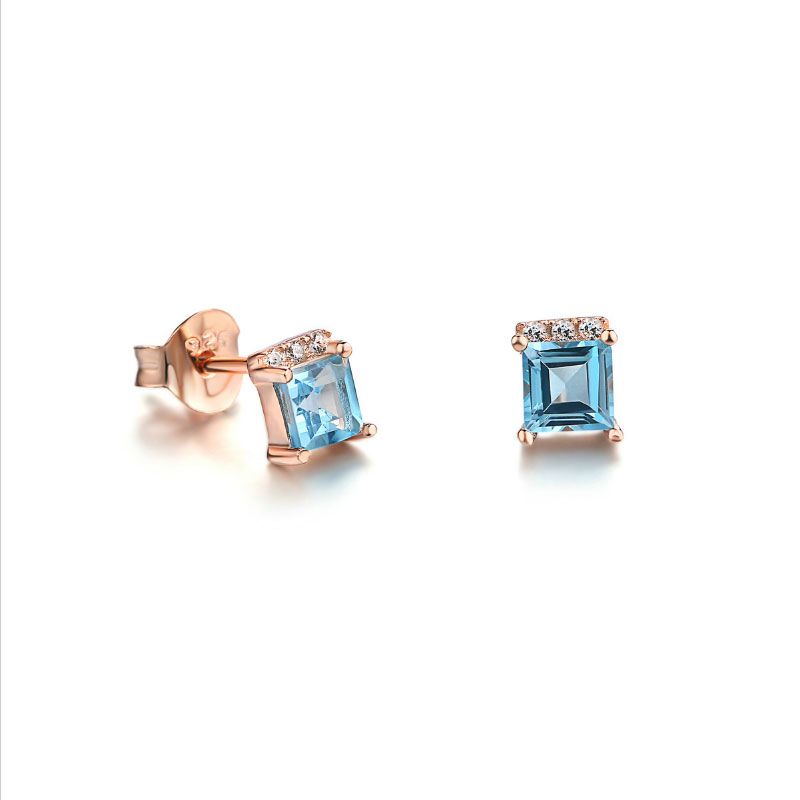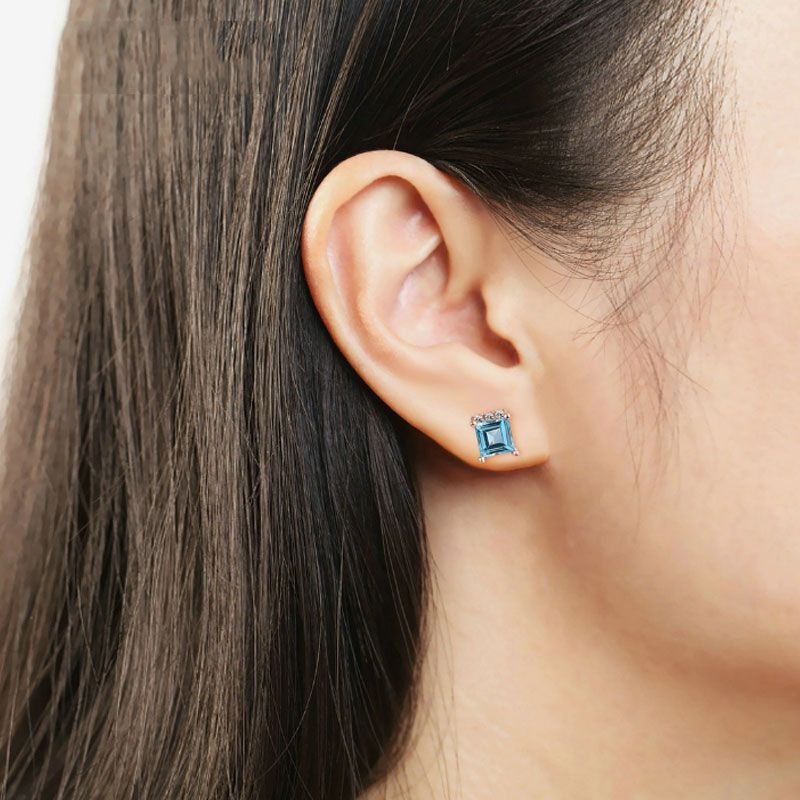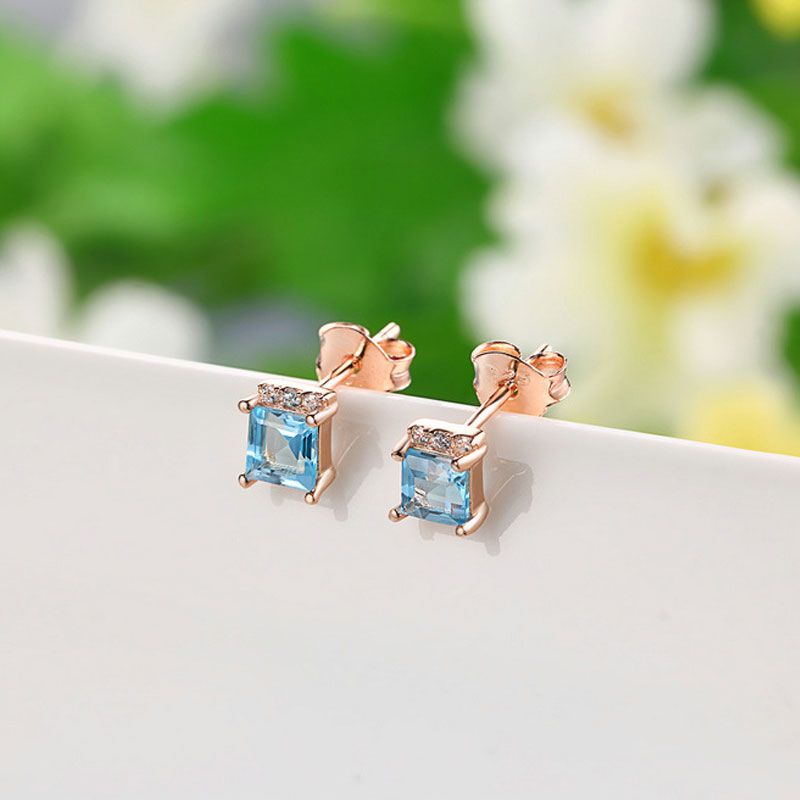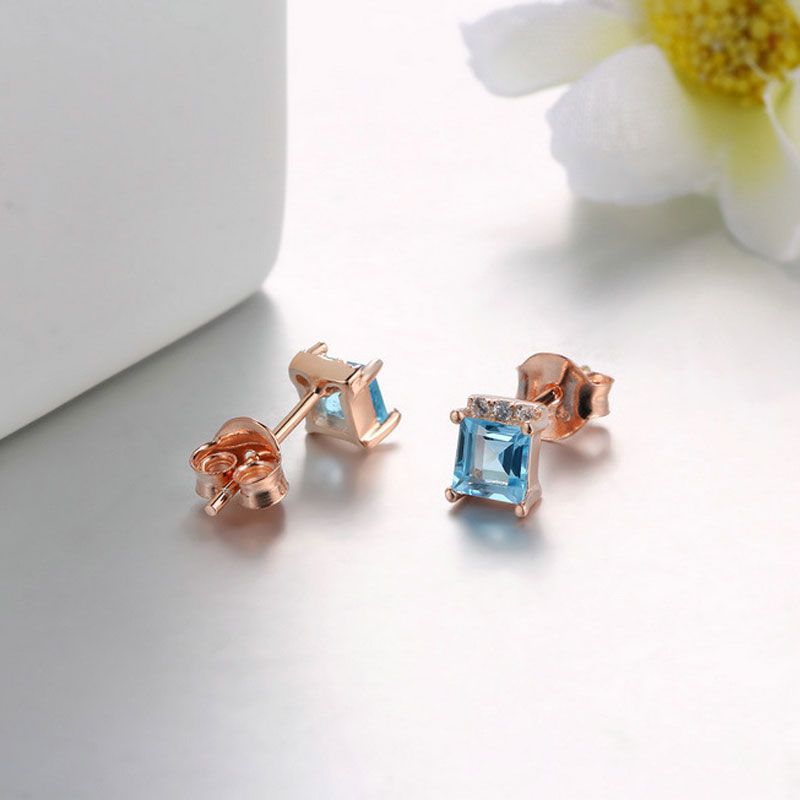 To get your hands on these earrings, click here.
Necklaces
Obviously, when it comes to picking your wedding accessories the phrase 'less is more' has never been so appropriate. Typically, your wedding dress will make a large enough statement without having to adorn it with copious amounts of jewelry. Plus, not all styles of bridal gowns suit a necklace. So, choose your jewelry carefully.
On the other hand, finding the perfect piece can be the thing that brings your entire bridal outfit together!
Top Tip: swot up and do your research, be sure to try your necklace with your wedding dress before making any final decisions. You'll know in your gut when you've found the winning combination!
3.) Drift Bottle Pendant Necklace
If earings aren't your thing, then perhaps a necklace would work better. A shorter chained necklace like the one below is ideal if you've opted for a simple strapless bridal gown.
Not only is this a perfect way to wear something blue, but it also adds a touch of glamor to your wedding ensemble.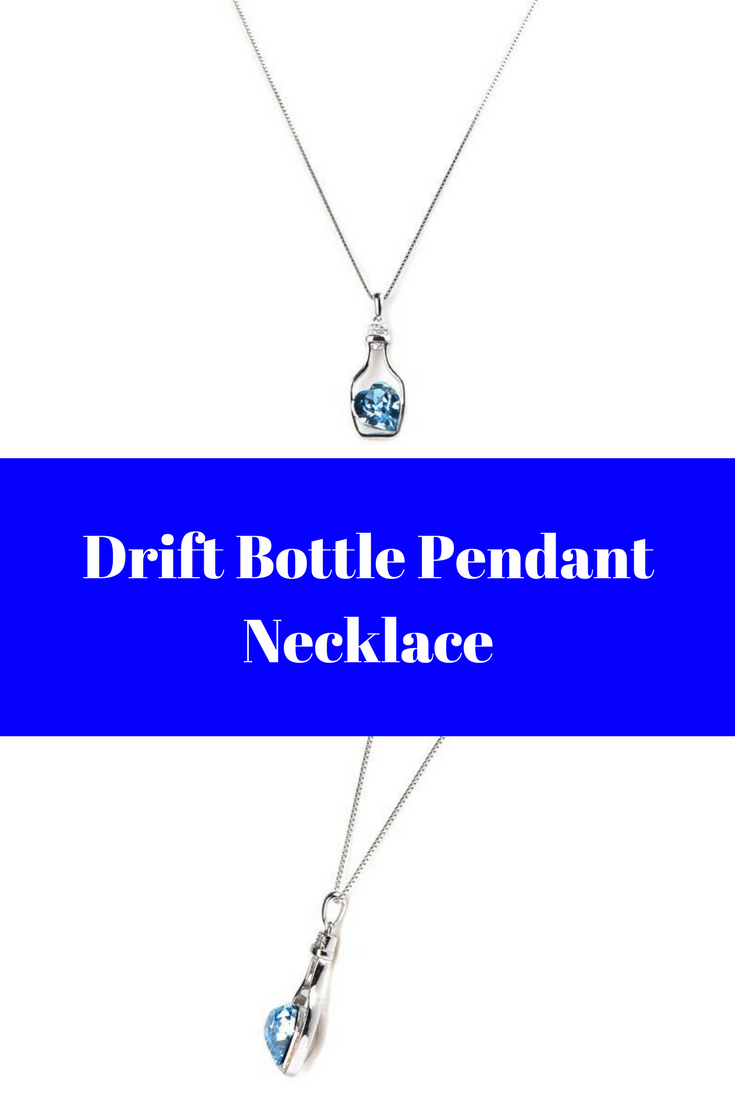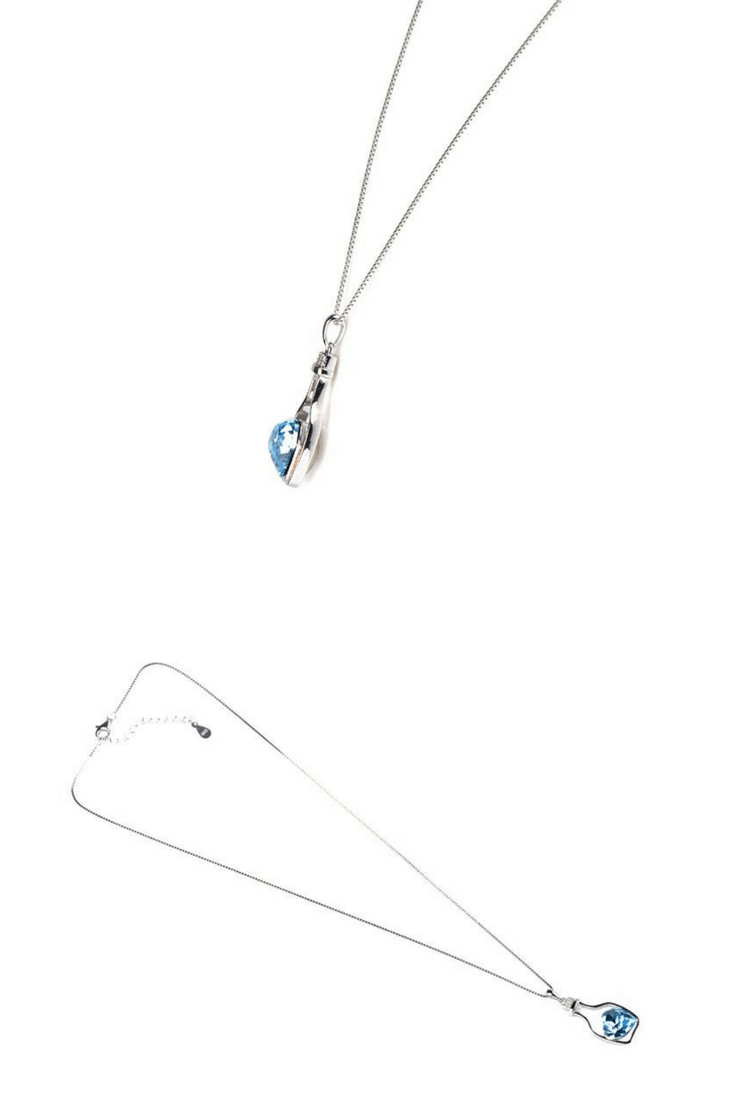 If you want to buy this necklace, click here. 
Charms
Is your charm bracelet your pride and joy? If so, why not wear a blue charm on our wedding day, this is a great way of acknowledging this tradition without wearing anything overbearing.
Check out these examples!
4.) Heart to Heart Clover Charm
A blue four-leaf clover charm works on so many levels. It's a fabulous reminder that both you as an individual and the relationship you share with your partner is a rare find, making you both exceptionally lucky. This is such a beautiful testament to your special day and the journey you're about to embark upon together!

For more info on this charm, click here. 
5.) Blue Flower Charm
If you're a budding botanist or a gardener (pardon the pun), then this would be a beautiful addition to your wedding outfit.
Or, if you're hosting an outdoor ceremony and/or reception amidst natures bounty, then a floral charm would be a great way of tastefully entwining the theme of your wedding into your bridal outfit.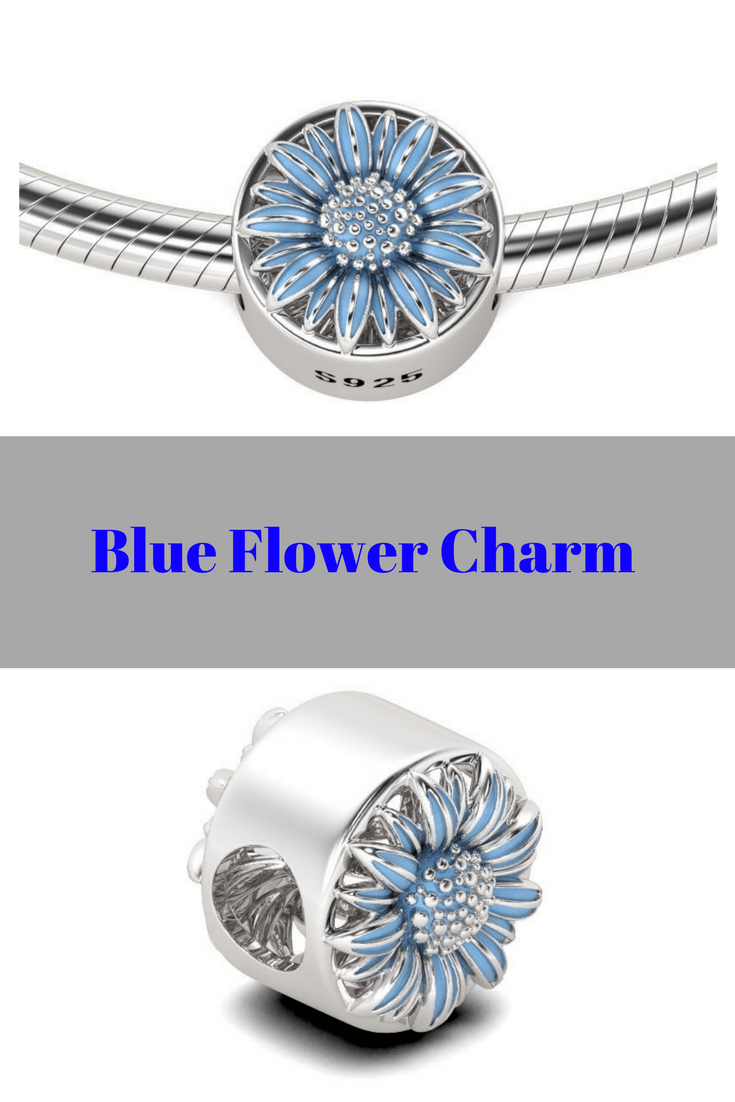 If you loved this charm, click here to be taken to the sales page!
DID YOU LIKE THESE 'SOMETHING BLUE' WEDDING ACCESSORIES?
If this article's fuelled you with inspiration be sure to check out Jeulia's full range  (all of the products in this article have been selected from there!).
Please feel free to let us know in the comments which of these pieces of jewelry you liked the most; we'd love to hear from you!
Also, if you loved this feature, we're pretty sure you'll like this post we published a few weeks ago; Vintage Bridal Jewelry Inspiration. Enjoy!
Rosie Greaves- Freelance writer, and wedding and relationships expert.
*Please note, our affiliate links are used throughout this post. However, we only feature brands with whom we have a good working relationship with, and can provide excellent quality products. Happy planning!