Every bride wants to have incredible Instagram-worthy wedding flowers but very few brides have a bottomless budget for wedding flowers. Luckily, you don't have to sacrifice your wallet (or your style) to get wedding flowers that you love. You might just have to be a little bit more creative in looking for the wedding flowers of your dreams. So, here are a few tips to help you have gorgeous, stylish wedding flowers on a budget.
1. Choose Your Flowers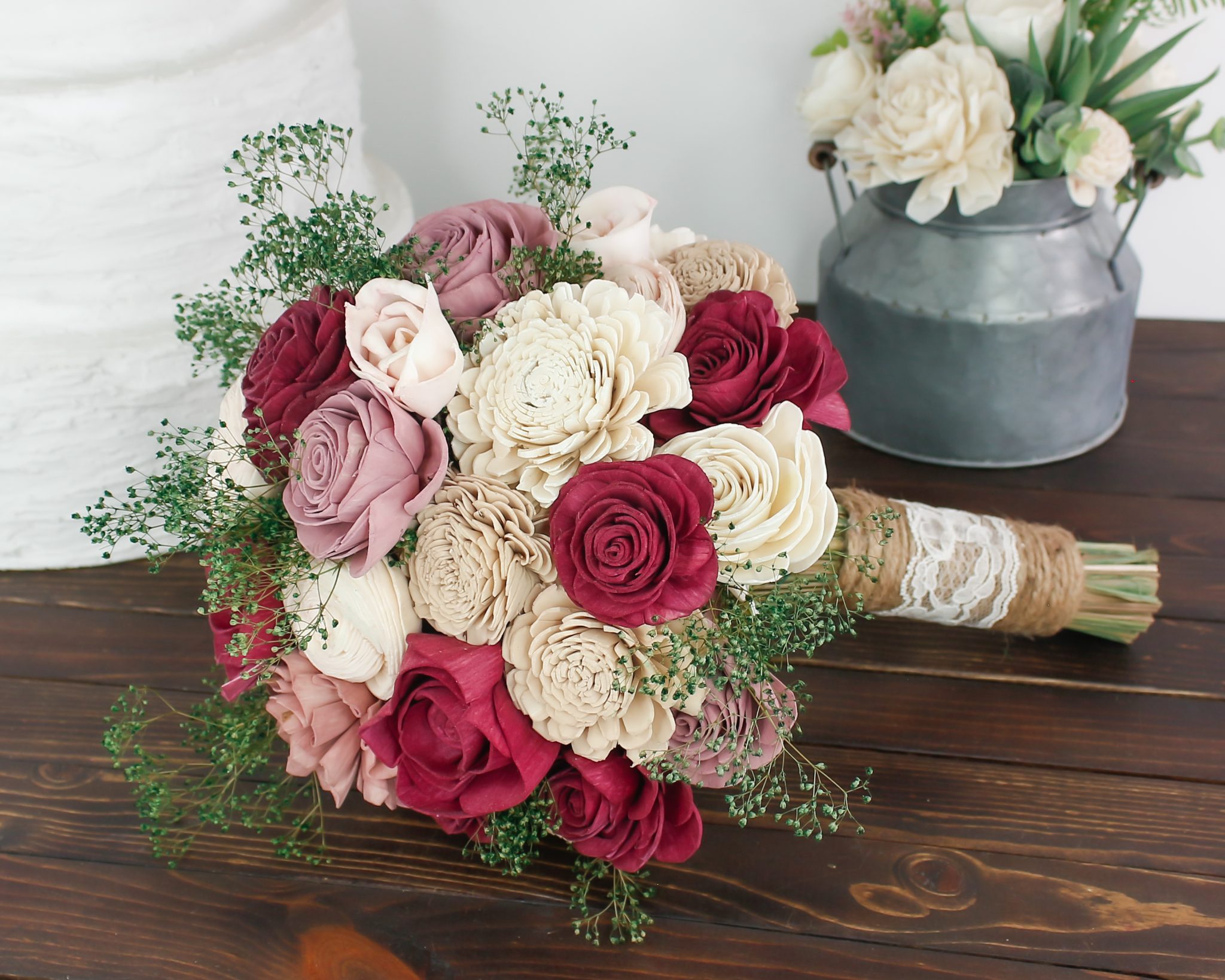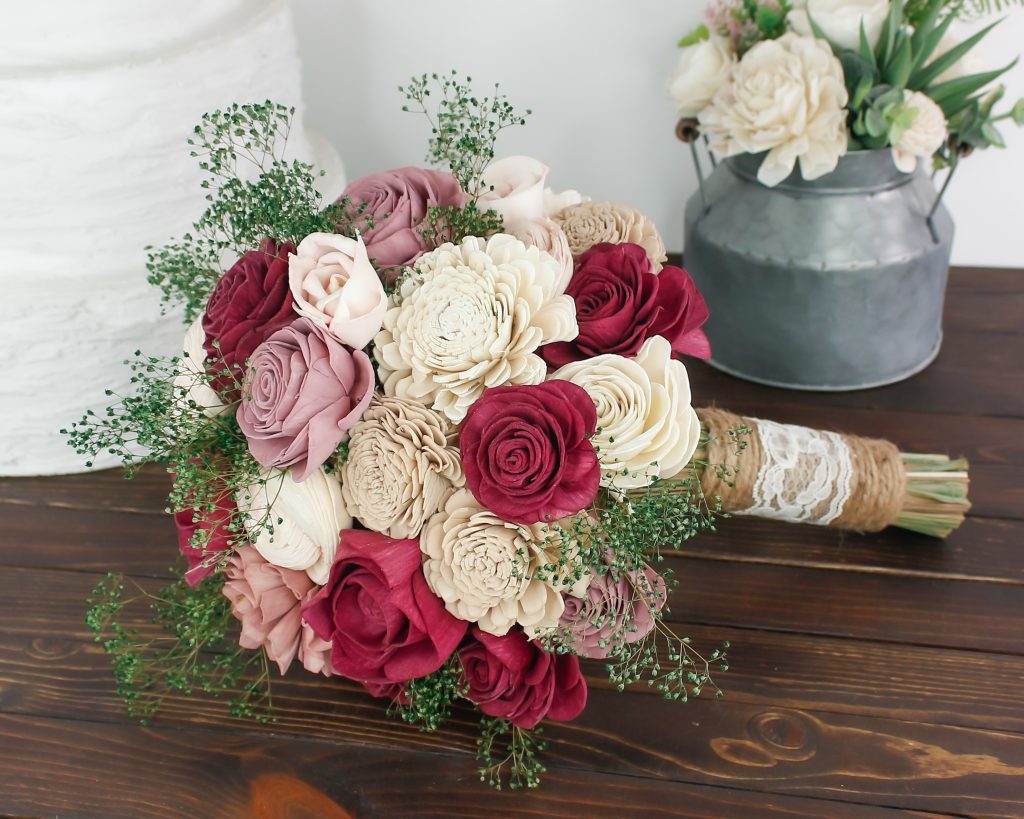 Fresh Flowers
Fresh flowers have been traditionally used for weddings for hundreds of years. They're beautiful, aesthetically pleasing, and fragrant. Arrangements of fresh flowers always bring a classic, comforting touch to a wedding. They grow in many styles and colors, but more unique color schemes might be difficult to achieve with fresh flowers. Unfortunately, fresh flowers are limited to seasons. If you want to buy out-of-season flowers, they'll be much more expensive. To use fresh flowers for your wedding, you'll either want to hire a florist or buy them wholesale and arrange them yourself. Just be aware that fresh flowers are delicate and can wilt easily. You'll need to keep them watered and cool for them to last. 
Silk Flowers
Silk flowers are generally more affordable than fresh flowers and look stunning and realistic. Silk flowers are made from silk fabric and plastics and can look highly realistic depending on the quality of the materials used. Silk flowers are great to use because they are long-lasting and don't need to be watered. If you want to keep your bridal bouquet as a meaningful and pretty memento of your big day, silk flowers could be perfect for you.
Wood Flowers
Wood flowers are made from natural, eco-friendly materials and handmade to form unique, realistic-looking blooms. Wood flowers are long-lasting. They can stay looking beautiful for years as long as you keep them clean and dusted. No watering is required! Wood flowers can also be dyed to match any unique color, with hundreds of possible color combinations available. Wood flowers also come in a large variety of realistic styles that can be perfectly paired with dried flowers, preserved filler, fresh greenery, and more. Whether your style is boho, classic, or romantic, you'll be able to find wood flowers that match your unique aesthetic.
2. Sticking to a Budget: Cost Difference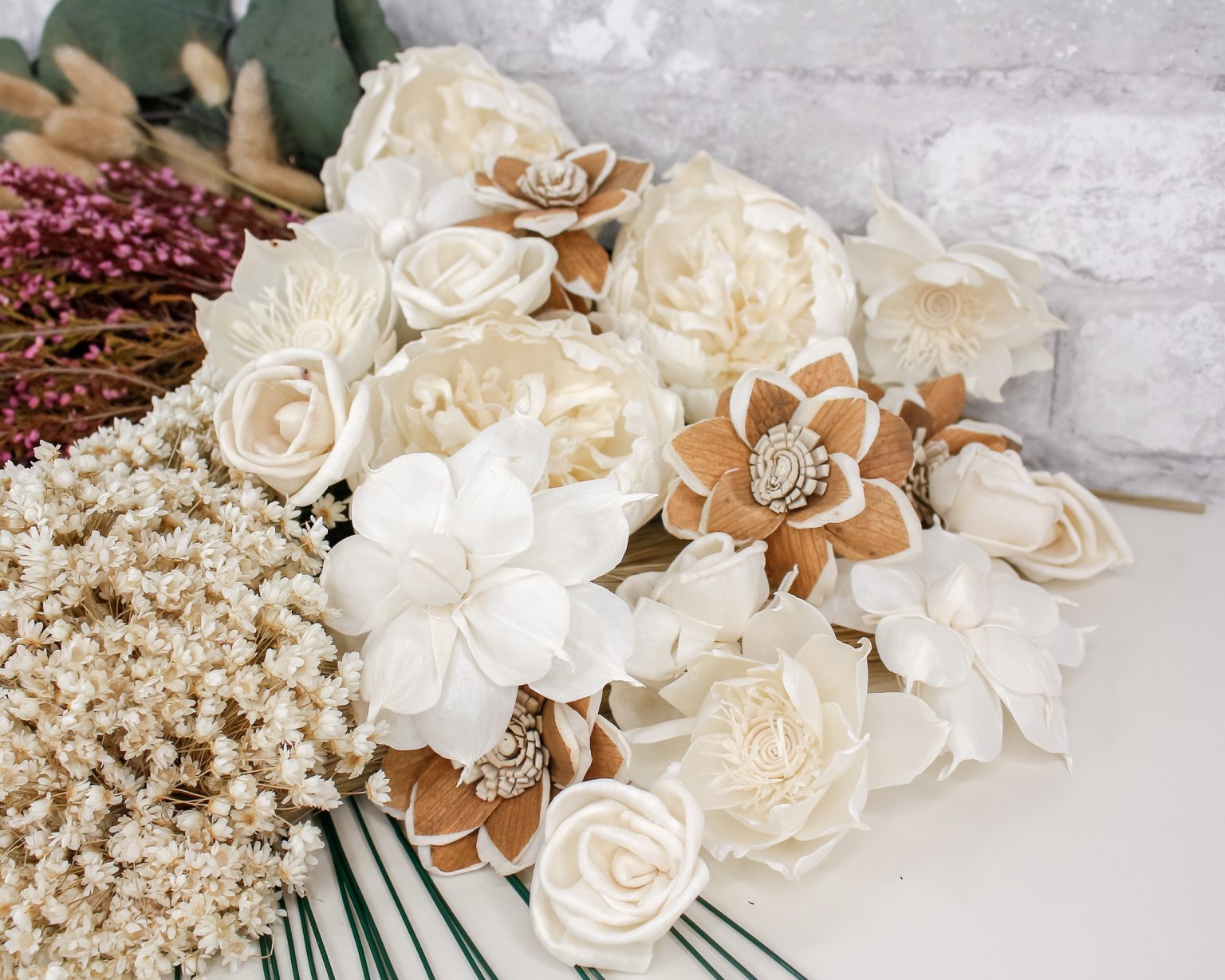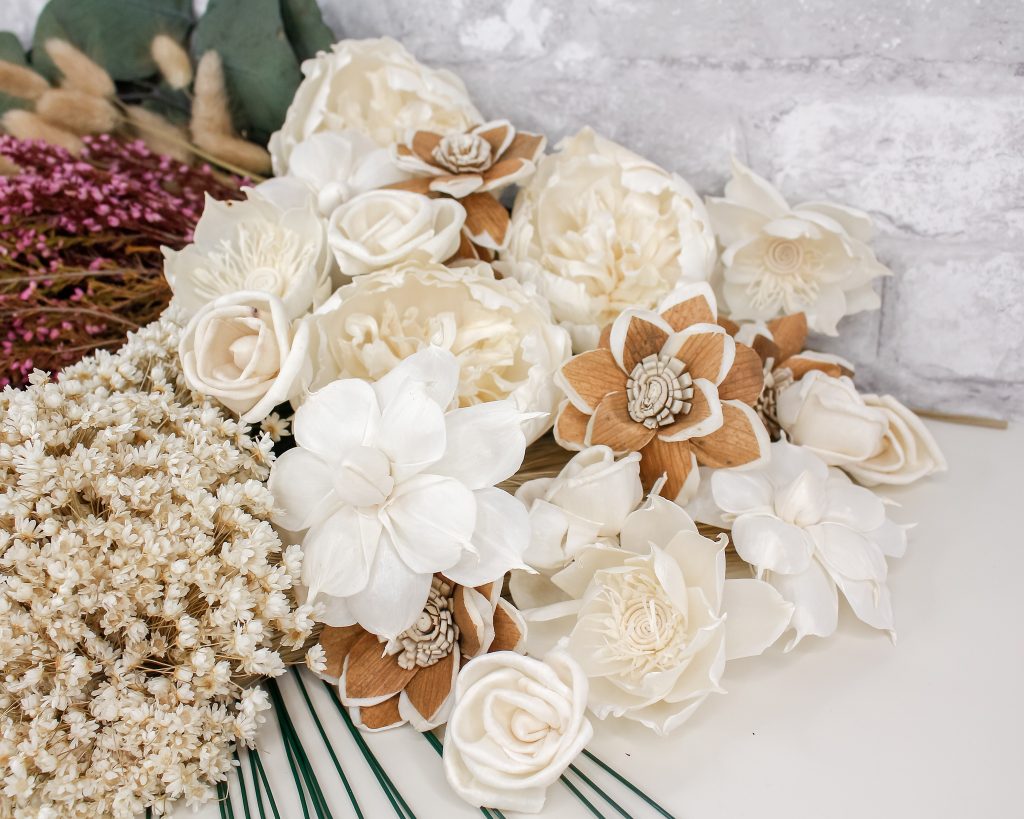 When you're trying to choose between flower options, it can be helpful to know the price point you'll potentially be looking at. Here are a few insights into the cost difference between flower choices that will help you to stick to your budget. 
Fresh Flowers
Fresh flowers are definitely the most expensive option. Last year, the average cost of fresh wedding flowers was $2,500-$3,500, and that average price will likely only increase as inflation and supply chain issues continue this year. Let's look at a breakdown of floral arrangement pricing. On average, a fresh flower bridal bouquet costs around $250. Fresh flower bridesmaid bouquets cost around $80-$100. Fresh flower boutonnieres and corsages typically cost around $20-$50. A fresh flower table centerpiece will usually cost between $120-$600. A large, head table centerpiece can cost up to $1,500. Large arrangements such as floral arches, and floral installations often cost $1,500-$4,000. Even simple cake flowers could cost around $150. 
Silk Flowers
With silk flowers, there is a wider price range that depends on the quality of the silk fabric used to create the flowers. Bridesmaid or toss bouquets made from silk flowers usually cost between $20 and $100. Larger bouquets, such as a bridal bouquet, might cost between $100-$300. Silk flower corsages and boutonnieres usually cost $5-$30 apiece. Silk cake flowers will likely cost between $25-$100 depending on your cake design. Silk flower decorations including centerpieces, swags, and more often cost between $20 and $100. 
Wood Flowers
Wood flowers are realistic-looking, affordable, and customizable. Wood flower bridal bouquets usually cost from $30 to $100. Wood flower corsages and boutonnieres usually cost $15-$18 for a 3-pack. Wood flower bridesmaid bouquets typically cost around $30-$50. Wood flower wedding centerpieces are usually between $20-$40. 
3. DIY Flowers Vs. Built For You Flowers Vs. Traditional Florists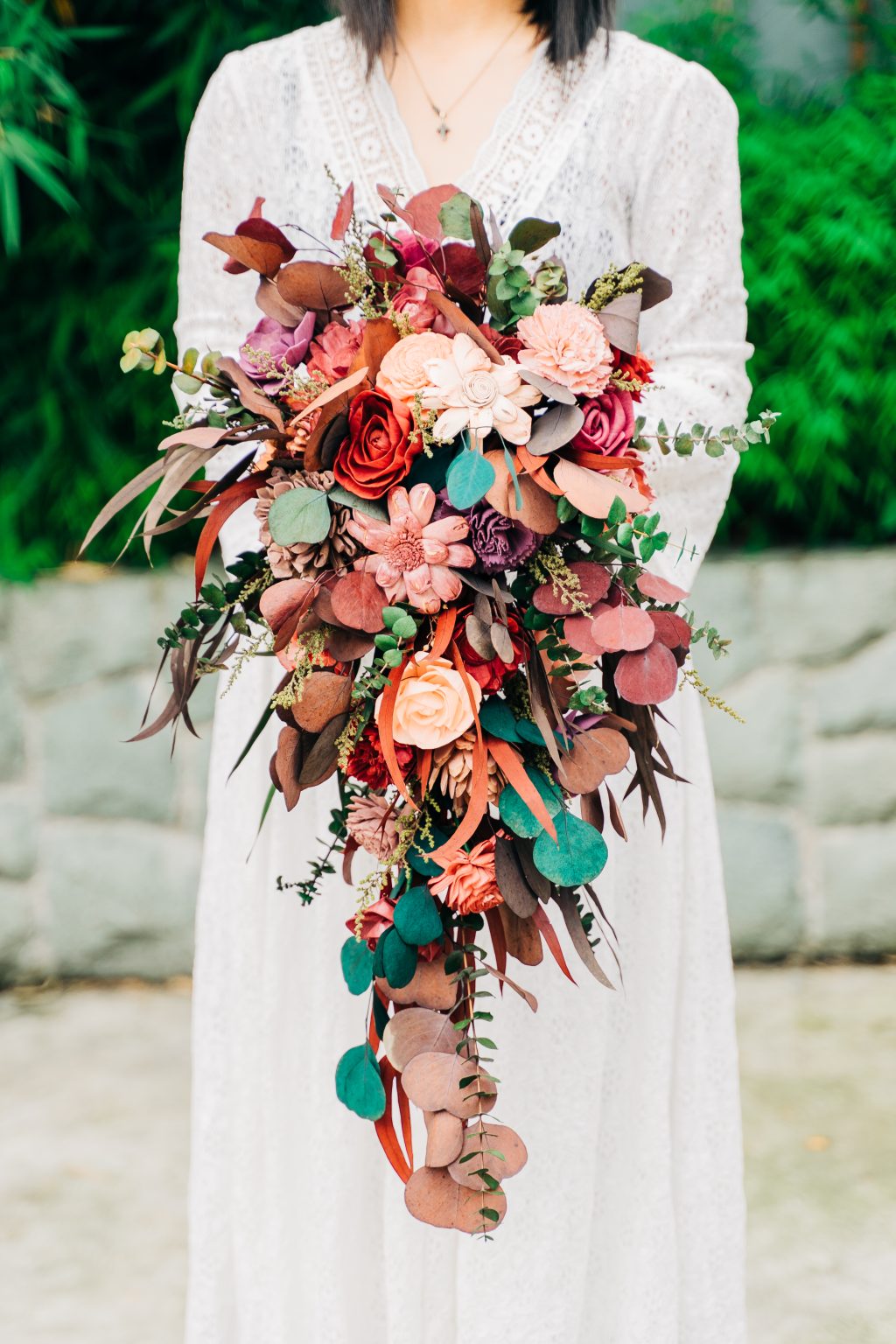 Once you've chosen the flowers you'd like to use and determined your floral budget, it is time to buy your flowers! There are a few different options available for ordering beautiful wedding flowers on a budget. You can order DIY flower kits, Built For You Flower arrangements, or work with a traditional florist. Here are a few helpful insights into each of these options to help you determine which one will work best for you.
DIY Flower Kits
First, you can buy DIY flower kits to have stylish wedding flowers on a budget. One of the best ways to significantly decrease the cost of your wedding flowers is to arrange them yourself. This will save you from having to pay for labor and other florist-related expenses. If you don't have a lot of experience in arranging flowers, don't worry. There are many helpful articles and tutorial videos that can walk you through the process of arranging different wedding flower pieces. Most importantly, you need to have all the necessary floral supplies to create an arrangement that will last and stay intact. It is helpful to find a vendor that will set you up for success in this regard. Sola Wood Flowers is a vendor and provider of gorgeous DIY wood flower kits that contain all the pieces and supplies you need to create unforgettable wedding flowers. Their DIY wedding flower kits contain eco-friendly wood flowers, preserved and faux filler and greenery, and assembly supplies such as floral wire stems, twine, floral tape, and more. Since these DIY flower kits use wood flowers, you can even create your arrangements well ahead of time. This will save you from staying up late to arrange fresh flowers the night before your wedding.
Built For You Flower Arrangements
If you aren't too thrilled about the prospect of a DIY project, find a vendor that will arrange your flowers for you. There are a number of these types of vendors that work with silk flowers, dried flowers, and wood flowers. Sola Wood Flowers is also a vendor of Built For You wood flower arrangements. With their Built For You collection, you can customize different wedding flower arrangements, You won't have to worry about putting together the flowers yourself. Instead, they'll be arranged according to your specifications and customizations by Sola Wood Flowers' professional floral designers, carefully packaged, and shipped straight to your home. You can have all of your wedding flowers Built For You, from your bridesmaid bouquets to your boutonnieres. This is a great and easy option if you're looking for affordable flowers but don't want to DIY them.
Traditional Florists
We get it, there are lots of benefits to using traditional florists to do your wedding flowers. They have a lot of experience working with flowers and will (likely) be able to achieve your vision for your wedding flowers perfectly. However, when you've got a strict wedding budget, a florist might not be the most affordable option. When you hire a traditional wedding florist, you'll be paying for flowers, supplies, and labor, but you'll also be paying for their years of experience and their specific brand services. Even just hiring a florist that works within the wedding niche can the cost of your flowers significantly. 
If you have your heart set on using a traditional florist for your wedding but want to stick to a budget, try these approaches to help you save money. 
Only work with a florist that can commit to working within your budget. 

Request that they use in-season flowers to lower the cost of your flowers.

Ask how they can help you get the "biggest bang for your buck" (i.e. reuse floral arrangements from the ceremony for the reception, choose cheaper flowers, etc.)

Ask them about using certain flowers that are more inexpensive.

Stick to minimalist arrangements (i.e. use bud vases and greenery sprigs for reception decor instead of large, overflowing floral centerpieces.)