For couples, one of the most important days of their lives is their wedding. It is on this particular day when they make promises to each other and start their new journey together as husband and wife. And in order to make everything even more memorable, both the bride and groom-to-be should be well-prepared in advance to make this a dream wedding.
Generally, when it comes to planning, it is usually the bride who takes charge of almost everything. However, the one thing that should be completely up to the groom is his wedding suit.
The truth is the wedding suit is just as important as the wedding dress of the bride, so it is only fair that you step into the marriage union with something you are absolutely proud of wearing.
Because many things should be taken into consideration, here is the ultimate groom's guide on choosing the perfect wedding suit for your special day.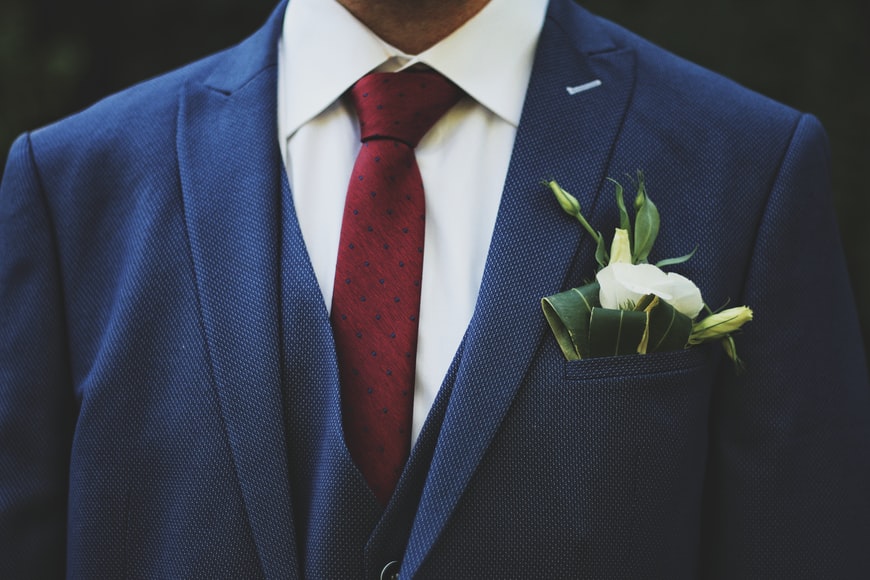 Hire an experienced tailor
A great way to get a killer suit is to hire an experienced tailor. They will hand-craft a costume to your measurements, fabric choice and styling requirements and create a finished product that flaunts your individuality.
For example, if you are planning your wedding in New South Wales, you should look for the best tailors for wedding suits Sydney has to offer so you can make your pick for your special day. 
Some tailor shops may even offer a deal if you and your party of groomsmen decide to get dressed in identical suits for the big day.
Choose your suit type
In general, there are four major types of wedding suit styles to consider which differ in many aspects, mainly in their formality. The four types are a two-piece suit, a three-piece suit, a double-breasted suit and a morning suit.
For example, if you are planning a daytime wedding with a rather casual dress code, then the two-piece suit is a great choice. It consists of a single-breasted jacket and pants which you should top off with a white color dress shirt, a belt and a pocket square. Add a little bit of flair by adding a necktie.
Pick your color
Choosing your wedding suit color is very important especially if you are looking to coordinate with the overall theme of the wedding party and especially with your other half. A factor that can help you make the right decision is the season.
For example, if you are getting married in winter, you should opt for a darker-colored suit such as black or navy. They are both classy colors which are perfect for more formal, evening weddings.
However, if you are getting married in summer, go for a lighter-colored suit such as beige or grey.
The fit matters
The fit of your suit can make all the difference, so it is crucial that you consider it when making your wedding attire. The three main types of fit you can choose from based on your body shape are regular, slim and tailored.
The regular fit is mainly reserved for those with an average or larger build who prefer a classic style that allows room for extra movement.
The slim fit is ideal for those with a slimmer physique who are looking for something more modern.
The tailored fit has a more streamlined look and falls somewhere between regular and slim with more movement than the regular fit.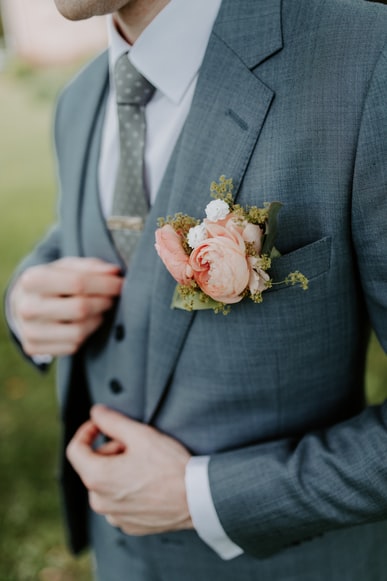 Add subtle accessories
Unlike the brides, the grooms shouldn't overdo it with accessories. You don't want to look too decorated, so you should opt for subtle details to create a neat and stylish wedding look. This includes choosing everything from your ties to your socks.
For example, if you are wearing a typical black tuxedo, you should go for a slim satin silk necktie that will match your tux's lapels. Complete your outfit with cufflinks which you will match with your dress shirt's studs. To break the monotony of your all-black look, add a white pocket square.
Final thoughts
While your bride-to-be is planning her dream wedding dress, you should also take your time to find the best suit for your special day. This includes choosing the right style, fit, color and accessories that will help put together a dashing look. Whether you decide to rent or buy a wedding suit, you should consider all the factors mentioned here that will help you find the perfect attire.
And if you need assistance along the way, refer back to our guide and follow the rules so you can look neat and stylish for your wedding day.