A Quick Q & A With the Bride Behind This Rustic Vineyard Wedding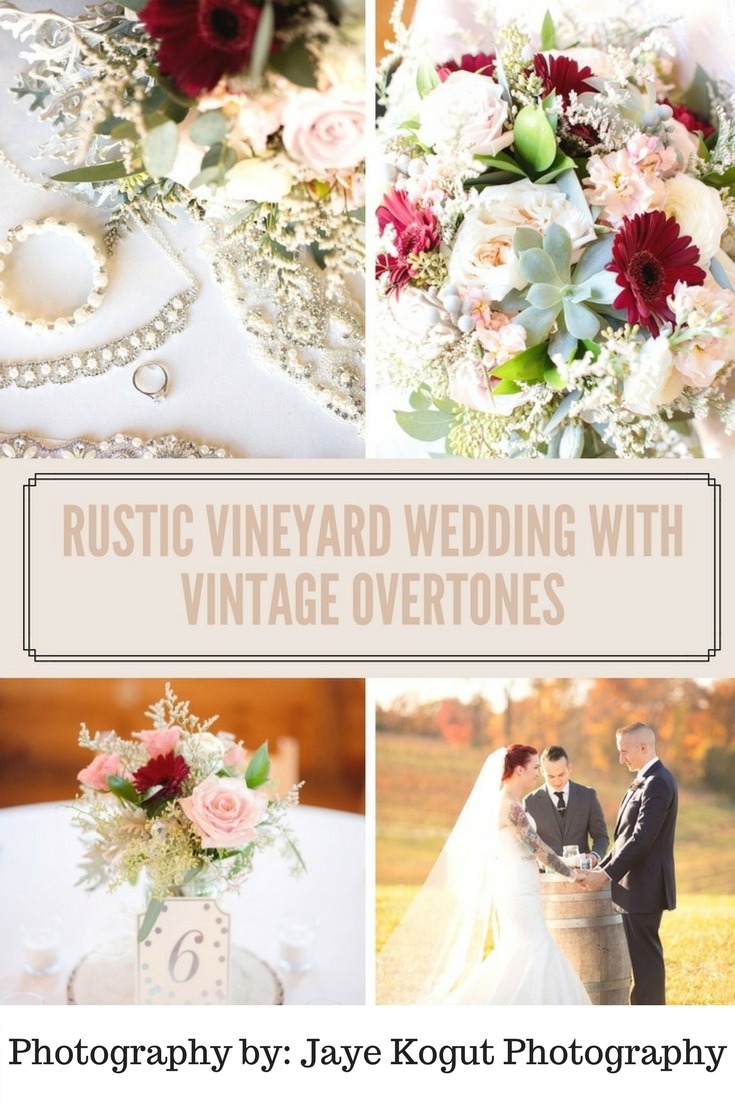 Q: How did you two meet and fall in love?
A: 'Bryan and I met while we were Emergency Medical Technicians at an agency in central New Jersey. He played a little joke on me about 15 minutes after I walked through the door for the first time. He mentioned that having visible tattoos was against policy, with a smirk and a little tattoo poking out of his arm sleeve. I countered with "So why's yours out?" with what was probably the same kind of smirk.
He then blushed and introduced himself. He stayed late to "help train me" on equipment and policies, despite his hour commute back home to Clinton NJ!'
Q. When planning your wedding what was most important to you?
A: 'Reflection on us as a couple, our love and our family played a huge role in planning the wedding. We aren't very blingy or showy as people or as a couple, we prefer experiences over expenses. We wanted to create a memory that would last a lifetime both for us, as well as our families.'
Q: What was the inspiration behind your wedding?
A: 'I'm obsessed with floral patterns and the vintage vibes! Growing up, I spent a lot of time with my Grandmother and Grandfather, who were avid gardeners, storytellers, and collectors of family memorabilia. As I grew older, I learned to implement little pieces of my childhood into my life as comfort. I indulge in today's culture, but bring small pieces of that time with me.
This inspired our focus on flowers, neutral tones, and a vintage, homey feel.'
Q: What is your favorite memory from your wedding?
A: 'Hands down, my favorite part of the wedding was our ceremony. Walking down the aisle with my father and seeing Bryan standing at the end of the aisle was a dream come true. Our officiant was our very dear friend Kevin Di Marco, who gave us an incredibly moving ceremony, filled with genuine love, a little humor, and tradition.
There wasn't a cloud in the sky, the weather was comfortable for a November evening, and the sun began to set over the rolling hills of the vineyard. It was a beautiful ambiance.'
Q: How would you describe the feeling you had on your wedding day?
A: 'Describing our wedding day to our future children can be done in two words: Pure Joy. Standing hand in hand with my soulmate, in a beautiful dress and him in his tux, surrounded by our entire family can only be described as the purest form of joy.'
Q: What piece of advice would you give to future couples planning their big day?
A: 'My best piece of advice to future couples planning their big day is to HAVE FUN! It's very easy to get tied up in all the small details, but little do you know, those small details aren't always as colossal as they feel. Remember, this time will be over before you know it, so live in the moment regardless of the stresses of daily life.
Nothing's going to matter when you're standing in front of your loved ones, hand in hand with your new spouse. Take in every second! Above all, take a moment with your new husband or wife, step away from the reception and its (fun) chaos, and be present with each other, even if it's just for a moment.'