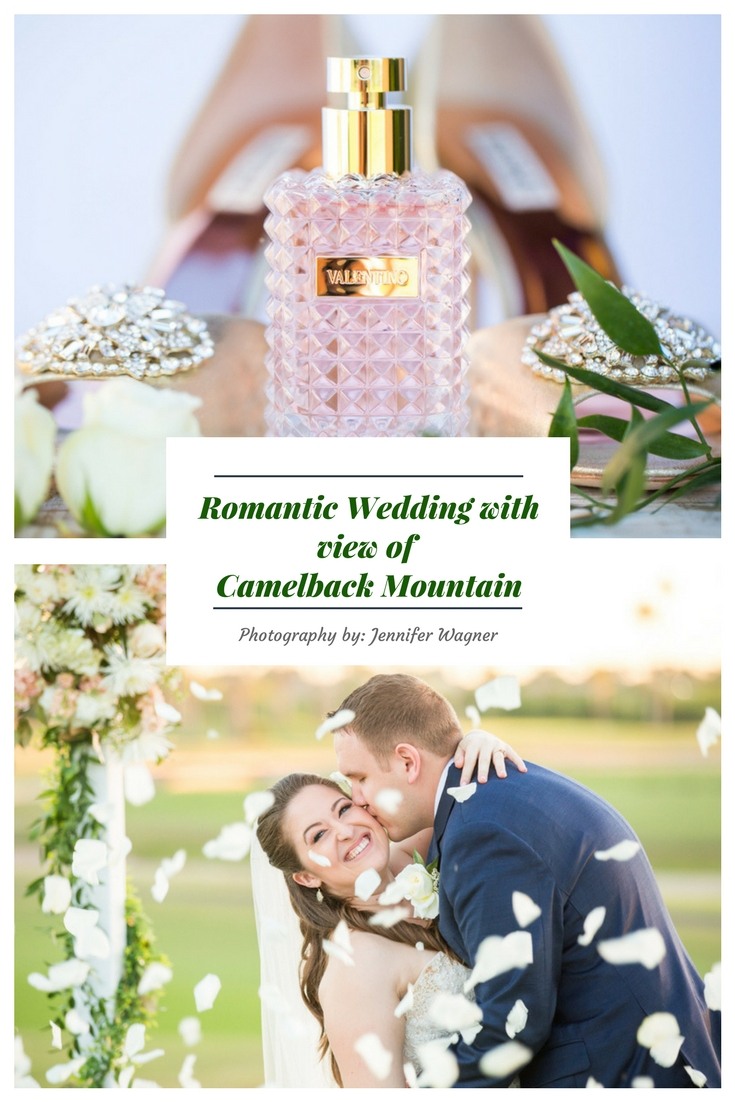 One of our favorite things as photographers is to see how a couples vision can completely create a gorgeous space! We've shot at venues multiple times and every time the colors, florals and decor totally changes with each wedding! Well Morgan and Aaron truly had a gorgeous vision for their McCormick Ranch Golf Club wedding and transformed their ballroom into the most beautiful room with a sunset view to die for! Morgan loves everything gold and you could see the gold and soft blush touches placed around the room that added just the right amount of sparkle to everything! With florals from Table Tops Etc. draping the tables and a room that completely opened up the walls to look onto the setting sun, and you had the perfect reception ambiance all night! They were both UofA alum, so some customized cookies at each place setting (with gold charger) added the perfect Wildcat touch! Watching Aaron and Morgan Cha Cha slide and dance the night away with all their friends, hear their touching speeches from best man, maid of honor and Morgan's mom and just seem them beaming as they made their way around the room giving huge hugs to all their guests was so fun to watch! They truly had the best night ever and we could not be more happy for them! Thank you for letting us capture the best day of your lives! We love you guys! – Jenn and Shannon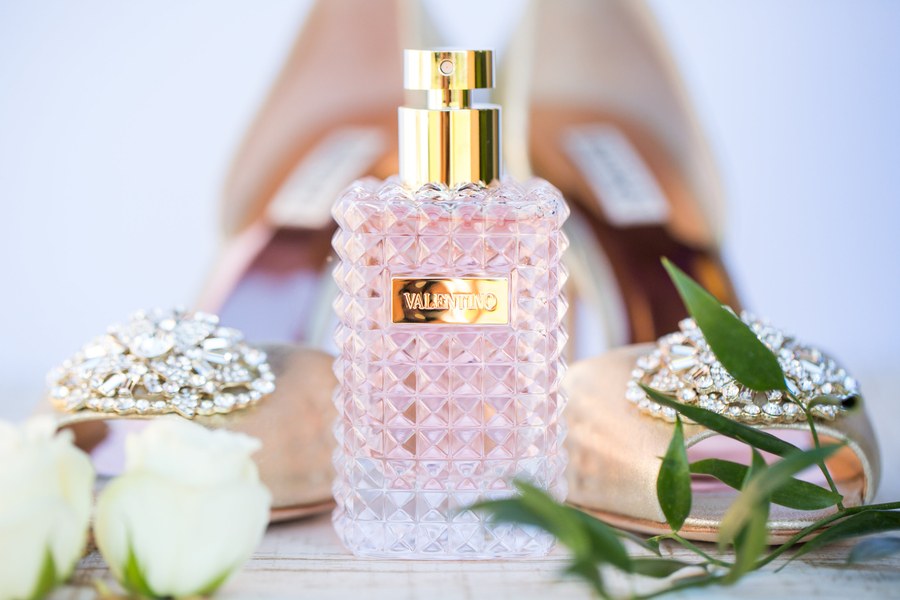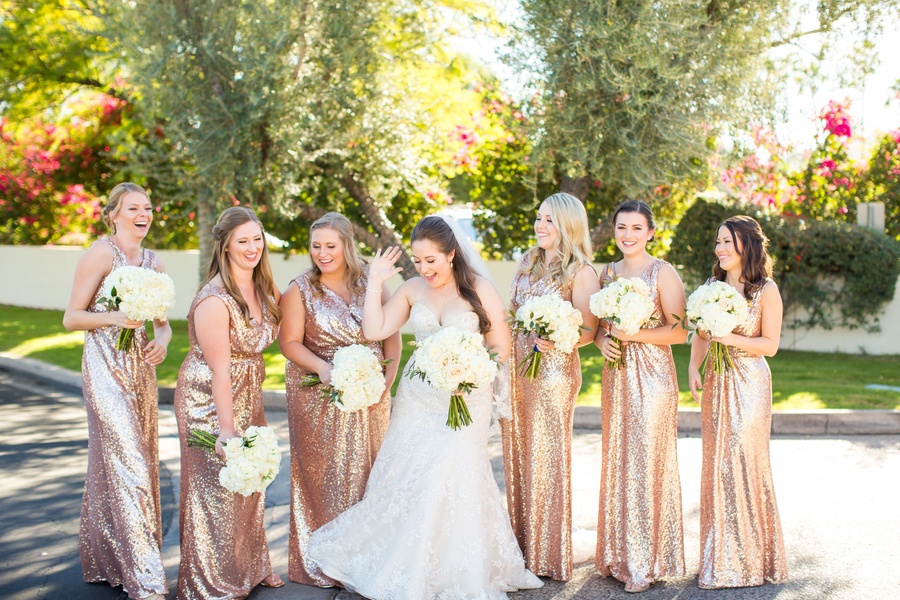 Notes from the couple:
From Morgan
1. What was your favorite part of the day?
Favorite part of the day was the first look. Just aaron and I for 20 minutes alone made the whole day for me.
2. Anything you look back on that makes you laugh, or unique things that happened that made the day even better?
What made our day even better was when I sat down for dinner and I looked around and saw so many of my family members, friends since Kindergarten and so many people that mean the world to me were there with me. I do not see or talk to these people everyday it was so special have them there celebrating with us that they made our day better and more memorable.
3. Tell us about your venue and how you chose it. Tell us about your colors, florals, and details that you picked!
I knew I wanted a view of camelback mountain, golf course, and plenty of room. I found all that with our venue. I have minor problem with gold so from the start that was always a color, I love pinks so blush is always so romantic for a wedding, ivory/white since it's a wedding and navy because Aaron has always looked good in a navy suite so I knew I was going with those from the start of my planning process.
4. What tips or advice would you give couples planning their wedding?
Oh man, being a corporate event planner and even had planned a few weddings everything was 100 percent different when it's your own day. Something I am so happy we did was delay our honeymoon and did a little mini moon right after the wedding. Looking back at this weekend I am so happy I was able to spend the rest of Sunday after our brunch with our families, we watched football, have thanksgiving left overs and it was one of the best days just spending time with our families and we were not running to catch a flight. Plus now we have something to look forward too. Another thing I can not stress enough is if you can get a day of planner. I thought I had everything planned out but so many things popped up last second I couldn't have done it all without my planner.
From Aaron:
1. If you could re-live 1 hour of the day, which would go back to?
I would go back to our first look. It was nice to just have time where Morgan and I could be together prior to the ceremony. I was feeling a bit stressed throughout the day but just seeing her and spending time with her helped calm me down.
2. What about your beautiful bride did you love the most?
I loved the way her eyes sparkled in her wedding dress.
3. What moment during the wedding ceremony sticks out in your mind?
Seeing Morgan start walking down the aisle was a big moment, but I think the moment that stuck out the most was watching our ring bearer and flower girl come down the aisle. The reason is because when our flower girl start throwing flowers the ring bearer said "hey what are you doing". This just added some fun comic relief to the ceremony.
4. Tell us about your bridal party and the role they play in your life.
All of the members of our bridal party play a big part in our lives as they help both of us through both the good and the bad times. They are also the people who are always there to help us out whenever we need something. Although we have known some of them longer than others each one of them is still very important to us.