Planning a wedding means there's a lot of things to plan, things to account for and so many things to remember. That's where lists come in: lists are easy to write, keep track of and share to everyone involved who needs to know.
This article will bring you through the final 5 lists you need to make and send out before your big day.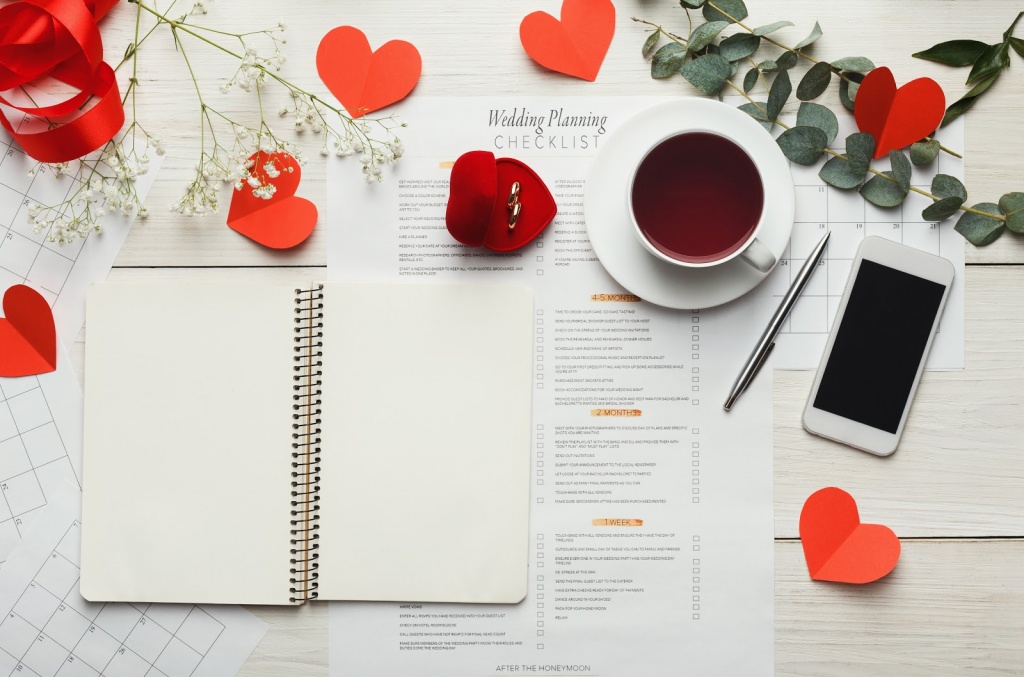 1 – The Day's Plan
Your guests, venue, and coordinators will need to know what's happening and at what time. Of course, there will be some things that don't run exactly to time but there should be some sort of a structure in place. Your guests will be grateful for knowing what the plan for the day will be, and the venue will be ready to welcome guests and cater to their needs on time.
When creating the timetable for the day, make sure you keep enough time between the ceremony and the meal to chat with people. Everyone will want to speak to you for a while, so allow for more time than less for this. You don't want to shun anyone when the time comes to make your speech!
2 – List of Photographs
On your wedding day, the last thing you want is to chase down your photographer for a photo-opp or not have an idea of the types of photos you want. If you spend a bit of time before the day making a list of the photos you'd like to have, you'll be much more satisfied with your results. If you share this with your maid of honor, groomsman or whoever is in charge of gathering people together for photos, then the process should be seamless.
Try to figure out where and when you want photos. Do you want photos of the preparation before the ceremony? Are there specific group photos you want? Are there any props you want to use? This list will help you relax about your photos, not worrying about whether you've gotten everyone in.
3 – Guest List and Seating Arrangements
Writing out the people who are due to attend, and where they're sitting, is crucial. If you know to expect a certain number of people, you'll need to inform your venue of the final number. This is also a good idea for the waitstaff to know where people with allergies or dietary requirements are sitting.
Seating arrangements will also take you a bit longer to figure out than you imagine, so allow extra time for this. Friend groups are difficult to merge, so it's always a good idea to put people together based on common interests or knowledge of each other. A way to save time and effort at mealtime is to place a seating chart outside of the dining area; people will then know where to find their seat before wandering around from table to table.
4 – Food Options for Catering
You'll have discussed your catering in advance of the big day, but make sure you send a list of menu options to your caterer close to the day. Having the menu in writing will make it easier for your venue to prep and will make it easier to print out menus for the tables. Having the number of servings and pacing of the meals determined beforehand will make the process easier too.
There is nothing more complicated than planning your catering at the last minute, especially when large groups of people will have different dietary restrictions, allergies, and preferences. Your caterers will appreciate having the menu agreed upon well in advance, and your guests will know their options before they arrive.
5 – Your Song List and Music Requests
"Music is an integral part of your day," says Adam Michaels, owner of Around Town Entertainment in Manhattan. "Sending in your curated music requests as early as possible allows us to nail down a "vibe" for your day and your requests will truly set the mood and keep your party going."
Music can truly make or break an event. If your music doesn't match the mood or if it is too niche, it could really affect the overall impression of the day. Be sure to leave yourself enough time to pick your first dance song, the background music during your meal, whether or not you want music during the ceremony… the list can go on.
If you're stuck for ideas or unsure what the best type of music is for a certain part of the day, your wedding entertainment will be able to guide you. While they might not know you very well, but they know weddings better than anyone!
There are, of course, so many other lists you'll make before your big day: your clothes and accessories checklist, your practical checklist for finances, your honeymoon packing checklist, and more. These are private ones and don't need to be shared, but if you share the 5 above with your vendors and anyone involved in the planning of your day, your wedding should go a lot smoother!