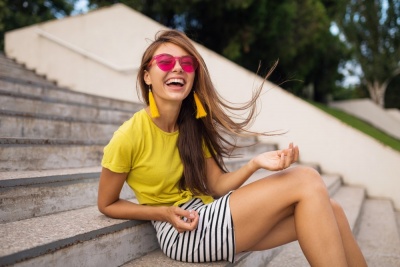 Spring is just around the corner. And as the snow and ice melt, you can start packing away those heavy snow boots and down jackets. It's time to whip out those flirty dresses and update your sandal collection. Miranda Priestly in The Devil Wears Prada famously said, "Florals? For Spring? Groundbreaking."
And while there's nothing wrong with a classic flower pattern, there's so much more to spring fashion than just flowers. If you're going to be a guest for a spring wedding, this is the perfect time to take a hard look at your closet to see what you can upgrade and what you can keep.
Here are our hottest tips for revamping your wardrobe in anticipation of attending some spring nuptials:
Footwear You can't go wrong with classic ballet flats for spring. We love flats by Rothy's because they're sustainable and long-lasting. The best part? You'll never have to be that guest at the wedding who takes her shoes off because of uncomfortable heels. You can keep your cute footwear on the entire time. And, you can feel good about the purchase: each shoe is made out of recycled water bottles. But you wouldn't know it from their cute styles! We recommend going for a bright pop of color for your flats. Why not be as bright as the wildflowers blooming all over?
Rainy day gear Attending a wedding on a rainy day? Have no fear. All you need is to do is to prepare adequately. There's no bad weather, as they say, only bad gear. So bundle up with layers and get yourself a cute, sophisticated rain jacket and a suitable umbrella to keep the rain off your hair. Don't forget to set your hair and makeup so it lasts all day, through any weather
A pastel-colored purse Just like florals, you're going to be seeing pastel-colored accessories absolutely everywhere in the spring – it's a class for a reason. And there's nothing wrong with diving headfirst into this trend because you can be certain that the pastel color scheme will come back again and again.If you're not fond of pastels, opt for bright, jewel tones instead. Colorful hues will make any outfit you wear cheerful.
Use a clothing rental service If you look at your closet and you're not impressed by your choices, don't panic. There are plenty of rental services you can use to find a suitable outfit for your friend or family's big day. Here are a few of a favorite rental services:

Rent the Runway: Rent designer clothes and non-designer prices, perfect for a special event! It's a great way to try clothes you wouldn't otherwise wear.
Le Tote: Wear and wash what you want and send it all back to the company when you're ready for a fresh batch of clothes.
Style Lend: Imagine if you had access to your most stylish friend's closet – that's what Style Lend is! It's a network of women who trade clothes, and not just any clothes. Everything is designer and perfectly curated.

Sunglasses If the sun is out, it's time to put on your most fashionable pair of shades. Wear cat-eye sunglasses for that classic, 1950s vibe or go trendy with super-skinny cat-eye glasses if you want a more avant-garde look. If the sun looks like it's going to be full-blast – protect yourself with sunscreen and a wide-brimmed hat.

Semi-sheer kimono A semi-sheer kimono is a cute addition to any spring outfit, especially if you're heading to a wedding. It allows you to have a convenient layer if it gets a little chilly and provides some visual interest for an otherwise plain dress. We love the idea of a colorful, floral kimono paired with a cocktail dress for a spring wedding.
In Conclusion
Sure, you'll never look as good as the bride – she's the star after all – but a spring wedding is still a great occasion to dress up and flex your fashion muscles. Use a spring wedding to take a good, hard look at your closet. And above all, have fun. Fashion isn't mean to be serious business – so take the time to come up with a wedding guest look but don't overthink it.