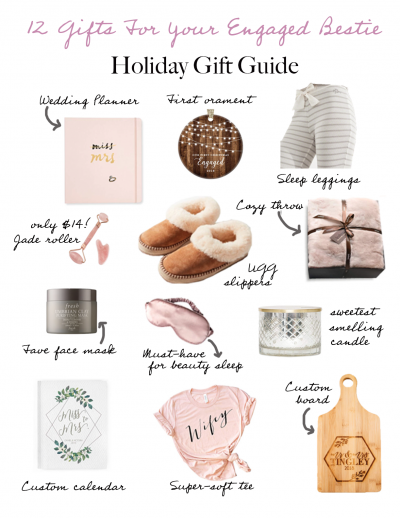 Hey there, it's gift guide season! Thanks so much for stopping by Cake & Lace! December is the most popular time for engagements, so I thought what better way to celebrate with the gift of giving. If there's one thing you can take away from this gift guide is everything is super cozy, comfy, and/or useful! Not to mention there's a range of gifts under $20 to $140, so super cost friendly for your engaged bestie. I don't know about y'all, but cozy and comfy make me feel super UH-MAZING and Happy. Grab a  warm throw, slip on those house slippers, and if you're an over achiever you'll have a mug of hot chocolate you're sipping on while you're scrolling through this gift guide…enjoy!
1. Wedding planner 2. First ornament 3. Sleep leggings 4. Jade roller 5. UGG slippers 6. Face mask 7. Sleep mask 8. Cozy throw 9. Candle 10. Calendar 11. Wifey tee 12. Custom cutting board
Wedding planner: Just engaged? First step is getting started in helping your bestie plan all the most important dates. Don't let her procrastinate (I know I never let my bestie down!). Check out our wedding planning checklist that might help as well!
First ornament: Ok, how exciting is this? First time getting engaged…first Christmas engaged together… this custom ornament is just adorable!
Sleep leggings: While you and your bestie are planning away…Don't you also want to be super comfy in these amazingly soft sleep leggings? These pajama leggings are made with soft, waffle-knit fabric (perfect for watching those Netflix cheesy Christmas romantic comedies while wedding planning!).
Jade roller: I mean how many bloggers have raved about jade rollers? Don't know what one is? Check out my favorite video on what a jade roller is and how to use one. This gift set is under $30 and totally perfect for a pamper box for even more than just your bestie… your mom, sister–anyone! You can also get just the jade roller for $14!
UGG slippers: You would think my house has 5 girls living in it with how many house slippers I have (no shoes rule!). But there's nothing that compares to my favorite pair of UGG slippers because of how absolutely plush, cozy,and warm they are! I don't let them leave my feet when I'm at home because they are just so darn soft and super warm. Your bestie would totally appreciate this awesome gift!
Face mask: What's more fun than pampering yourself? Pampering yourself with your bestie! Whenever you have time to take a breather, it's just so fun to put on a mask. I like to test out different masks by putting one brand on half of my face and another brand on the other… just to see which one works better! I have so many different masks, but this one is hands down my favorite!
Sleep mask: This sleep mask will be a life saver before the big day! I can sleep for hours when it is dark, so when I know I need my slumber, I slip this on before I go to bed. When your brain senses pure darkness, it produces melatonin (the chemical of sleep!). This sleep mask will help reduce any chance of bags under her eyes on the most important day of her life (she'll thank you for it!). Plus it's under $20. Score!
Cozy throw: This throw is crazy soft and perfect for cuddling up on the couch and watching those cheesy romantic Christmas films on Netflix I mentioned earlier… So useful as a decorative piece for her (or yours!) living rooms as well!
Candle: Wedding planning can get stressful, so what better way to create a soothing environment than lighting candles? This candle is the perfect mix of minimalist with a hint of citrus orange. It is so perfect to have a couple around the house for decor and olfactory reasons 🙂 This one linked here is the same one that they burn at Anthropology stores.
Calendar : Nothing feels better than being prepared and on top of wedding planning. Except for maybe a personalized calendar for your married-to-be bestie!
Wifey tee: After running around town and meeting with wedding vendors, your bestie will appreciate nothing more than slipping into this comfy tee. It's also under $20, what a steal!
Custom cutting board: You can never have enough  cutting boards!  Get this one engraved with your bestie's new last name to get her super excited for the new year. It's totally perfect for any holiday parties coming up. Don't forget to use "CAKEANDLACE2018" for 10% off!