This year, we're so excited for all the gorgeous engagement rings that'll grace our newsfeeds! We can't get enough of all the upcoming trends, so much so we've partnered with Apples of Gold! 
We wanted to show you all of our favorite upcoming 2018 trends- from rose gold to halo rings we've listed it all here in this blog post.
So, without further ado let's dive into our top picks!
1.) The Diamond Circle Halo Ring in White Gold
We LOVE this style of ring. It screams Hollywood glamour and radiates elegance.
The central white diamond weighs 0.40 carats, and the side diamonds 0.35.
All these sparklers are beautifully set on a 14K solid white gold band.
Here's the nitty-gritty info on this ring:
The white gold band weighs three grams
The ring's bandwidth is 2.5mm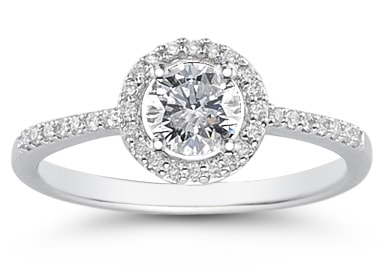 2.) The Designer 6-Prong Diamond Solitaire Ring
This ring is simple and subtle, yet fabulously gorgeous!
It's unique and stylish 6-prong design encloses the rock that'll certainly get all of your friends and family talking (for the right reasons of course!), and set on a high-quality 14k white gold band.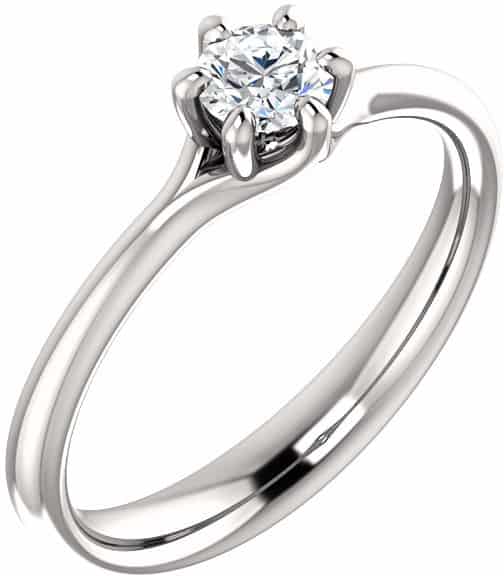 3.) The Three-Stone Diamond Halo Ring
Not only is this ring breathtaking, but it has a beautiful sentiment behind it.
For those of you who don't know, three-stone designs on an engagement ring are supposed to symbolize the past, present, and future of your love- it doesn't get much more romantic than that!
We love that the halos surrounding the three stones interlock with one another. This really hammers home the notion of your ongoing marital love for one another.
4.) Three-Stone Diamond Ring Set on White Gold
This is a sophisticated take on the classic three-stone diamond design. We're confident these gorgeous engagement rings will never go out of style!
These three fabulous rocks are set on high-quality 14K white gold. The largest of the three round diamonds is 0.12-carats, and the two on either side are 0.06 carats.
The elegant prong settings hold these rocks securely in place. All in all this ring is sweet, subtle and oh so tasteful!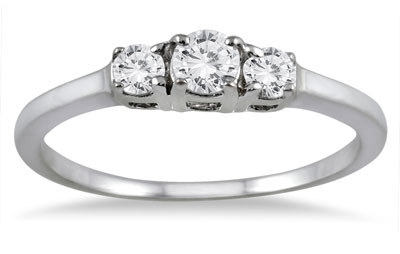 5.) The Antique-Style Diamond Engagement Ring
If you're looking for a ring that dazzles from all angles- this 1.00-carat beauty is the one for you!
The round half-carat diamond nestled amongst four elegant prongs is undoubtedly the star of the show!
However, the additional smaller diamonds (half a carat) that decorate both the top and sides of the white gold band compliment the rest of the design beautifully.
We also love the tiny beaded frames around the diamonds. For us, this is what gives this engagement ring an antiquey yet upmarket feel.
Below you can find the finer details:
The central diamonds color is I-K, and its clarity is I2-I3
There are an additional 36 diamonds that go around the side of the ring. The color of which is I-J and their clarity I1-I2.
The wedding band is made of 14K white gold and weighs (approximately) 3 grams.
The width of the ring is 2.5mm
The ring is 2mm thick
The highest point of the ring is 6mm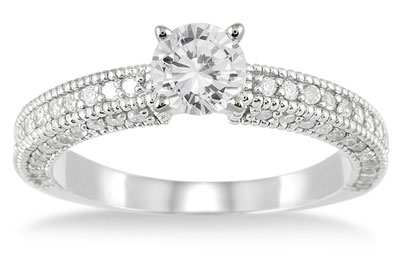 6.) The 10 Stone Diamond Wave Band
We love this unique design! Out of all these gorgeous engagement rings, this is by the most bohemian looking, and we love it!
This engagement ring boasts 10 beautiful round diamonds that alternate around a wavey rope-style setting of high-quality 14k white gold.
All in all, this is a real showstopper!
The diamonds weigh a total of 0.50 carats, their color is H-I, and their clarity is SI.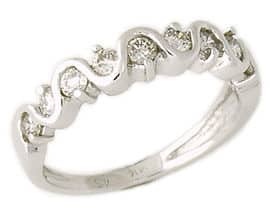 7.) 5 Stone Blue and White Diamond Ring
Blue diamonds are so incredibly fashionable right now.
We love this five stone combination of white and blue rocks set on good-quality 14k white gold.- Utterly spellbinding!
However, if white gold doesn't do it for you, this design is also available in yellow gold!
This ring boasts a total of 0.50 carats worth of diamonds.
You can check out the specifics below:
The width is 3mm.
There are three blue diamonds that total 0.30 carats.
There are two white diamonds that total 0.20 carats. Of which, the color is I-J, and the clarity is I.
The white gold band weighs (approximately) 3.2 grams.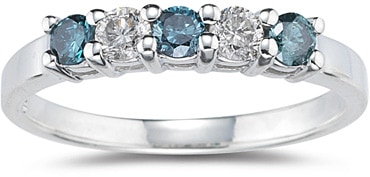 8.) The Rose Gold Three Stone Diamond Ring
There's nothing better than rose gold. However, if that isn't entirely your style, you can opt for this design in 14K yellow gold, 14K white gold, 18K gold or platinum.
You can see the full rundown below:
The round center diamond is 0.25 carats, H in color, and has an SI1-SI2 clarity.
The two round diamonds on either side have a 0.30 carat total, G-H in color, and have SI1-SI2 clarity.
The gold type is 14K rose gold, which weighs 3.9 grams.
The ring's width is 2mm, and the stone height is 5.5 mm.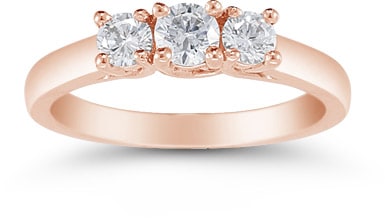 9.) The Only Us 2-Stone Diamond Ring
The two diamonds in this ring weigh 0.25 carats each!
They're romantically linked together and elegantly clasped in a way that screams 'together forever and eternal joy.'
All of which is set perfectly on a 14K white gold band.
Here's the low down:
The diamonds are round in shape.
The color of the diamonds is H-I
The clarity of the diamond is SI1-SI2
The width of the ring is 2mm.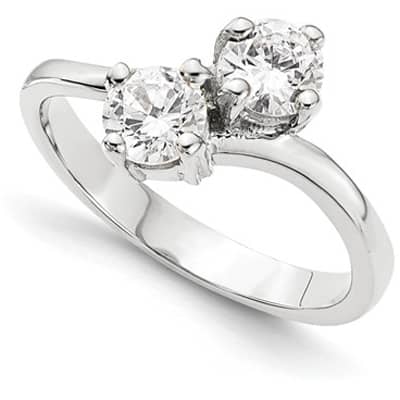 10.) Cathedral Knot Diamond Engagement Ring
If you're searching for something that's a little different to the plain band, this ring is for you!
We love how this 14K white gold band loops so that it almost looks like an infinity symbol.
The bell of the ball is the diamond (0.50 carats) that sits right in the center of the ring. It's rated H for color and has a clarity of SI2. The highest point of the ring is 6.7mm.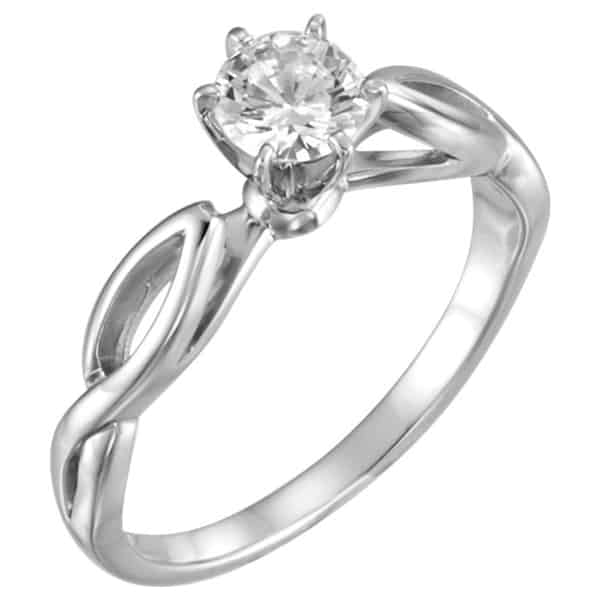 We hope you enjoyed these gorgeous engagement rings! Please let us know in the comments which one you liked the most!
Or, if you've recently got engaged feel free to post a picture of your ring- we'd love to see it!
Rosie Greaves – Freelance writer, and wedding and relationships expert.
*In the spirit of full disclosure, our affiliate links are used throughout this post. However, we only promote brands that have a good track record of providing high-quality products. Happy planning!