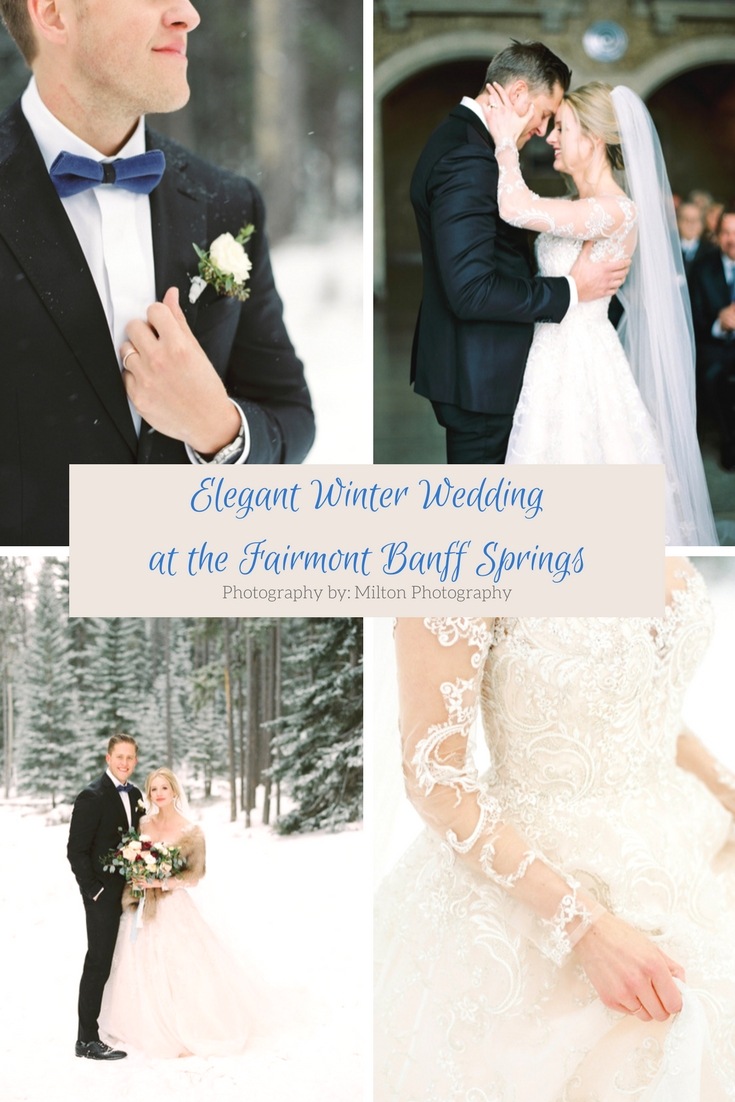 Wedding theme and colours (explain the reason behind your decision):
We based our wedding theme around the location and season. The Banff Springs Hotel speaks for itself – it is a timeless and traditional castle located in the breathtaking Canadian Rocky Mountains – and we knew we had to pay homage to that with an overall elegant theme with some rustic touches. We chose a winter wedding and picked warm, rich colours to complement that: golds and creams with some splashes of burgundy and French blue.
Approximate number of wedding guests: 120
Budget (if you choose to share): $50,000
Your top 3 best moments and why:
1. We held a wedding day hockey game at the ice rink at the hotel on the morning of the wedding. A bunch of the guests laced up their skates and hit the ice with a beer in hand – and we have some great video that my brother shot to capture the action! It was a great way for the groom and friends to get geared up for the day.
2. Our cocktail hour: We chose to do our grand entrance during the cocktail hour in order to maximize our time with guests (and sample some of the amazing hors d'oeuvres that were served – we were hungry!!!).
3. Our vows: We definitely weren't sure we wanted to write our own vows until about a month out, but we are so glad we did! We kept them secret from one another so that our ceremony was the first time we were sharing them together. They were personal but light hearted and brought both of us (and the audience) to laughter and tears. I really think it was a great way to involve the guests in our love story. We wrote them in beautiful handmade books tied with ribbon that we will have as a keepsake forever!
Wedding song, explain choice for song: We chose a piano version of Ellie Goulding's 'Love Me Like You Do'. It was played and sung by Joel's step brother on the beautiful grand piano at the hotel for me to walk down the aisle to. We both fell in love with a piano version we found on youtube and luckily had a person very close to us to bring it to life!
Your top 3 favourite wedding details (cake, flowers, dress, band, etc.) and why:
1. Dessert table: we had an amazing dessert table provided by Cake Creations Canmore and Jelly Modern Donuts that included cupcakes in two flavours (salted caramel and vanilla latte), cookies, macarons, cream puffs, and the most amazing fresh donuts ever in assorted flavours!
2. Bridal headpiece: I found an amazing rose gold statement headpiece online that was super unique and gave my evening look a bit of a modern twist!
3.Flowers: we had so many fresh flowers – the entire hotel smelled of beautiful blooms on our wedding day!
Honeymoon: We spent 10 days in French Polynesia on the island of Mo'orea. We usually take busy trips with lots of planned activities and had never done a relaxing beach vacation before, so we thought our honeymoon would be the perfect opportunity! We stayed in a hut on the most beautiful blue water and did nothing but relax and enjoy each other and the beautiful surroundings!