It's only natural that as a bridesmaid you'll want to throw the best bridal shower for your friend. So don't worry we're here to help!
During this blog post, we'll share with you our favorite bridal shower accessories.
We're confident your guests will love these little touches. So, without further ado let's dive into our top picks!
No bridal shower's complete without a cake! So, make the most of this centrepiece and adorn it with a gorgeous cake topper.
Each of these 'Miss to Mrs.' cake toppers are crafted from blush paper and boast a beautiful floral design, propped by two bamboo stakes.
All you need to do is gently push each stake into the top of the cake, and voila you're good to go!
Here are a few further details:
Size: 9 inches long x 6 inches wide (including stakes).
This cake topper is food safe.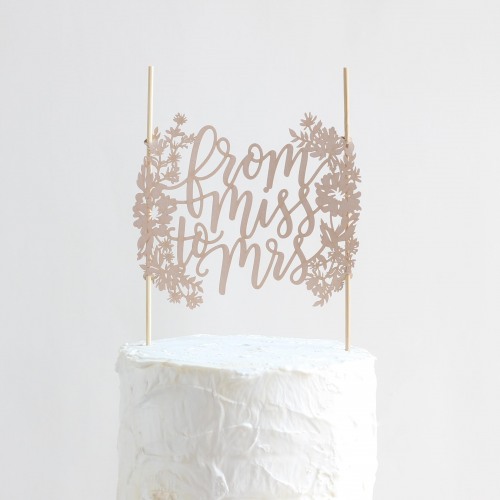 From Miss to Mrs Paper Cake Topper
It's an adorable idea to have something blue for the bridal shower, just like you would the actual wedding.
So, if you're on the hunt for something tasteful you might want to consider a customized 'something blue' sign.
Ideal for hanging in the entrance or, as a table centrepiece.
Here are the finer details of the below poster:
Size: approximately 18 inches long by 24 inches wide.
This sign is crafted from cardstock
Mounting supplies and easel aren't included with this signage.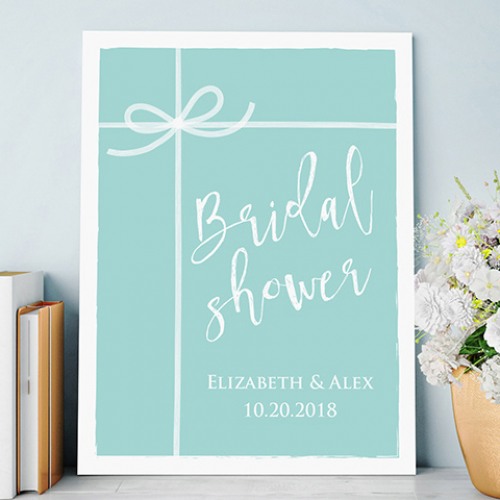 Personalized Something Blue Poster
Getting married can sometimes feel a little daunting for the bride to be.
So, why not use the bridal shower as an opportunity for all her loved ones to write a message of encouragement or advice to her.
We're confident that the bride to be will cherish these advice cards for years to come, and love looking back on them. What a beautiful keepsake of a gorgeous event!
Here's the nitty-gritty info on the below advice cards:
Size: 6 inches long by 4 inches wide
There are 25 cards in a set
The back is blank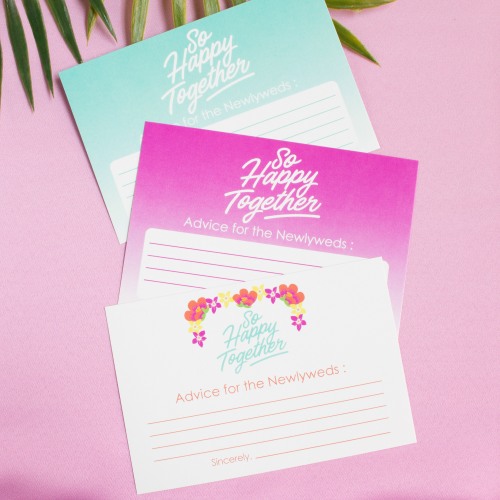 Personalized Wedding Advice Cards
No bridal shower is complete without games. We love wedding ring bingo because it's suitable for all ages so everyone can join in the fun!
Plus, we love that this bingo set is available in a plethora of colors, so you're sure to find a set that compliments the theme of your bridal shower.
Here are a few things you need to know about this product:
Size: 7 inches long x 5 inches wide.
There are 12 cards per pack.
These gorgeous bingo cards are crafted from cardstock.
There's a minimum order of 2 sets of cards.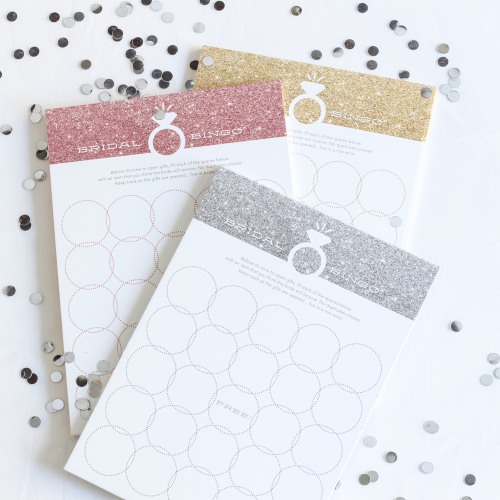 Wedding Ring Bingo Game
One of the biggest worries about throwing a bridal shower is that people won't know what to talk about.
Namely, because not everyone knows each other, and some people find introductions more awkward than others.
So break the ice with pre-made conversation starters- just like these teaspoon conversation stirrers.These make the perfect addition to a vintage or afternoon tea themed bridal shower!
Each stirrer features a pastel colored handle with a cute floral design and a gold bowl.
We're confident that something like this will get your guests talking to each other in no time!
Here are some of the finer details about this product:
Size: approx. 6.25 inches in length.
There are 24 teaspoon conversation stirrers in a set.
Please note this accessory isn't suitable to use in liquids.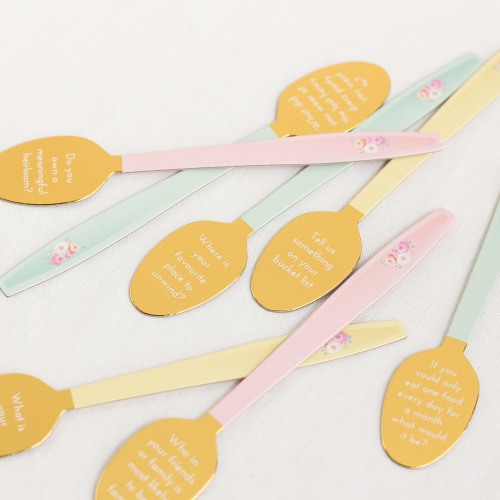 Teaspoon Conversation Stirrers
Here at Cake and Lace, we love this customized banner. It's ideal for adding a unique touch to any bridal shower.
You can choose to have this made to feature both your favorite color and font. That way you can ensure that this accessory perfectly compliments the theme of your bridal shower.
Here are few further details about this banner:
Size: 4-6 inches long x 3-4 inches wide (letters)
This banner is crafter out of cardstock
You have a different font choice for each banner.
These banners aren't pre-strung (twine is included).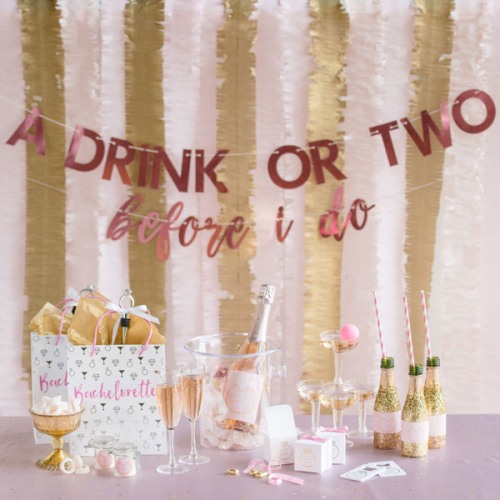 Custom Banner
Remember the bridal show cake we talking about a second ago? Be sure to have something prepare for guests to take home a slice!
We particularly love single slice cake boxes, they're so cute!
The example showcased below, allows you to chose your own design and customize it with the names of the couple and their wedding date (if they have one).
Here are a few details you may want to know:
Size approximately: 4.5 inches wide x 2 inches high x 3 inches  deep
Please note, these boxes require minor assembly.
There's a minimum order of 50 boxes.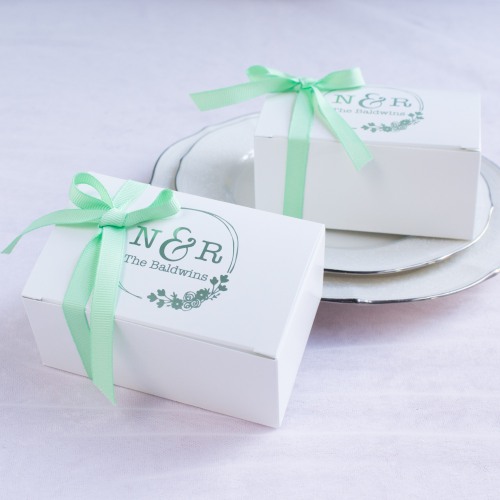 Personalized Wedding Cake Slice Boxes
The toilet paper wedding dress game is an absolute classic!
We recommend purchasing some fun themed toilet paper because it always goes down well!
For those of you who don't know how to play, here it is:
Form two teams.
Each team has to choose a "bride". The actual bride-to-be typically acts the judge- but obviously, if she wants to play she should (it's her choice).
The same amount of toilet paper and tape is given to each team.
At the judge's say-so, each team begins creating a toilet paper dress for the teams chosen "bride".
The judge starts the 10-minute timer.
When the time's up the judge has to shout 'stop!' at which point each dress is presented to the judge for her to decide the winner!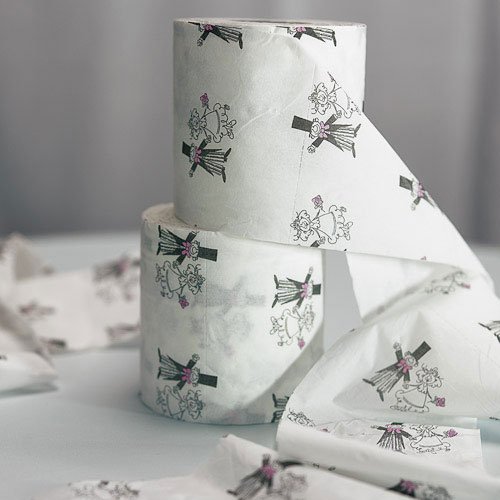 Toilet Paper Dress Game
Did you love these bridal shower accessories as much as us?
If this has fuelled your inspiration be sure to check out Beaucoup's entire bridal shower range (all of the products featured in this article have been selected from there!). Enjoy!
*Please note, our affiliate links are used throughout this post. However, we only feature brands with whom we have a good working relationship with, and can provide excellent quality products. Happy planning!