For some brides, the thought of a massive wedding dress sends them into a cold sweat – and there's nothing wrong with that.
Perhaps a Disney princess style dress goes against everything your personal style embodies? Or, maybe a meringue just wouldn't suit the overall theme of the wedding? Whatever, your reason for choosing a boho style dress, we get it – they're gorgeous!
Typically, boho wedding gowns use delicate lace and chiffon. These materials are perfect if you're looking for a dress to compliment a more informal wedding. Heavy fabrics and silks in this scenario just won't cut the biscuit.
As we go through the examples below, you'll notice that the sleeve style and the back of the dress, tend to be what defines each of the gorgeous ensembles.
So, if this is the sort of dress for you, think about the following;
Sleeve style; there are so many to choose from- strapless, off the shoulder, spaghetti straps, capped sleeves, three-quarter length, etc. – which do you think compliments your figure the most?
Neckline; what sort of neckline do you want? – Would you prefer something more modest? In which case, a high neckline would work well. Or do you want to go for something a little more daring? If so, a V-neck or a sweetheart cut would do the trick.
The back; a lot of these gowns focus on the back of the dress. Backless and keyhole cuts are really in right now. So, if this style's for you, rest assured plenty of boho dresses incorporate this look.
With all of that being said, if you're searching for your ideal dress then look no further, Dorriswedding has you covered, we love their latest range. So, without further ado let's dive into our top picks!
 This elegant A-line wedding dress is perfect is for any bride who wants a fuse together the simplicity of a bohemian style dress while adding a touch of princess to their ensemble. 
Plus, this V-neck cut compliments the gorgeous three-quarter length sleeves, and there's a built-in bra for your convenience – what's not to love?!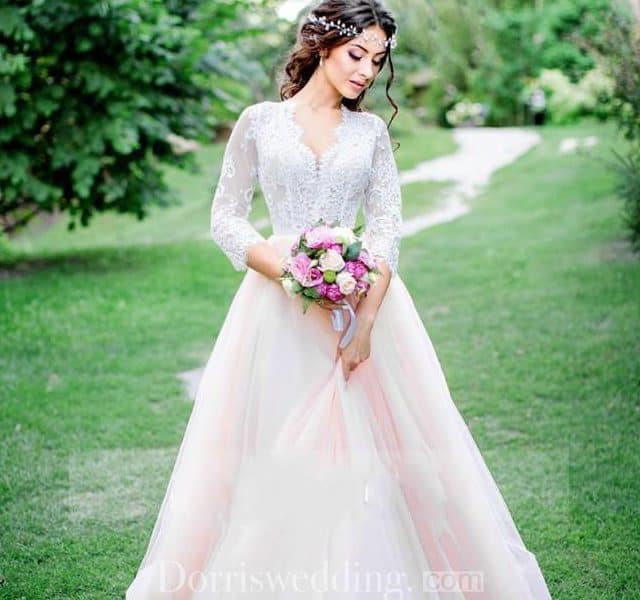 This next A-line, boho style wedding dress hangs perfectly. It's floor length with a fabulously jeweled neckline.
The short lace sleeves work well if you're looking for a gown to complement a rustic themed wedding.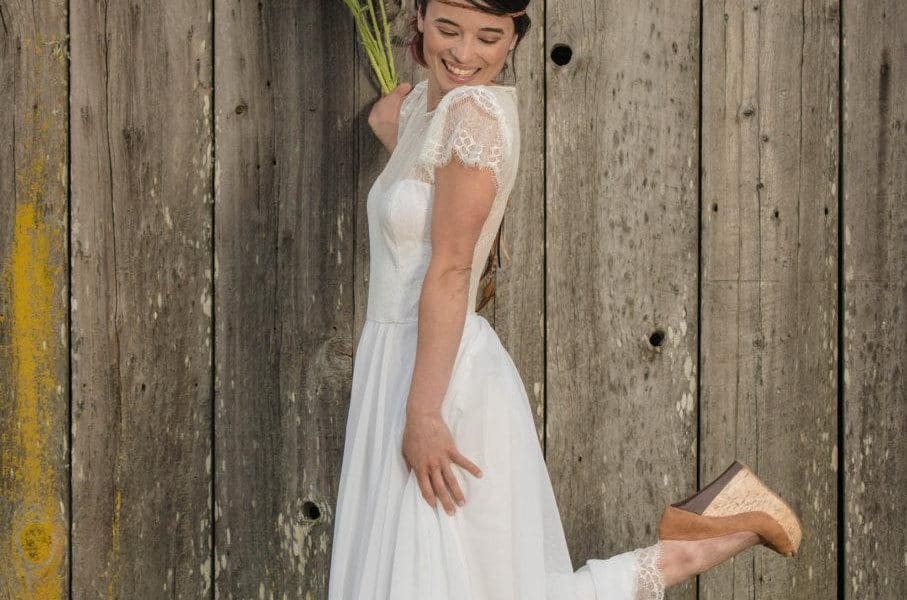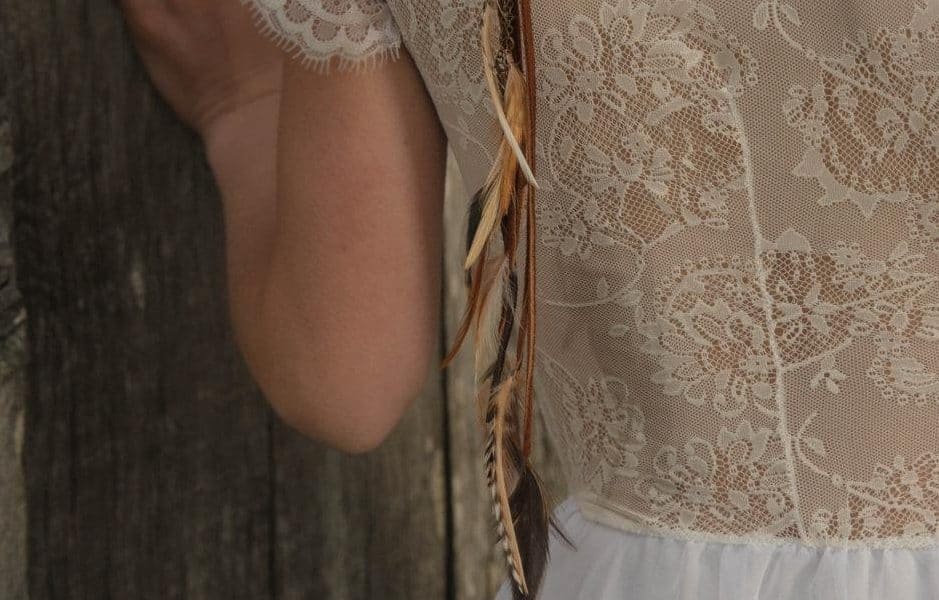 This lacy mermaid style dress is perfect if you're hosting a barn style wedding. The sexy V-neck accentuates your figure while the trumpet lace finish screams elegance and sophistication.
This dress is perfect if you want a small train to follow you down the aisle. Plus, this dress boasts a sophisticated backless cut with no sleeves, both of which are all the rage right now.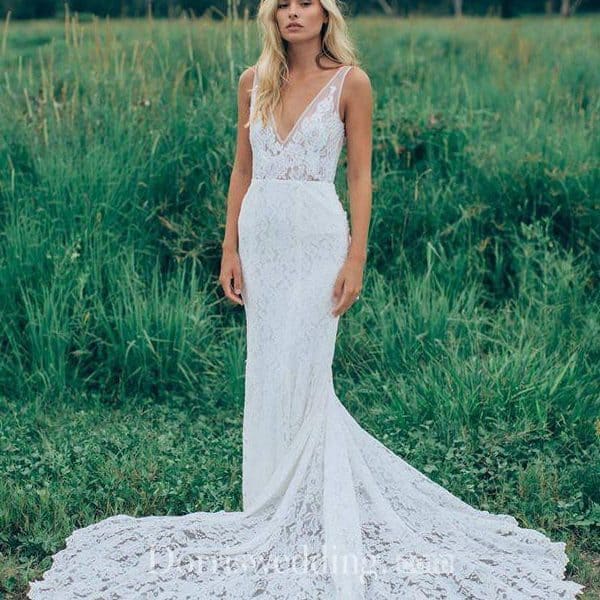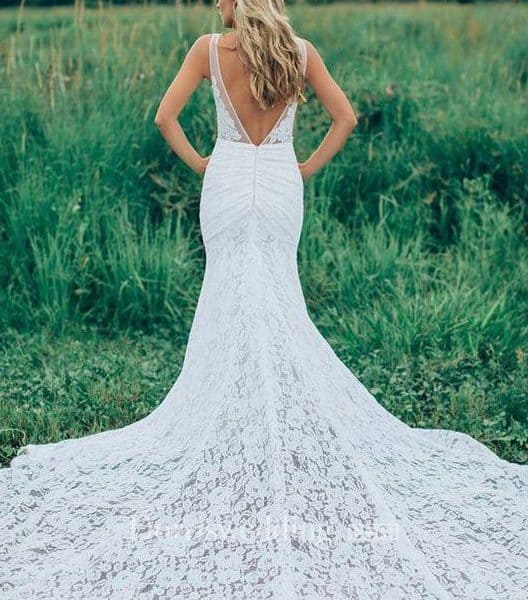 Alternatively, if you're on the hunt for a silhouette sheath boho-style dress with a dainty train sweep, this is the dress for you. 
The neckline is elegantly notched to give a more feminine feel, which compliments the stylish keyhole at the back of the dress. Plus, the capped lace sleeves add a pretty touch.
However, the cherry on top of the cake of this beautiful gown is the ribbon sash. This goes around the waste of the dress and accentuates the keyhole feature at the back.
Finally, to add a touch of glam an applique of petals has been stitched at the front of the dress (to the side). All in all, this gown is divine!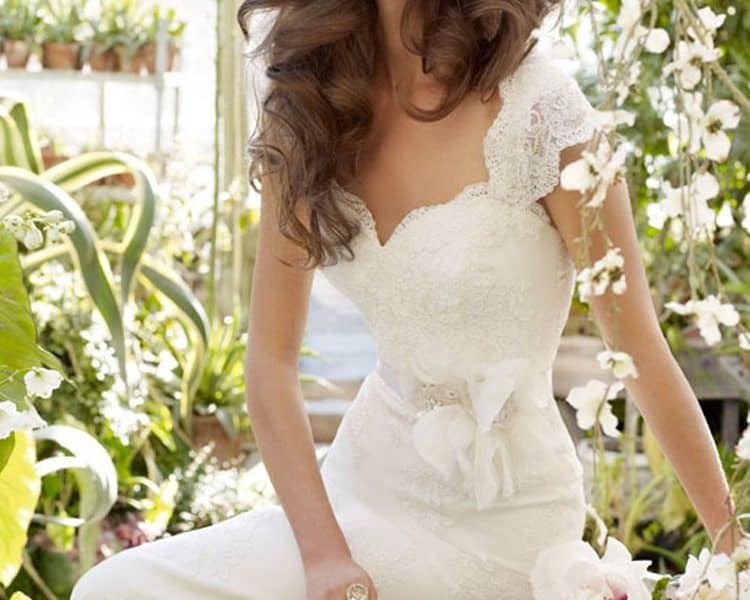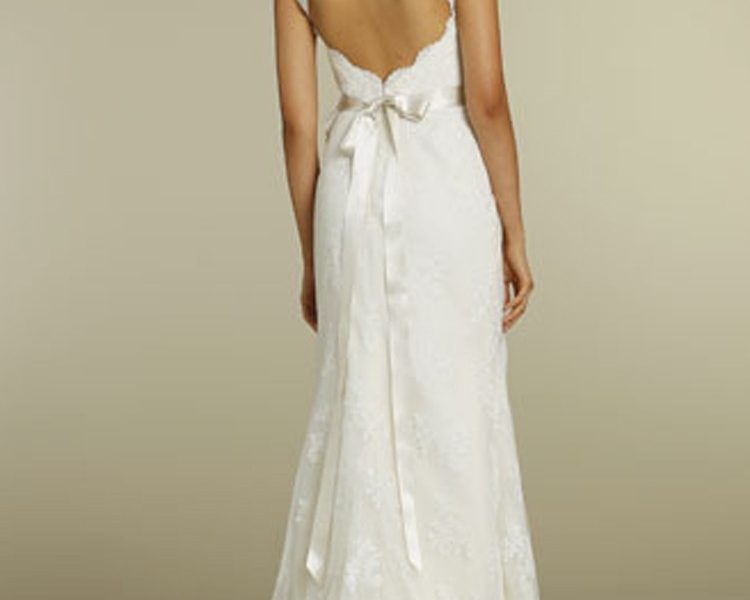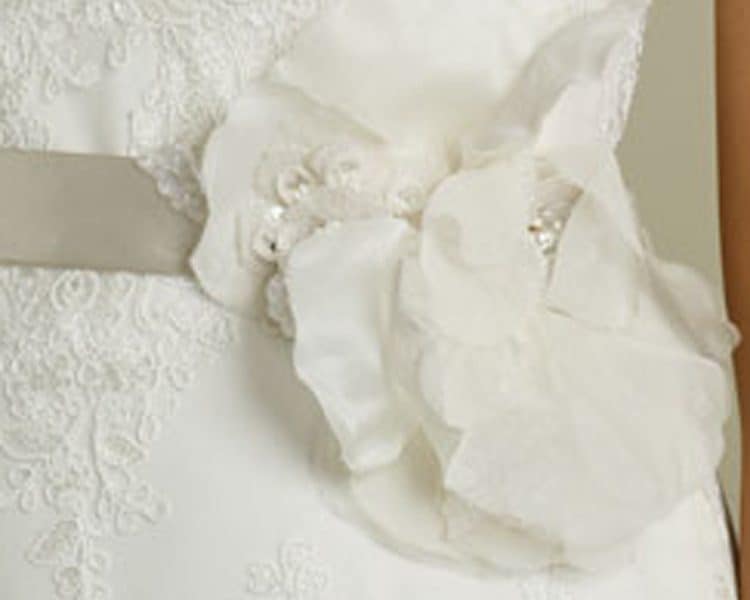 This graceful bateau neckline works perfectly on this lacey floor length wedding dress.
However, the creme de la creme of this ensemble is the V-shaped back. This is accentuated by the satin style ribbon that goes around the waist and forms a bow where the V cut ends.
This dress has an elegant brush train which adds a traditional touch to this otherwise bohemian style dress.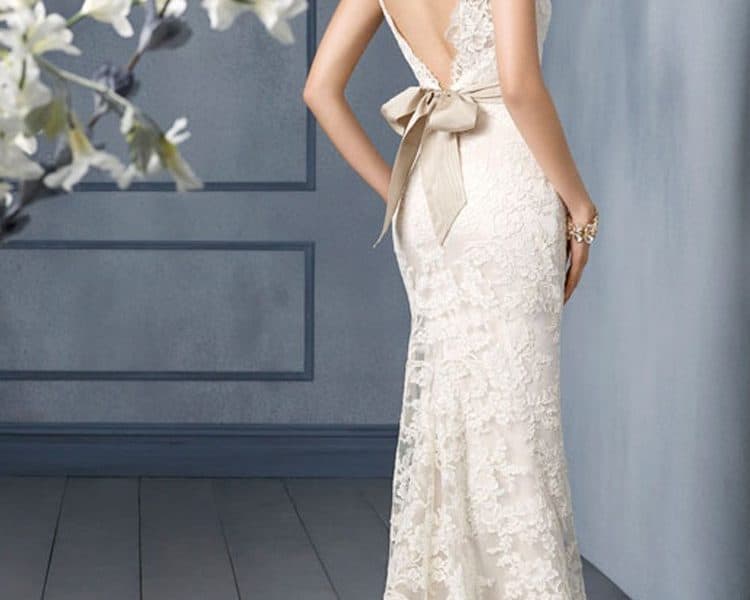 This angelic A-lined wedding dress has a beautiful sweetheart neckline which compliments the fabulous crisscross ruched bodice.
Like the previous dresses, this one comes with a simple yet elegant brush train and a sexy backless cut.
The sleeveless style looks great alongside the fabric lace and the ribbon sash around the middle – all in all, this dress is gorgeous!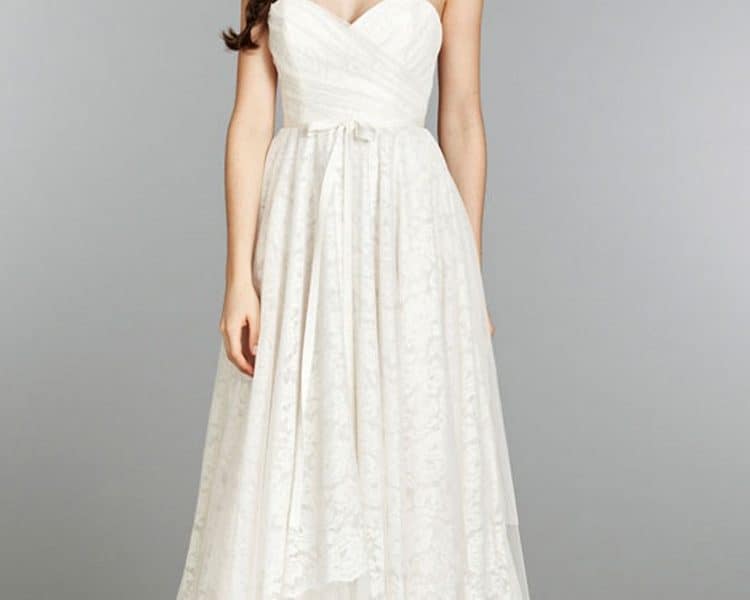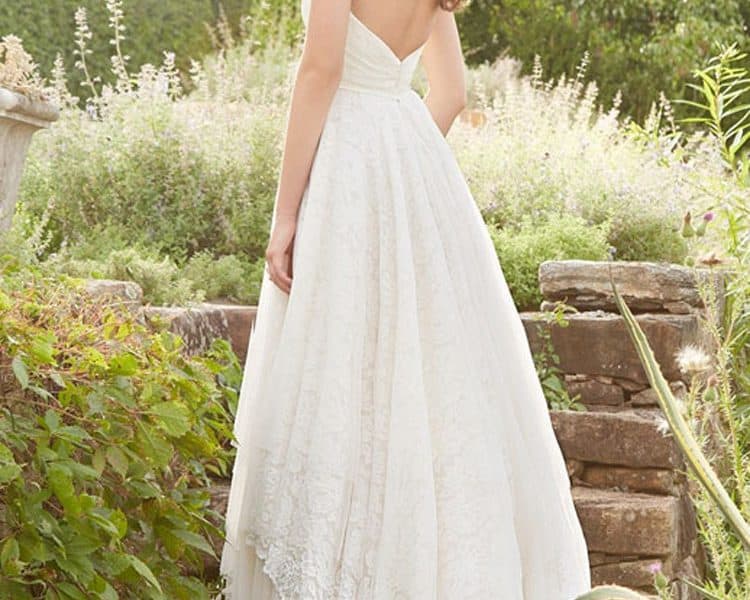 However, if you're looking for something a bit unique, then this A-line bell dress is perfect.
It has a gorgeous jeweled high neck which compliments the lacey long sleeves and bodice.
The front of the skirt sits at the knee, and the length gradually increases as it reaches the back so a beautiful train forms. This dress embodies quirkiness and elegance- ideal if you're looking for something a bit different.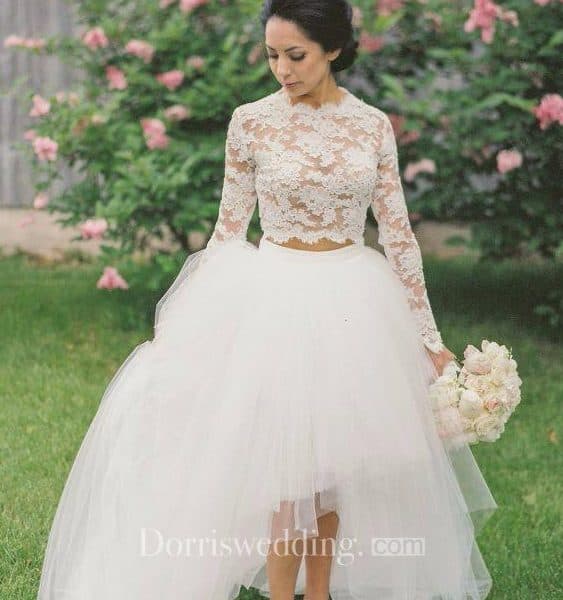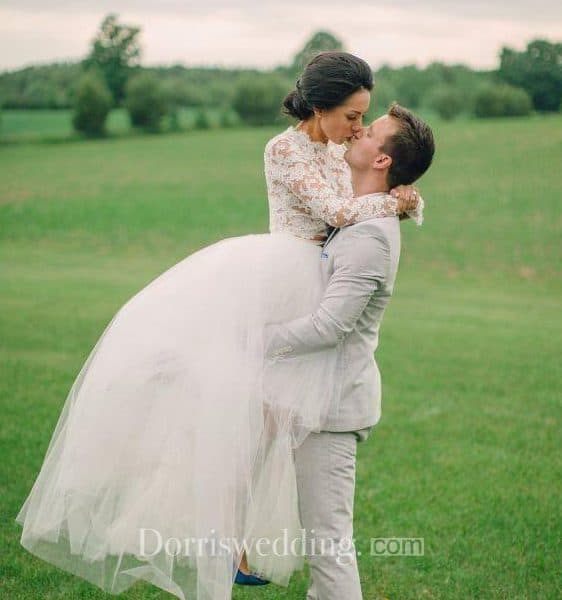 This next bohemian sheath wedding dress boasts a gorgeously sleeveless and lacey style.
However, it's the scalloped hemline that drapes across the bodice that really gives the dress its uniqueness.
This bridal gown is floor-length and elegantly descends into a small train. With a built-in bra and zipper at the back, this dress isn't just stunning, it's super practical.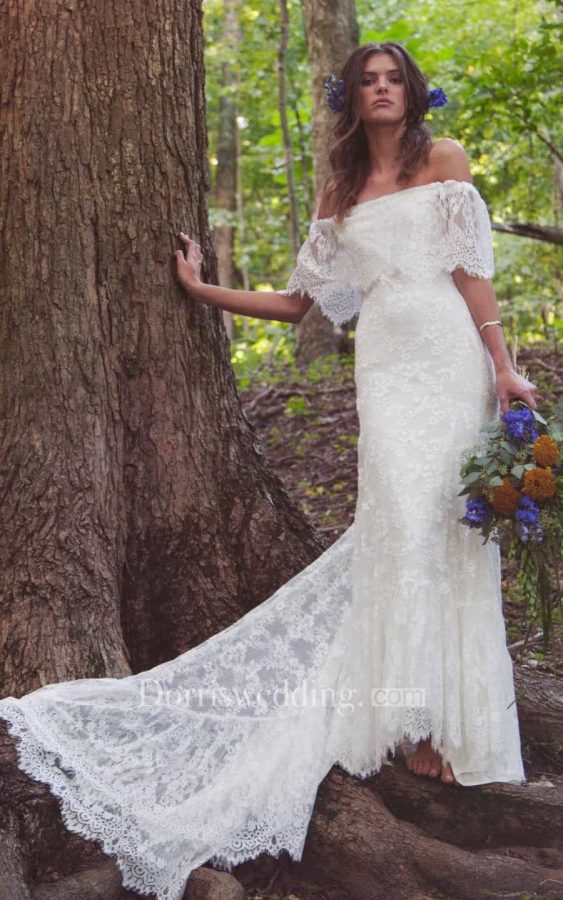 If you're hoping to crush the Greek goddess look, this is the sort of floor-length, sleeveless dress you want. 
This lacey A-line bridal gown, complete with V-neck is the perfect addition to any bohemian themed wedding. 
The skirt is embellished with ruching pleats, so it falls to the ground and hangs elegantly – it's simply beautiful!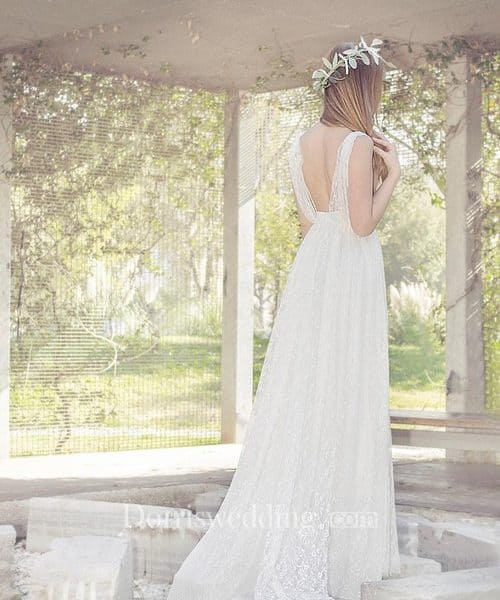 This wedding dress is perfect if you're looking for something sleeveless, with a touch of Hollywood glam.
The pleated chiffon skirt adds a lovely feminine touch which compliments the dramatic backless cut. The back gives this gown a bit of edge, which is softened by the intricate beading on the bodice.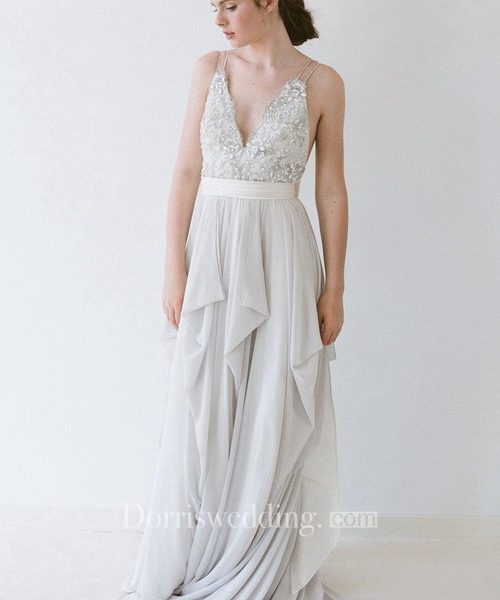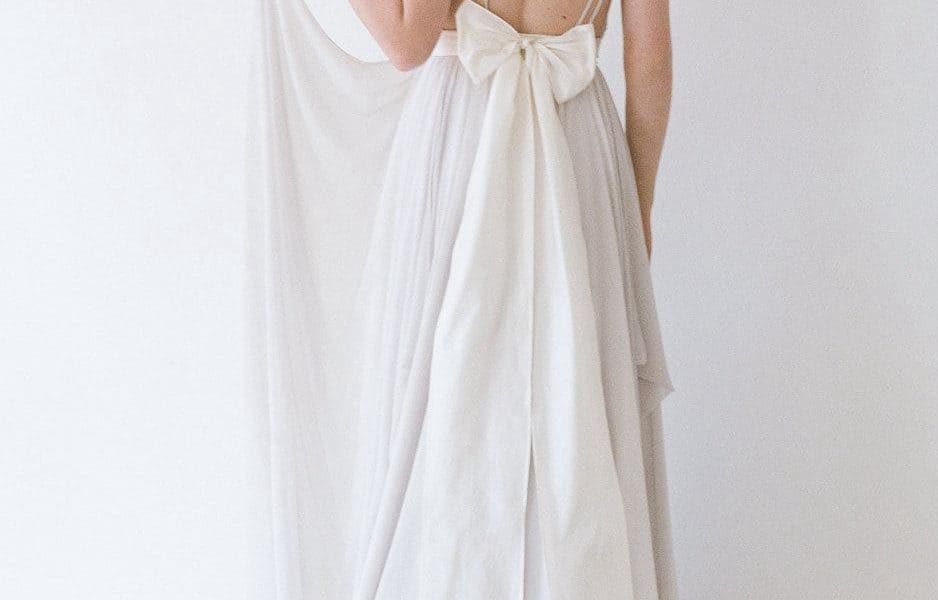 This serene wedding dress boasts a three-quarter length illusion style sleeve. This combined with the jeweled neckline makes for the perfect combination.
However, it's the satin sash that ties around the waist that gives this gown its unique flare.
The beautiful sweep train gives this number a dainty finish, and like some of the previous dresses, it also sports a gorgeous V-cut back. However, it's not quite as deep as the other styles. So, if you're looking for a more modest gown, this is the way to go!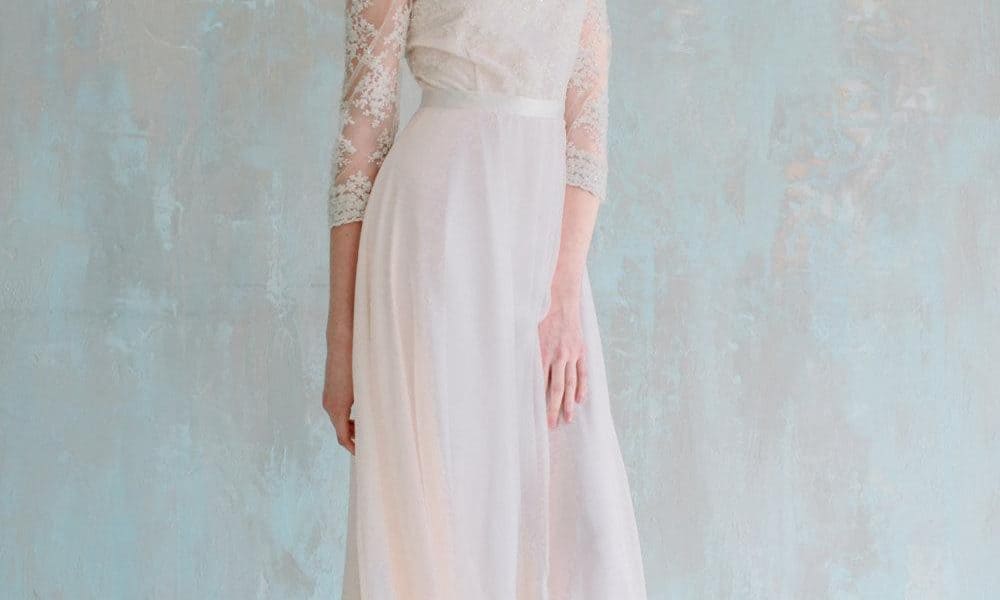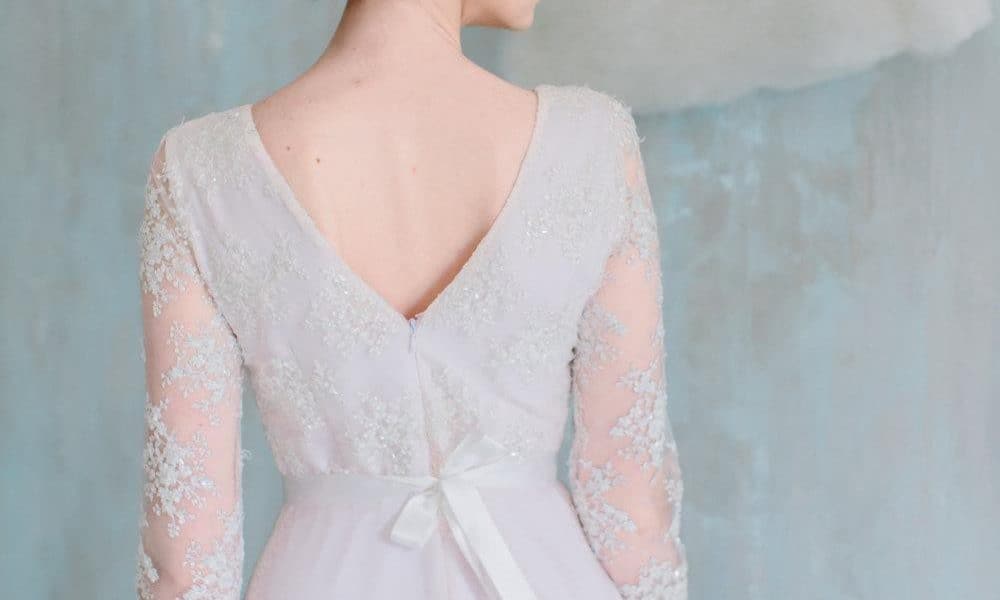 I hope the above examples have fuelled you with inspiration for your own bohemian style wedding dress. Out of interest, which one did you like the most? Let us know in the comments; we'd love to hear from you!
Happy Planning!
Rosie Greaves – Freelance writer, and wedding and relationships expert.
*Our affiliate links have been used throughout this blog post, however, we would never promote anything we don't fully endorse – we hope you enjoyed the article!