Planning DIY wedding projects can be so much fun. However, some may be a bit challenging, especially if they're a bit complicated to make. 
To cut costs and have a more personalized take on the occasion, doing a bit of DIY is the way to go. Luckily, there are a lot of projects out there that are both cost-friendly and fun to make. 
Now, here is a list of the awesome things you can DIY for your wedding.
1. Invitations
Invitations are easy to design, and one can easily create high-quality invitations. There are a lot of ideas to take inspiration from. Seek out a local art supply store for quality ink and paper to make them look as if they were professionally done. 
There are no rules or limits on color, so make it as creative or elegantly simple as you'd like it to be. Afterward, produce as many copies, place them onto plain cards, and mail them to the guests.
The same thing goes for thank-you cards. Hire a photographer to take wedding-day photos of you holding a sign that says "Thank you," and use it as a way to thank guests after the event.
2. Accessories
Nothing wrong with adding a little bling to your bridal look, especially if your theme calls for it. Perhaps you can incorporate your something blue in the accessories or create something that speaks about your personality. Don't worry about your diamond engagement ring not being classy enough to go well with other accessories you have in mind.
For those who are still on the lookout for an engagement ring and treading on a tight budget, shop for a half-carat diamond ring. The half-carat ring provides ample coverage at an affordable price.
3. Table Centers
Table centers don't have to be elaborate. In fact, less is actually more, because there's nothing worse than having a table center so high that it actually hinders other people from talking across the table. 
Depending on the season, buy pots of daisies, lavender, spring bulbs, and winterberries from the local garden center, and place them in fancy, decorative holders. 
4. Table Plans
The key here is to be as creative as possible. Scour huge framed mirrors from an antique store or a junk shop, then write names in a marker pen with your best handwriting. 
Alternatively, print the table plans on colored cards and in a compelling font. Cut these with decorative-edge scissors, and stick the invites onto the mirror board. 
5. Decorations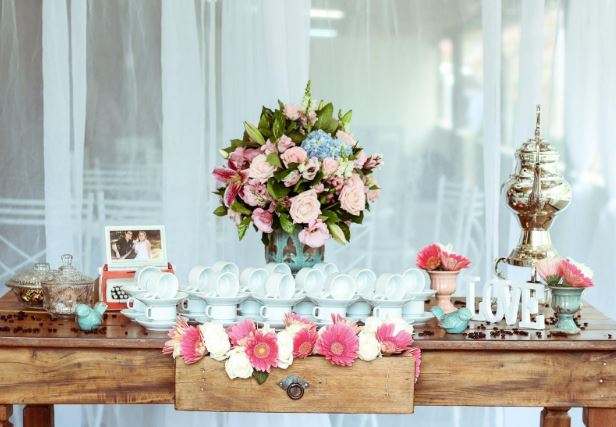 The number of decors needed depends on the place or venue. For instance, if it's going to be held in your hometown, create the centerpieces and the other decorations ahead of time (just as long as the flowers aren't done yet). Tell the wedding planner to put the centerpieces on display on the actual wedding day. 
Meanwhile, if it's going to be a destination wedding, consider the costs of shipping these items as well. 
6. Drinks
Depending on where the venue is, it's more cost-effective if you're the one who gets to supply the beer, wine, and other drinks. 
Just ask first if this option is available at the wedding venue, if there are corkage fees, and do the math. A DIY wedding cocktail is a fantastic idea and will be a huge hit with your guests. 
7. Nontraditional Bouquets
For the last couple of years, most DIY brides have started to embrace the idea of creating their own bouquet. Search for inspiration online, and start your inspo board on Pinterest.
Brooch bouquets, button bouquets, seashells—anything that glitters or pops can be pulled together to create an amazing arrangement that looks great on particular wedding gowns. 
8. Special Signs
Instead of letting those cute flower girls carry those conventional baskets, why not let them carry fun signage that carries a variety of witty sayings, like "Guess what happens next?" or "Here comes the bride"? For beach-themed weddings, roll out signs like "Barefoot only beyond this point!"
9. Photo Albums
One doesn't have to pay a photographer exorbitant amounts to create formal albums anymore. With the wedding over, you'll have more time to be crafty. Most photography packages give the option to store files so you can print and create your own personalized album to your heart's delight. The options are limitless.
Final Thoughts
Every wedding is different. When purchasing something that's already premade, one has to pay for the effort placed into creating each thing. If you're on a tight budget and you still want to incorporate unique and beautiful elements,  then you have to do a certain level of DIY.